Family Learns Their Missing Dog Has Been Found In The Most Surprising Way
You never know what's going to happen on live TV ...
When the Calteaux family began their vacation at Carowinds Camp Wilderness in Charlotte, North Carolina, back in April 2023, they expected to have a great time. But when a fireworks show caused their dog, Lucy, to panic and break her leash, the entire trip turned into a rescue mission.
Dana and Glenn Calteaux, along with their children, spent as much time as they could in Charlotte trying to track down their missing golden retriever, but they came up with no leads by the time they had to return home to Buffalo, New York.
Speaking with local Charlotte news station WCNC, Dana Calteaux said, "We just need her back. She needs us, and we need her."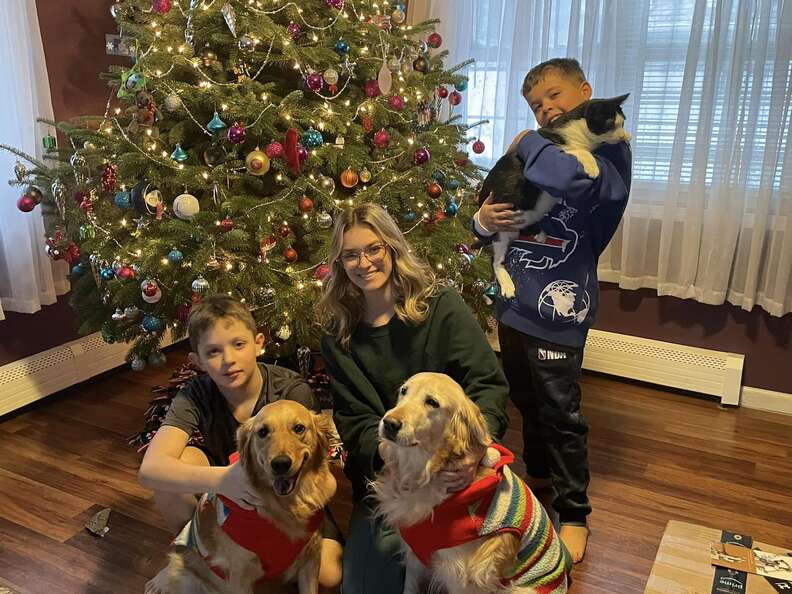 Luckily, the residents of Charlotte banded together to find Lucy in her family's absence.
Community members did physical searches through the woods around Carowinds Camp Wilderness, printed flyers, rode bikes around green spaces spreading the word, and even marched in local parades in dog costumes to bring awareness to Lucy's disappearance.
A Facebook group was set up to report any possible sightings or leads with over 2,900 members who all kept their eyes and ears open for any sign of Lucy.
Meanwhile, back in Buffalo, the Calteauxs got in touch with Teresa Tucker and Kelly Chatman with Tucker K-9 Search & Rescue, based in Charlotte.
Tucker and Chatman worked with the community to expand the search to other states, follow up on leads and keep the momentum going.
Because there were no reported sightings of Lucy, Tucker and Chatman believed that she was likely found and being kept by someone.
So many leads were shared in the Facebook group, and pictures of lost and found golden retrievers from all over the state would pop up regularly. But sadly, Dana would have to comment over and over again that these goldens weren't Lucy.
"Not Lucy," she commented on one post. "I [would] rather say no a million times than miss a yes … Please continue to share."
Lucy has a couple of dark spots on her tongue that would make it easier to identify her.
"Please, if you've seen a golden retriever with two black spots on her tongue, make the call," Dana wrote in another post in May. "You will remain anonymous and put our family back together."
Then, all of a sudden, in August — five months after Lucy first went missing — the Calteauxs received some shockingly good news during a follow-up interview with WCNC. Lucy had been found.
You can see the Calteauxs' reaction to finding out that Lucy is safe on live TV here:
The Calteauxs had no idea that Tucker and Chatman had gotten a lead from someone who spotted Lucy and called the contact number on the flyers. They believe that someone had been keeping Lucy, but she may have run away again during storms in the area earlier in the week.
She was a bit thinner than she was when she first disappeared, and she was covered in ticks, but she was otherwise healthy.
The Calteauxs immediately jumped in their car and made the road trip down to Charlotte to be reunited with Lucy.
"Oh, sweetie, you're going to get microchipped, GPS," Dana said in the reunion video. "You don't even know what's gonna happen."
After returning home, Lucy had a few more visits to the vet, where she was diagnosed with severe malnourishment. She was prescribed some medication, and the family changed her diet. Now she's feeling a lot better.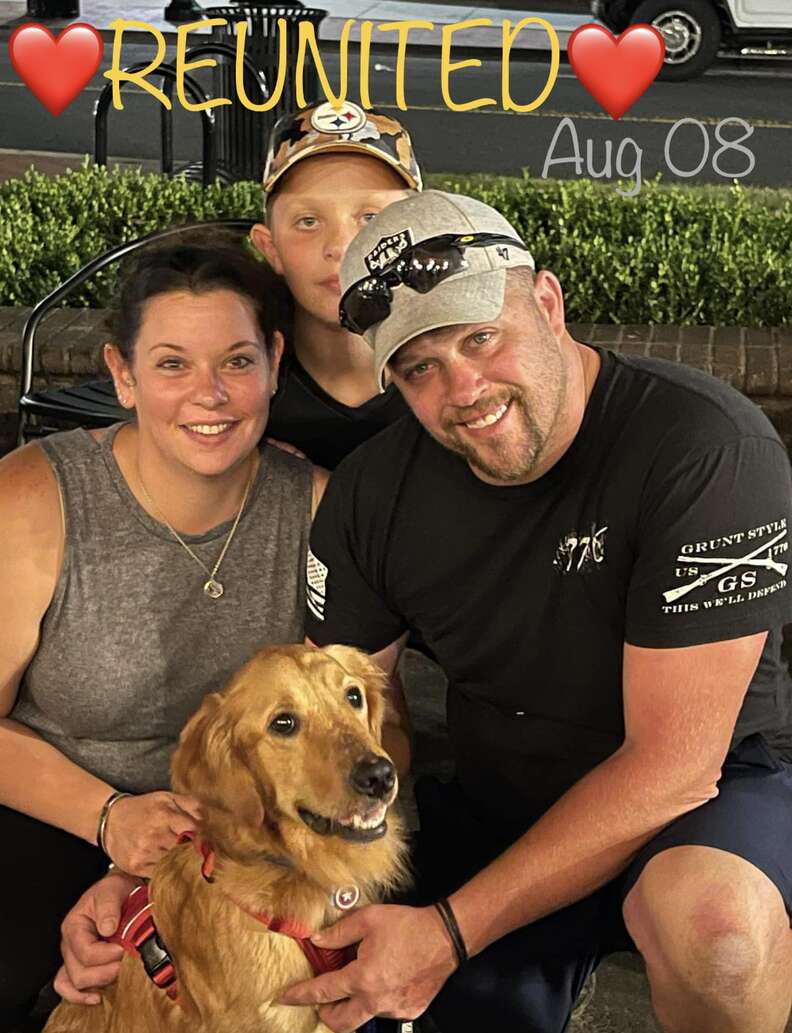 Having been separated from each other for so many months, Lucy and the Calteauxs have a lot of catching up to do. But thanks to the community in Charlotte, North Carolina, and the efforts of Tucker K-9 Search & Rescue, they now have all the time in the world.