Driver Screeches To A Halt On Highway When He Sees Someone Tiny Cowering In Fear
"I was horrified to see him there, and it felt like time stopped."
Marc Alba was driving back from helping out a feral cat colony and thought his rescue work was done for the day — until he saw something that immediately caused him to pull over.
"While driving on a long stretch of overpass on my way home, I saw a small tabby kitten standing on his hind legs, screaming towards the oncoming traffic," Alba told The Dodo. "I knew if I didn't stop, not only was there a slim possibility he would be saved, but it would surely haunt me for the rest of my life."
Alba pulled over by an upcoming exit ramp and raced towards the kitten. He knew the kitten could dart out into oncoming traffic at any moment and, therefore, needed to move as quickly as possible.
"I was horrified to see him there, and it felt like time stopped," Alba said. "In my panic, I didn't even think to grab my gloves or any kind of blanket to help grab him. I tried to corner him with my feet so he wouldn't run toward the traffic, and I managed to scruff him up into my arms. I stood there clutching him and muttering things to try and keep him (and myself) calm while waiting for a moment to cross back and race to my car. I was probably on the side of the overpass for about three minutes, and hundreds of cars passed by — nobody stopped."
The kitten, later named Dodger, was understandably very scared, but once he was safely in the car with his rescuer, he was finally able to calm down a little.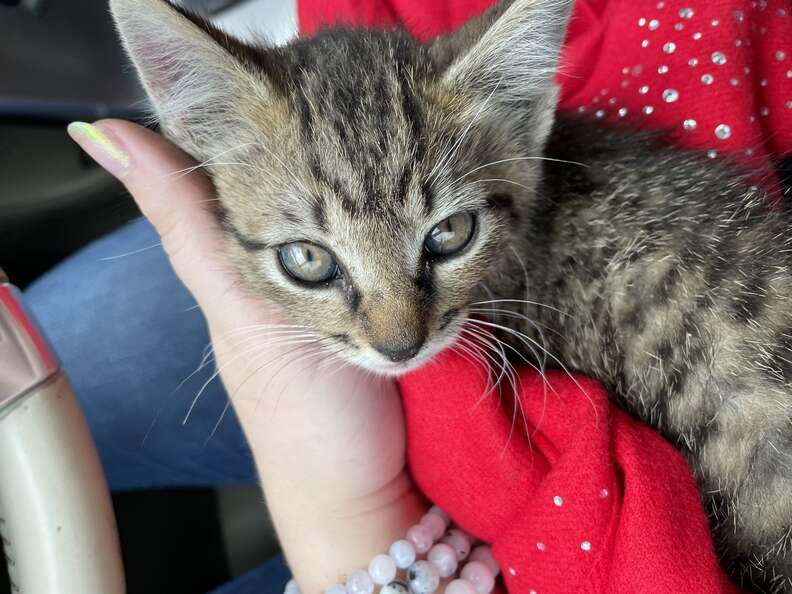 "He was unsurprisingly terrified of me, but I think he was more scared of the cars racing by," Alba said. "Once we got into the car, the silence immediately comforted him. He didn't cry or try to get out of my grasp. His poor little heart was racing. He got a little more nervous once I started the engine but was overall very calm. His claws were run down into little nubs from all his efforts to try and climb the concrete."
Dodger was a little beat up but, luckily, had no major injuries. A vet visit determined that his tail was fractured and may need to be amputated at some point, but for now, he just needs lots of rest to help him heal. Based on where he was found, it's unfortunately possible that he was thrown from a car onto the highway. He didn't have an easy start to life, and now he's making up for it by getting all the love and attention he's never had before.
"Dodger is doing phenomenal," Alba said. "Once we got home, he slept like a rock. Poor baby was just happy to be in a quiet, cozy space."
Alba is fostering Dodger through a local rescue while he waits for his forever family to find him. For now, he's just grateful to finally be off of the highway and in a loving home, where he belongs.
Cozy Beds Your Cat Will Love To Lie In
We may earn a commission if you purchase from our links.