Dog With Permanent Pout Has Spent 400 Days At Shelter Waiting For A Forever Home
"Her frown has superpowers" 🥺️
Meet Siri — a 3-year-old shelter dog who's waited over 400 days for a home and has a permanent pout to prove it.
Since her first day at SPCA of Wake County in December 2021, Siri's frown has seemingly gotten deeper, but the love she has to give has only grown.
"She's just the sweetest thing," Samantha Ranlet, marketing communications specialist at SPCA of Wake County, told The Dodo.
Siri was transferred to the SPCA from a partner shelter in North Carolina after being relinquished by her family.
"She was surrendered after living outside her whole life," Ranlet said. "She had a dog friend who lived outside with her, but at some point, they started fighting over their food."
When the two dogs could no longer live together, Siri's family brought her to the small shelter in hopes of rehoming her. Staff members at the shelter fell instantly in love with her, but they didn't have enough space or resources to keep her for a long time.
That's when SPCA of Wake County stepped in.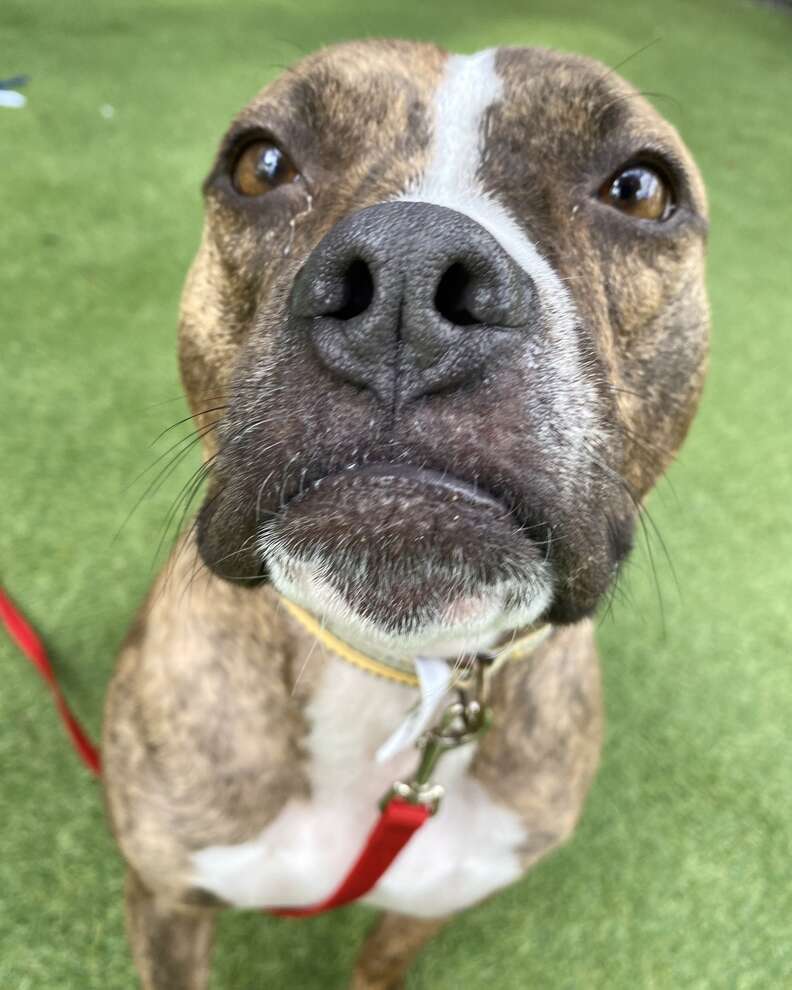 "We pull pets from our partner shelters in order to give them more time to find a home," Ranlet said. "In Siri's case, that ended up being really important. She did need that extra time."
As soon as Siri got to the SPCA, her new caregivers went straight to work trying to find her a new home, but it was harder than expected.
"In over 13 months, she had 11 people express interest in adopting her, but all of them, unfortunately, fell through," Ranlet said.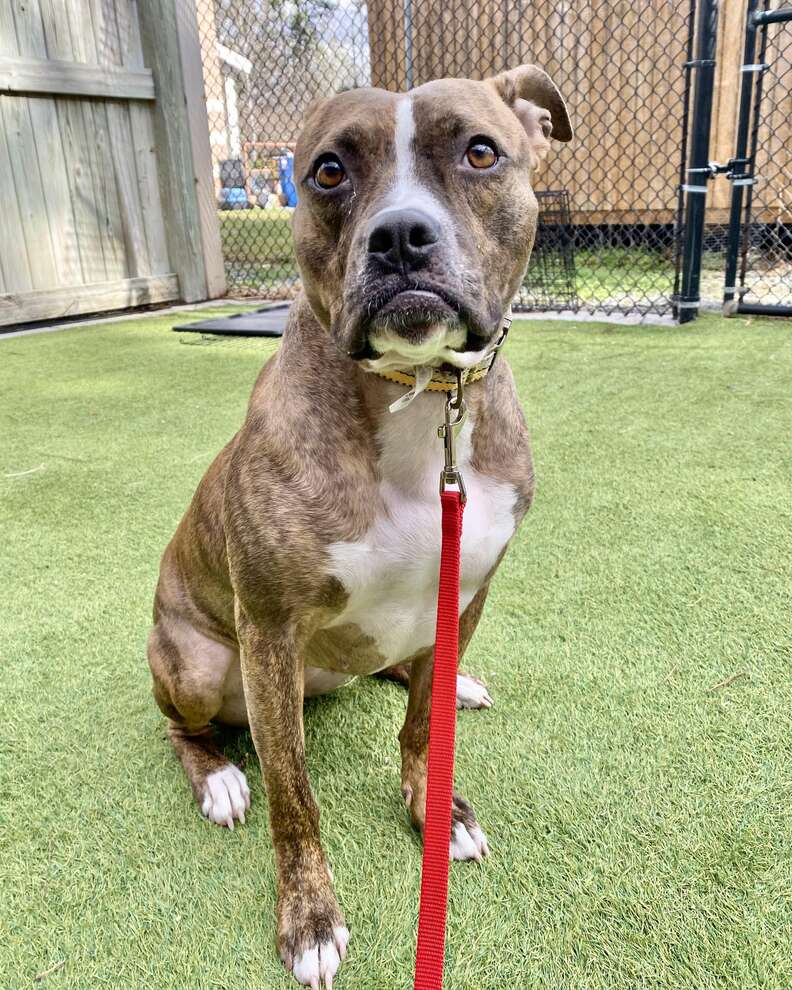 Siri is still waiting for her forever family to find her, but Ranlet thinks her wariness of others might be getting in the way.
"It seems like, even though she used to have dog friends, her bad experience soured her feelings towards other dogs," Ranlet said. "We've tried introducing her to some, but she usually starts barking and growling. She doesn't really want to be friends anymore."
Because of this, Siri's friends at SPCA of Wake County are looking for a family who can accommodate her needs.
"We're trying to find a home for her that can take a dog who doesn't want to be around other dogs," Ranlet said. "One that doesn't have another dog in the home."
As she waits for her forever family, Siri enjoys spending time with her friends at the SPCA. And they, in turn, love getting to know her even more.
"She's really easygoing and not really energetic," Ranlet said. "She's just a lovely girl who likes to cuddle, chew on her toys and have some snacks. She finds joy in the simple things in life."
And her adorable frown pulls on caregivers' heartstrings more and more each day.
"Her frown has superpowers," Ranlet said. "It's really hard to look at her big, pouty eyes and frown and not give her everything she wants."
At one point during her 13-month stay, Siri was placed in a foster home away from the shelter. Her placement wasn't permanent, but the loving pup took to her foster dad right away.
"We got to see the side of her that feels safe and secure," Ranlet said. "The side of her that comes out when she's in a safe and comfortable home."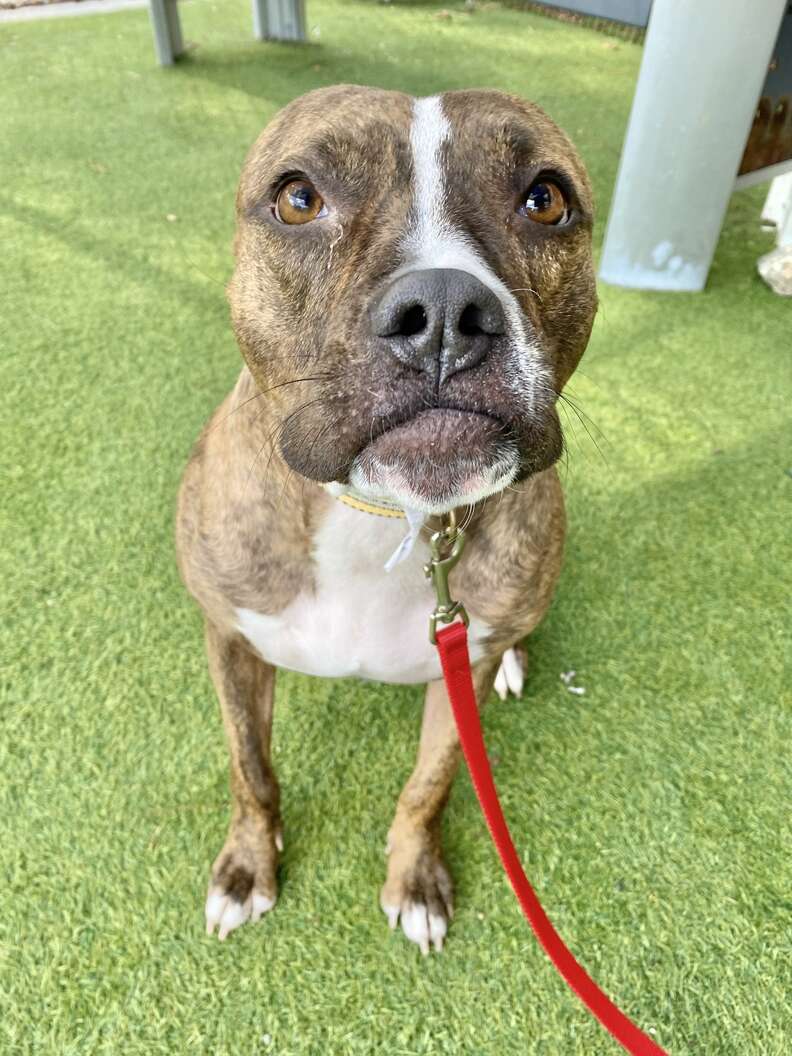 Although their time together was only temporary, Siri's instant connection with her foster dad showed her friends at the SPCA that she has a lot of love to give — and she's ready to share it with someone special.
Ranlet and her colleagues at the shelter hope that Siri will find a wonderful forever home soon, but in the meantime, they'll continue showering the pouty pup with the kisses and cuddles she deserves.
"She's got powers over all of us," Ranlet said. "We love her so much."
If you're interested in adopting Siri, fill out SPCA of Wake County's
adoption survey
to schedule an appointment to see her.
To help pets like Siri get the help they need,
make a donation
to SPCA of Wake County.
What To Buy If You Just Adopted A Dog
We may earn a commission if you purchase from our links.