Dog Waits Outside Her Neighbor's Window For Daily Kisses
"It's the first thing she does when she goes outside" ❤️️
Meet Winnie — a young poodle mix who loves to befriend everyone she comes across. The young pup is used to making new friends outside of her home, but one day, she was taking a walk around her apartment complex when someone caught her eye.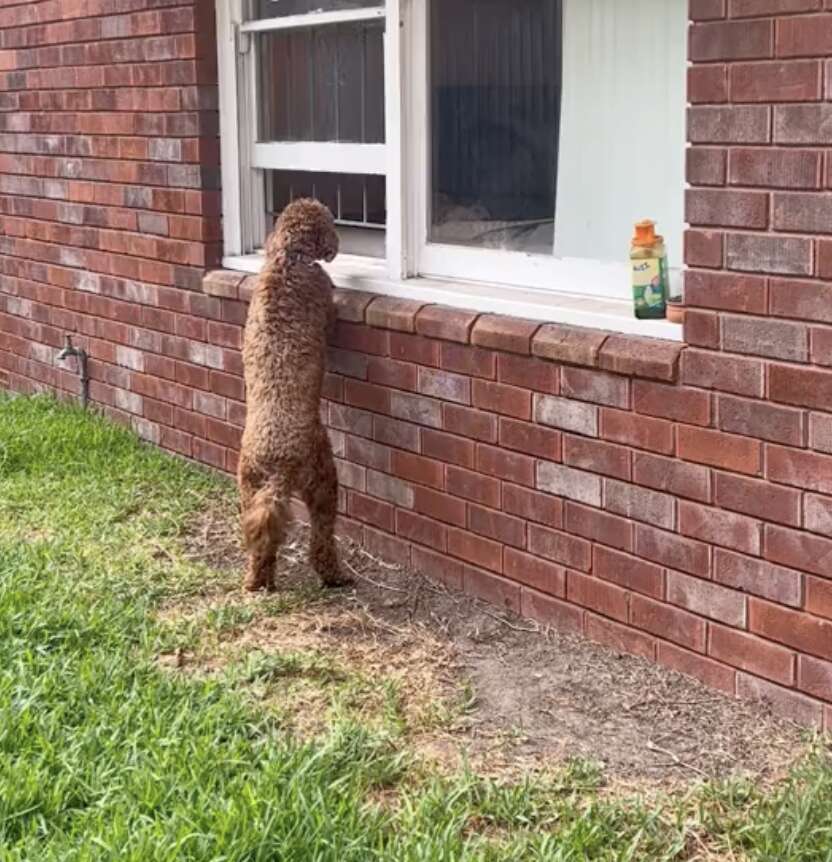 Through the window of an apartment adjacent to hers, Winnie could see the outline of a figure who had two ears and a helicopter tail. The shadow made his way over to the window, and soon, Winnie was face to face with a new best friend. His name was Chips, and Winnie was instantly smitten with him.
"As soon as she spotted him, she started doing zoomies in the yard and ran up to the window to kiss him," Sarah Madden, Winnie's mom, told The Dodo.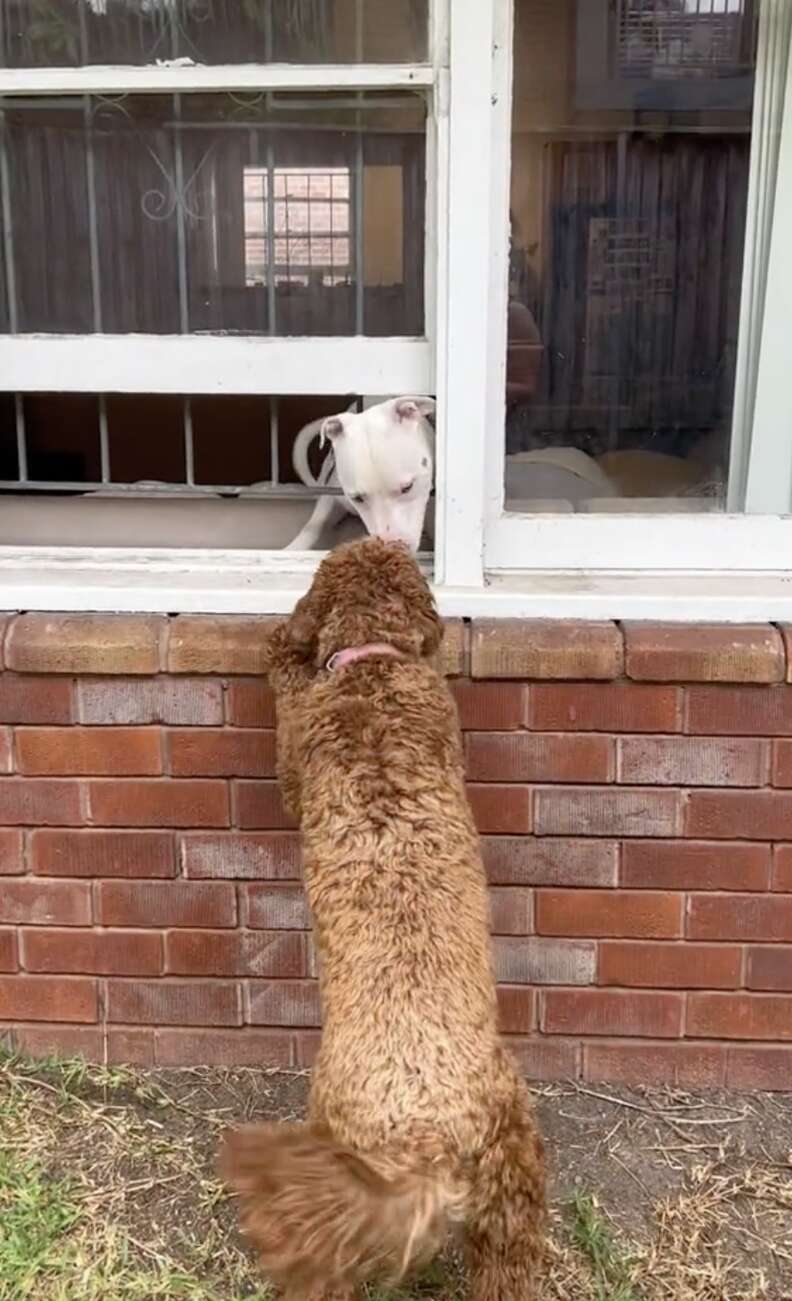 Chips is a rescue dog who'd lived in Winnie's apartment complex for a while before she and her mom moved in. Somehow, the pups never crossed paths during Winnie's first two months there, but after meeting through the window that first time, they were inseparable.
You can watch Winnie fall in love with Chips for the first time here:
Every day after that, Winnie would insist on starting each walk with a visit to Chips' window. The loyal dog would sit outside and wait excitedly for her new friend to appear.
"It's the first thing she does when she goes outside — she'll run to the window to see if he's home," Madden said. "She gets a little sad when he isn't."
Eventually, Winnie started recognizing the sound of Chips' paws tapping past her door whenever he'd go for a walk, and she'd try her best to greet him there.
"If she hears Chips going for a walk, she always runs to the front door to try and say hi when he walks past," Madden said.
But the timing was never right, and, to Winnie's dismay, the two dogs went days without officially meeting.
One day, Winnie arrived home from a walk to find a special Valentine's Day gift waiting for her. It was a toy, and attached to it was a handwritten note from her new best friend.
"Winnie's reaction was priceless," Madden said. "We knew we had to send a little gift back."
Winnie and her mom went online and picked out a special toy for Chips. Madden wrote a sweet note from Winnie detailing her feelings for Chips, then ended it off by asking him out for a date.
Winnie left the gift on Chips' doorstep and waited with anticipation. Finally, Chips received his package and responded to Winnie's proposal with an enthusiastic yes.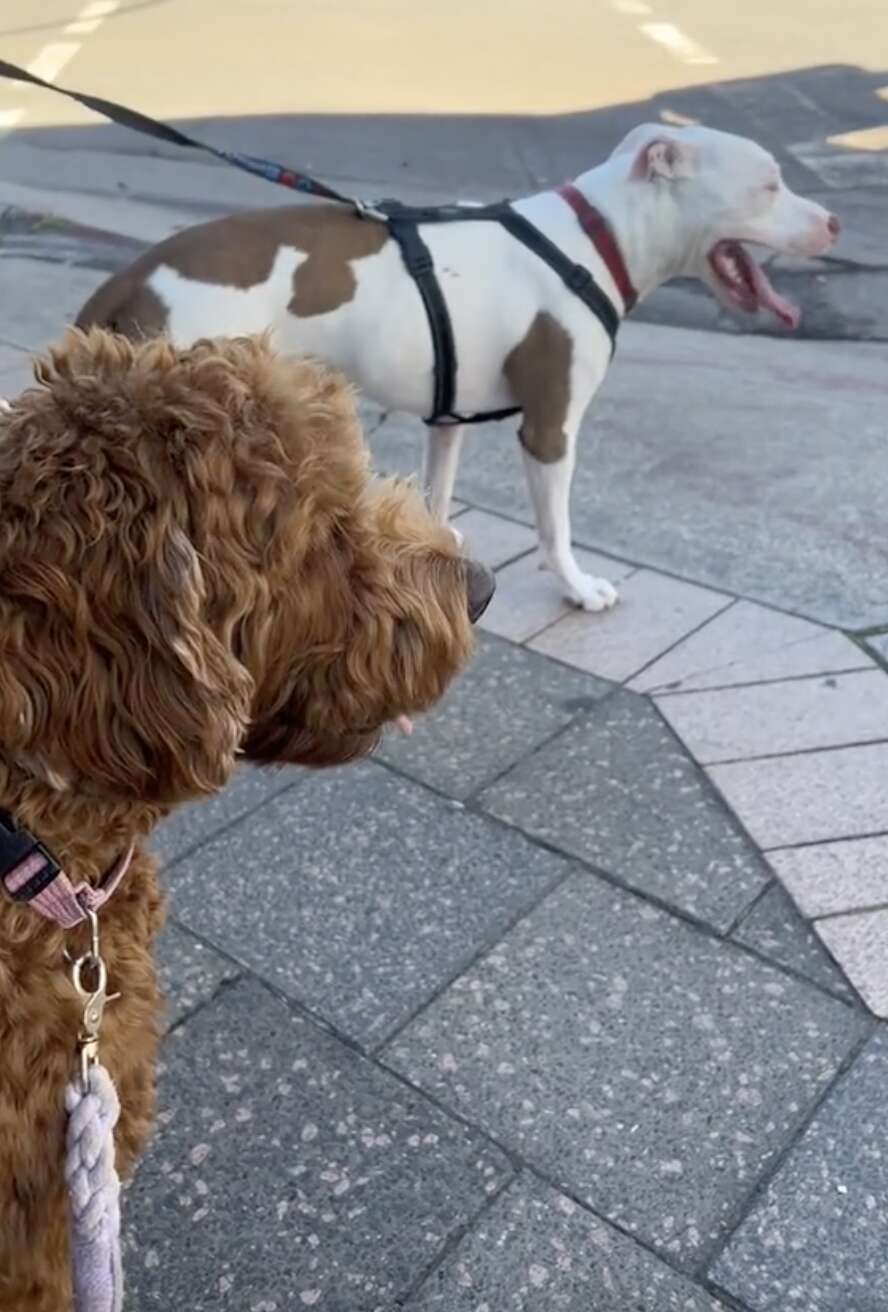 When the day came for Winnie and Chips to meet, Madden wasn't sure how the two dogs would feel without a piece of glass separating them.
"Winnie had only ever seen Chips through the window, so when they finally got to walk together, she was a little nervous," Madden said, "but it didn't take her long to warm up, and they were so happy together!"
You can watch the pups go on their date here:
After getting to know each other for a few minutes, Winnie and Chips finally felt comfortable enough to dive right into their date. The two enjoyed Puppuccinos at the park while their moms excitedly planned their second date.
"We think a trip to the beach might be the perfect second date spot," Madden said.
Only time will tell when the two pups will reunite for another date, but, until then, Madden and Winnie will keep reminiscing about their exciting first meetup.
"Seeing Winnie so excited and nervous was really cute!" Madden said. "They've really developed a nice bond between two unlikely pups."
To keep up with Winnie and Chips' adventures, you can follow Winnie on
TikTok
.
The Best Treats Your Dog Will Love
We may earn a commission if you purchase from our links.