Pittie Puppy Learns To Howl So He Can Be Just Like His Big Brother
"They are inseparable" 💙
Pitties aren't known for howling, but with a good teacher, anything's possible.
When Gunner, an 8-year-old German shorthaired pointer, met his puppy brother Murphy, he knew he'd make the perfect protégé. Murphy immediately idolized his brother and tried to be just like him.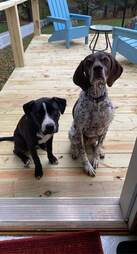 Sarah Lee
"Gunner and Murphy instantly bonded," Sarah Lee, the dogs' mom, told The Dodo. "Where Gunner goes, Murphy goes. Where Gunner sleeps, Murphy sleeps. They are inseparable."
While Murphy studiously copied Gunner's every move, he fell short when it came to embracing his inner wolf — something Gunner has no trouble doing.
"If Gunner hears a train, ambulance or police siren, he howls at it," Lee said. "Initially, Murphy would just watch him and tilt his head from side to side, sometimes sniffing him to see what he was doing."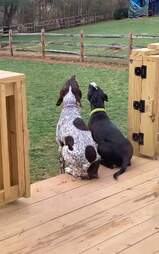 Sarah Lee
Howling didn't come naturally to Murphy, but that didn't stop him from trying … and trying.
"One day, he started trying and his little muffled whines slowly turned into simultaneous howls with Gunner," Lee said. "He totally copies Gunner, and will only do it if Gunner is howling."
Both dogs are full of energy and love people, food and snuggles. Even though there's a big age difference, it's clear that the two are as close as brothers can be.
"[Gunner] still acts like a puppy, so they will run around our yard smelling anything and everything," Lee said. "They sit on the back deck steps together 'pawtrolling' the yard."
"Murphy is only 8 months old, so their energy levels match perfectly," she added. "They snuggle on the couch together, eat together, share their toys and play tug-of-war."
Sarah Lee
Gunner has also taught Murphy how to be gentle with Lee's little kids, and his mom couldn't be more grateful to have such a perfect role model for Murphy — even if it does make their life a little noisier.
"Our dogs are our family," Lee said. "We love them unconditionally."