Animal Sanctuary Lets Visitors Hike Mountains With Hundreds Of Adoptable Dogs
This place is a dream 😍
Nestled in the mountains of Costa Rica, Territorio de Zaguates, or Land of the Strays, is a sanctuary that's home to over 1,800 dogs. That may sound unbelievable, but it's real, and it truly is a magical place.
Land of the Strays was started around 17 years ago from Lya Battle and Alvaro Saumet's desire to help the street dogs of Costa Rica. They began the rescue in their two-bedroom house, but once they had over 100 dogs, they realized they needed more space. Battle's grandfather had left behind a 370-acre farm in the mountains, so they packed up their lives and their dogs and moved their rescue efforts there.
After a few local shelters closed and left their dogs in the care of Land of the Strays, the number of dogs at the sanctuary grew and grew. The rescue's efforts began to be recgonized all across the world, and now, well over 1,000 dogs are able to call the sanctuary home.
"We are a temporary home for hundreds of puppies looking for a second chance, so most of our dogs are adoptable (nationally and internationally); but we are also the permanent home of many others who may never find their own family because of their looks, age or special needs," Battle told The Dodo.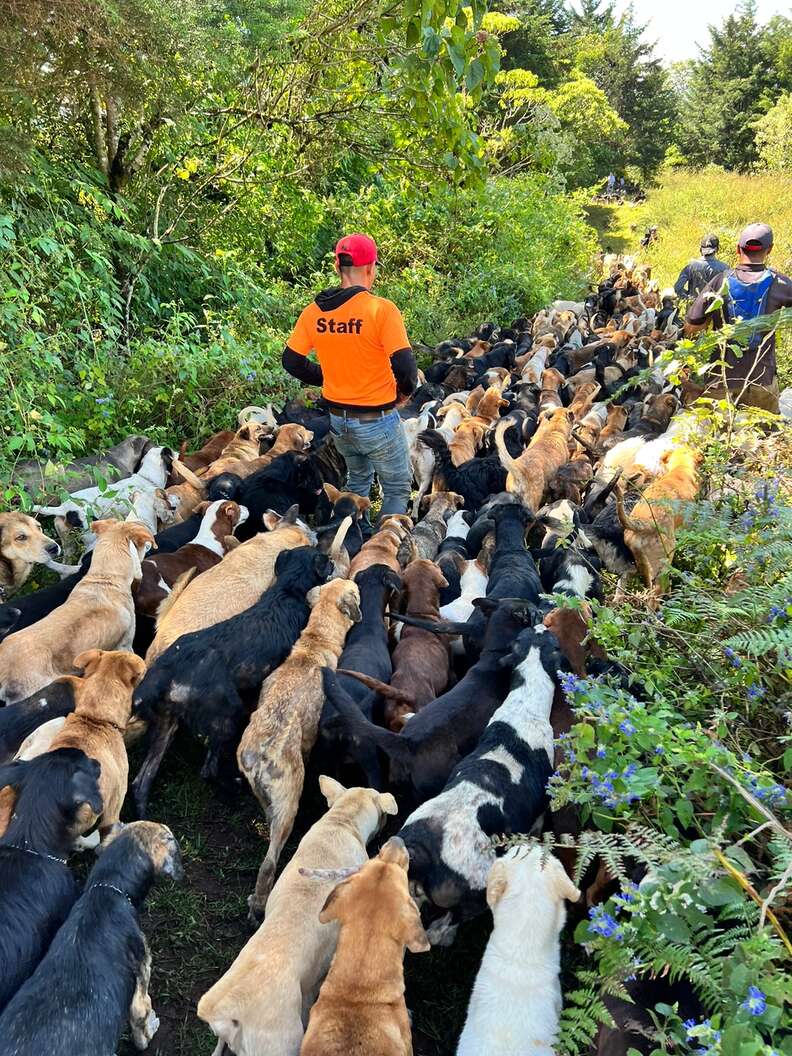 Walking around the property at the sanctuary, it's truly a paradise. There are fields to frolic in and mountains to hike, and no matter where you go, there's always at least a dozen dogs eager to accompany you along the way.
"Our caretakers 'run' the dogs out of their corrals about three times a day, each run/walk [is] about three hours long," Battle said. "This is the time they usually use to run up the mountain, get extra dirty and play on the little man-made pond we made for them. Our pack of hundreds of dogs is divided into smaller packs/groups, each led by a caretaker. Dogs tend to 'choose' one of them as their alpha and integrate into their group, so even when they have the chance to roam free in the property, they tend to stay together with the caretakers because they love hanging out with their person."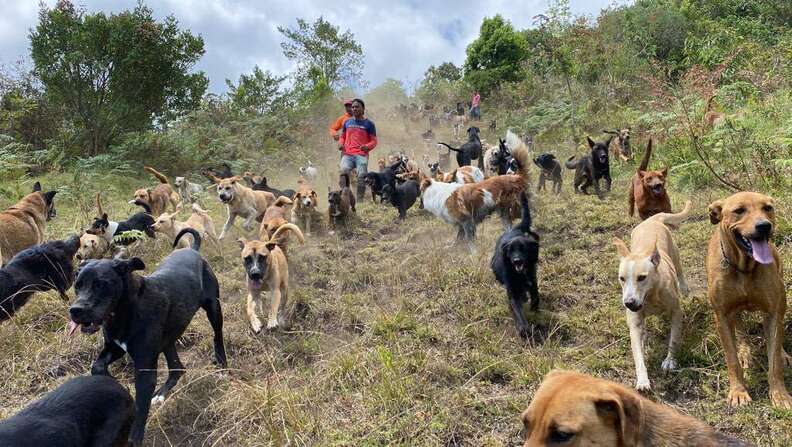 There are also areas for senior and special needs dogs, and for dogs who may need a little extra space away from the rest of the residents. Some of the dogs who have been at the sanctuary a long time like to explore the property on their own, and they've built enough trust with their caretakers for them to trust that they'll always come back to their corrals at the end of the day.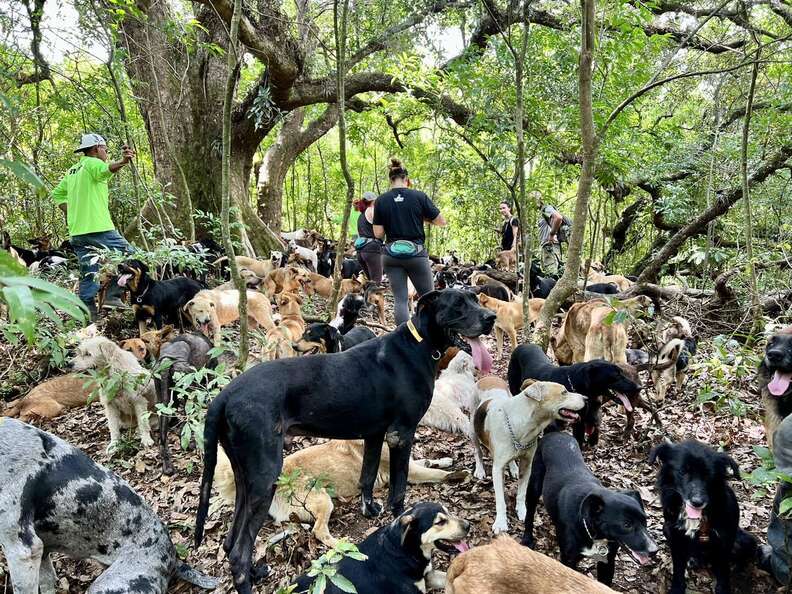 One of the more delightful parts about Land of the Strays has always been that they welcome the public to come and visit and go for hikes with their many, many dogs. Recently, though, they've hit a roadblock with that venture.
"A couple of years ago, the government authorities prohibited us from accepting visitors, and gave us a list of infrastructural requirements to keep functioning that, at the time, seemed impossible to meet," Battle said. "However, with a massive effort, we began the renovations and completely transformed the farm … We're now struggling to finish most of the construction projects to hopefully open our doors to visitors and volunteers by next year."
The sanctuary is funded completely by donations, which can sometimes be tricky, but everyone involved is fully committed to making sure every single dog they have is well taken care of.
"As you might expect, sometimes we are forced to prioritize food and veterinary attention to the dogs and the projects get delayed, but we keep working and still going strong at it," Battle said.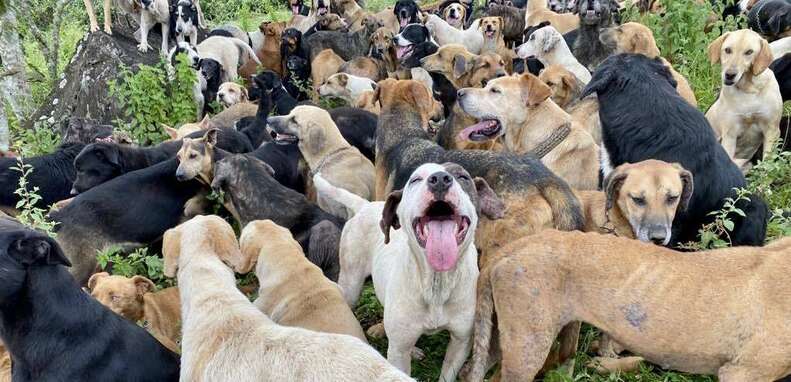 Hopefully very soon, this sanctuary will be able to open its gates to the public again. When that day comes, anyone and everyone traveling to Costa Rica should head there immediately and live the dream of being surrounded by over a thousand adorable dogs.
If you'd like to help support all these dogs, you can
make a donation
to Land of the Strays.
What To Buy If You Just Adopted A Dog
We may earn a commission if you purchase from our links.