Dog Obsessed With Toy Unicorns Gets Sent The Best Gift Ever
"It was as if she couldn't believe her little eyes" 🥺😍
Rosie was rescued as a puppy two years ago, and ever since then, she's taken on the role of the family goofball, and her family definitely wouldn't have it any other way.
"Rosie is hilarious," Taylor McDonald, Rosie's mom, told The Dodo. "She's full of spunk and she's constantly making us laugh. Our other dog, Bindi, is calm and dainty — Rosie has more of a bull-in-a-china-shop type of energy. She's clumsy, bouncy and full of cartoon-like tendencies. That is, except when it comes to her beloved little unicorns."
Rosie has always liked toys — but one day, when Rosie's mom gave her a ZippyPaws mini unicorn, she fell completely head-over-heels in love, and it's been that way ever since.
"She loves these unicorns," McDonald said. "I'm talking, has to have one at all times, carries one everywhere, sleeps with them. As a result, we luckily had six backups for wear and tear (originally)."
Rosie never ever destroys her unicorns, and instead treats them like her own little unicorn babies. Still, since Rosie is so obsessed with them, her unicorns definitely get very worn, despite everyone's best efforts to keep them safe.
"Since our other dog, Bindi, is a toy destroyer, we often have to keep them up high if no one is there to be a 'unicorn bodyguard' (yes, that's what this has come to)," McDonald said. "As a result, at around 5 p.m. each night Rosie will make it very, very known if she doesn't have a unicorn in her possession."
Rosie's mom had posted about her love for ZippyPaws mini unicorns on Instagram a few times, just to show everyone how cute the obsession is — but when ZippyPaws reached out to her about sending Rosie a unicorn care package, she was still shocked.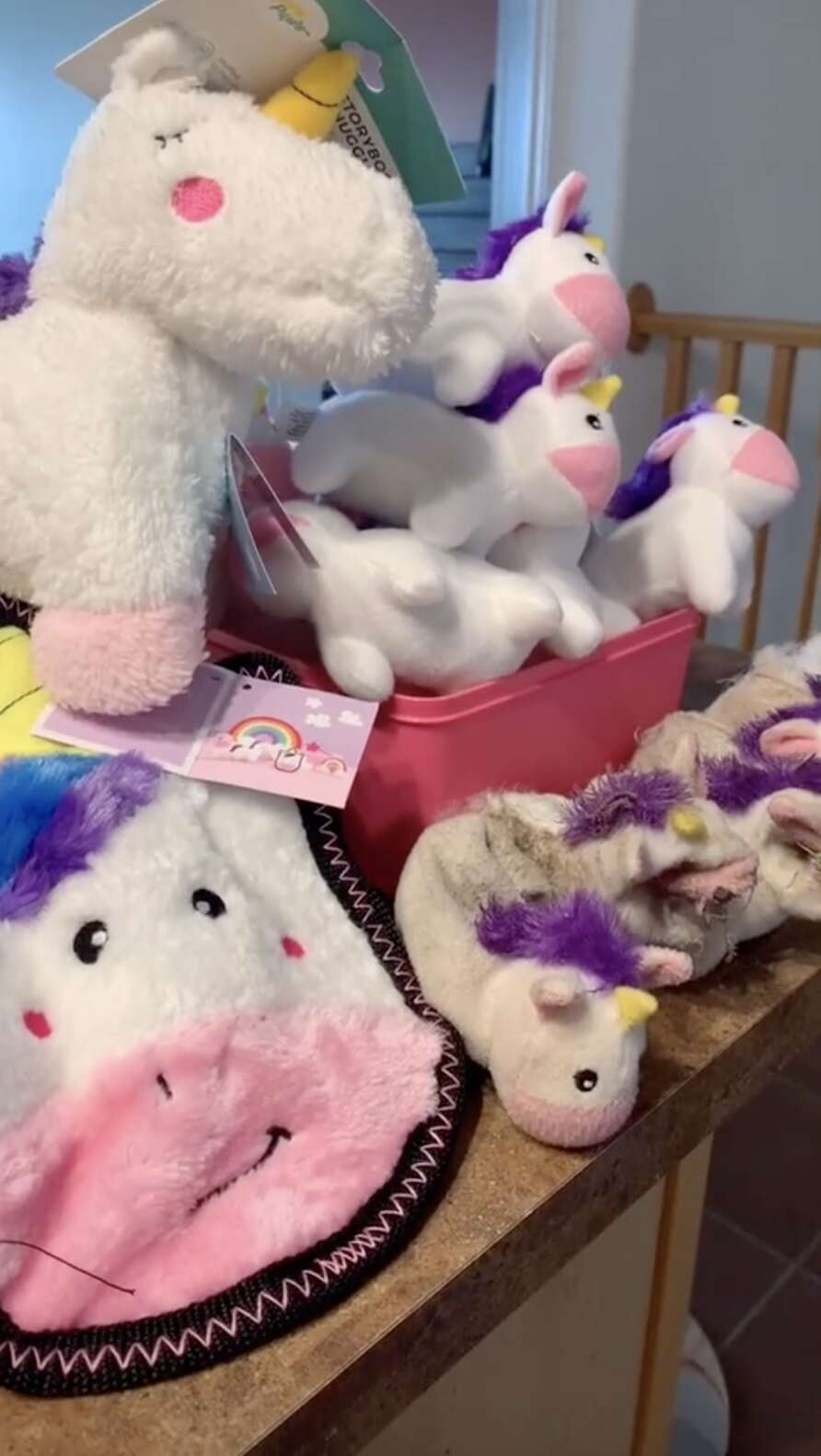 "I have never been more excited because I knew how excited Rosie would be," McDonald said. "Her previous unicorns had really had it by this point, so they couldn't have arrived at a better time."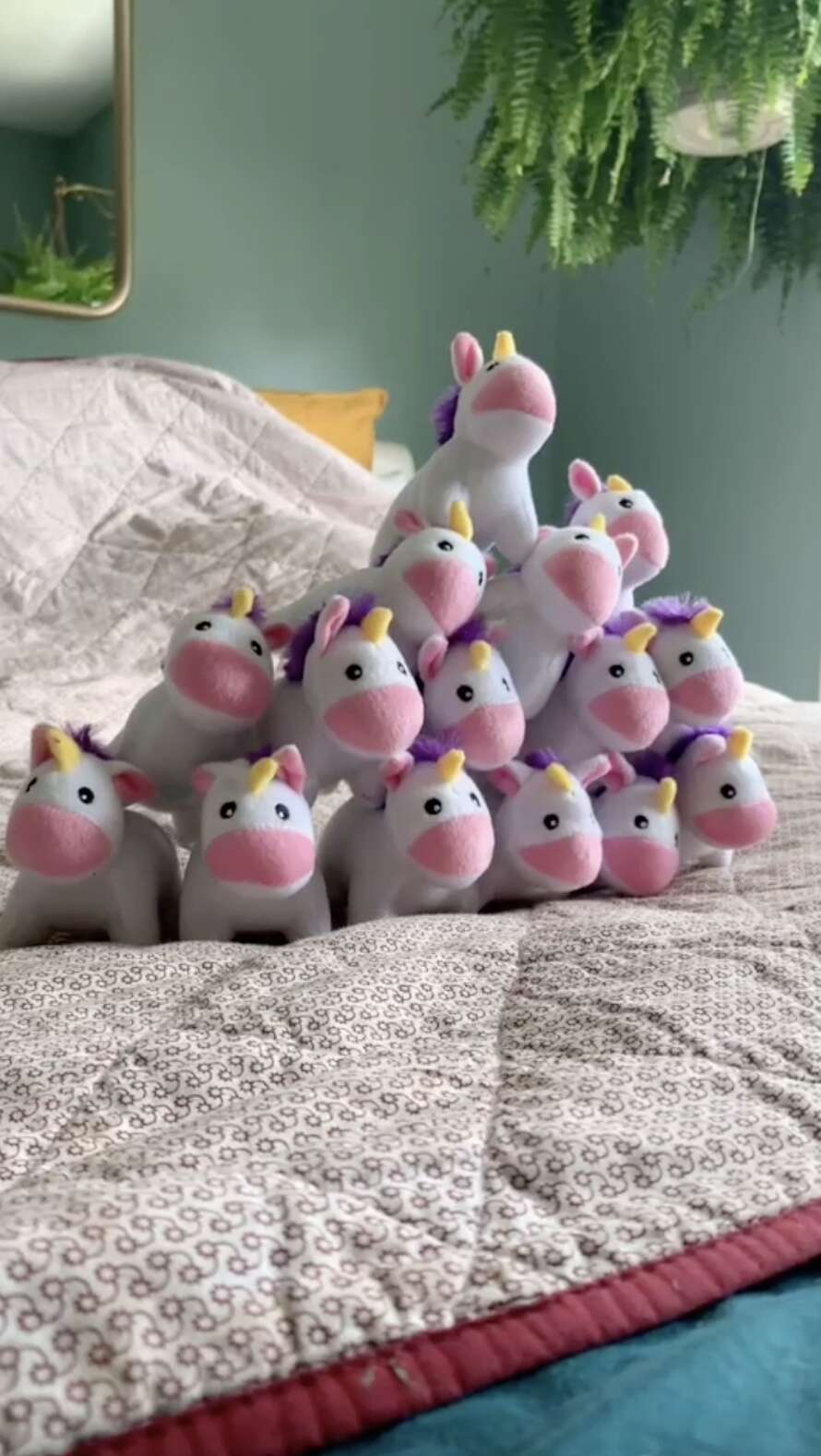 The company sent Rosie so many unicorn toys, as well as a few for Bindi, too. Her mom decided to lay them all out on the bed as a surprise for Rosie — and when the unicorn-loving dog finally saw them all, she was overwhelmed with joy.
"It was as if she couldn't believe her little eyes," McDonald said. "'These are ALL for me?!' After checking them all out, she then proceeded to make sure to squeak every. single. one. I usually put them all away so that we have spares (except for maybe one or two), but that day I let her have them all. She pretty much basked in all of her unicorn glory. I'm pretty sure I heard squeaking in my sleep because she didn't stop all day!"
Now, Rosie and her family don't have to worry about her unicorns getting too worn. She has so many to spare, and Rosie couldn't be more grateful to the company for helping her continue her absolutely adorable unicorn obsession.