Dog Missing For 2 Years Jumps Into Mom's Waiting Arms When They're Reunited
"She started hysterically crying and was in shock ..."
Jasmine Noffsinger and her sister were on their way back from a coffee run when they saw a dog walking down the side of the road. "He was extremely skinny," Noffsinger told The Dodo. "I could see all of his ribs and all of his spine."
The pair pulled into a nearby parking lot and called the dog over to them. "I got out of the car, and he came running at full speed at me, wagging his whole body," Noffsinger said. "It was the cutest thing ever."
Once the hungry pup hopped in the car, the first thing the sisters did was take him to the vet to get checked for a microchip. "He did indeed have one, but they couldn't pull up his information," Noffsinger said.
Luckily, the microchip company had the lost dog's information on file. It turned out the pittie's name was Hamm, and he'd traveled a long way from his home in Dade City, Florida.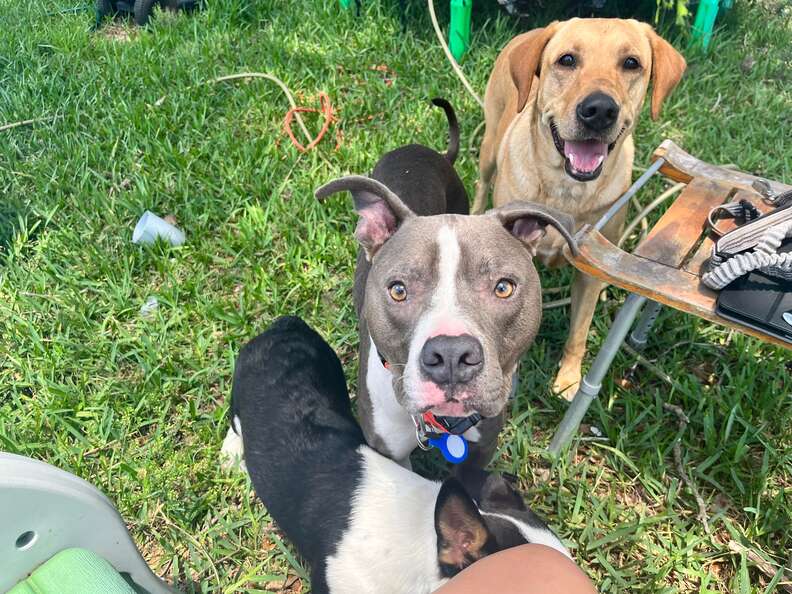 The microchip company contacted Patricia DeWit's husband, and soon Hamm's rescuer was on the phone with his mom.
"When I told her I had [Hamm], she started hysterically crying and was in shock and did not believe I had him," Noffsinger said. "She then told me he had been missing since February 2021, and when I asked her where she lived, she said Dade City, which is 450 miles from me in Pensacola."
When Hamm escaped from his yard in 2021, his family desperately searched for him, but because the DeWit's home backs up to 100 acres of land, their search turned up nothing.
Noffsinger and DeWit agreed to meet halfway in Tallahassee. "When [the DeWits] pulled up, Hamm ran straight to them and hopped in their car," Noffsinger said.
Noffsinger has received sweet Hamm updates every day since she reunited him with his mom, and said that he's acting as though he never left. "Get your pets microchipped and make sure that they're registered and up to date," Noffsinger said.
"And for anyone who does find a dog and the dog has a chip, just because the information doesn't come up right away doesn't mean there isn't any," Noffsinger said. "Go the extra mile and do what's right."
Cute Dog Toys Shaped Like Your Favorite Foods
We may earn a commission if you purchase from our links.