Dog Who Was Abandoned In Muddy Yard Is So Spoiled Now
"I will tuck her in at night, cover her up and massage her back legs. She is in heaven."
By the time rescuers found Annie, it had already been raining for weeks.
The yard she was left in had turned into a complete mud pit and pools of standing water were everywhere. Dozens of other dogs and puppies scurried around the Louisiana property as Annie lay huddled underneath a fence in the mud.
The look on her face was one of pure terror.
Annie huddled next to a fence on the property

| Stray Rescue of St. Louis
The dogs had been left to fend for themselves in their owner's yard before someone reported the situation to St. Landry Parish Animal Control, which rushed to get the dogs off the property.
The group took in Annie and others — but unfortunately, its county shelter was full and couldn't house them all.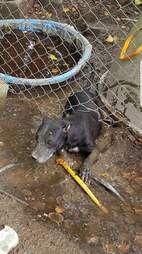 Annie cowering under a fence in the yard

| Stray Rescue of St. Louis
"They were going to have to start euthanizing," Natalie Thomson, marketing director for Stray Rescue of St. Louis, told The Dodo. "That's when [we] stepped up and agreed to take her."
Annie and a few other dogs from the property were transported up to St. Louis, Missouri, shortly after. During a vet exam, the rescue realized her back legs were deformed, and she she needed to be spayed and treated for heartworms.
In addition, she was still so scared of everyone.
Annie after being brought to the rescue

| Stray Rescue of St. Louis
"We weren't sure if a kind word had ever been said to her," Thomson said. "She wouldn't eat or let us touch her. She wasn't feral, just afraid."
But after some specialized vet care and lots of encouragement, she finally started eating and cuddling with some stuffed animals the staff had given her.
 
Stray Rescue of St. Louis
"We moved her from having an apartment in the shelter to one of the offices where she could be around people all day," Thomson said. "She learned to play with other dogs [and] toys and made friends with everyone. Her personality just blossomed and she was such a gentle, kind soul."
After continuing her great recovery progress with a foster family, Annie was posted online for adoption — and Linda Nelsen fell in love instantly. She had just lost one of her dogs two years ago, and had been considering adopting another since.
Annie smiling in the rescue office

| Stray Rescue of St. Louis
"Late one night, I was laying in bed on my phone and this picture of a black dog showed up," Nelsen told The Dodo. "My heart started pounding, and I woke my hubby up to tell him I found her ... I just knew."
They were approved to adopt and welcomed Annie home soon after. They've recently changed her name to Andi, and it's quite likely she's never been this happy in her life.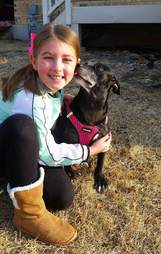 Annie kissing her foster sister

| Stray Rescue of St. Louis
Now a beloved sister to two other rescue pups, Andi has plenty to keep her busy. Although no one knows how her legs were deformed, the condition doesn't stop her from running or playing.
"She loves being part of a pack," Nelsen said. "She is always running after the others. She's having the time of her life."
Andi looking out for squirrels with her two dog siblings

| Linda Nelsen
Linda Nelsen
"I think she is amazed she has a soft, warm bed now," Nelsen said. "I will tuck her in at night, cover her up and massage her back legs. She is in heaven."