Couple's Cat Starts Panting — Then They Realize The Adorable Reason Why
"After three unnecessary visits to the vet, it turns out he just likes copying his big sis" 😂
When Lindsey and Daria, a couple from Belgium, were traveling through Spain in September, the last souvenir they expected to bring home was a tiny, malnourished kitten. But when a little orange tabby followed them back to where they were staying, the couple knew he had chosen them as his family.
"I think he knew then and there that he had finally found safety and his forever home," Lindsey told The Dodo. "We definitely did."
When they first found the kitten, now named Kaizar, "he looked extremely underweight, literally weighing only 0.7 kilograms [1.5 pounds], and was covered in fleas, bite wounds and scabs," Lindsey explained.
Kaizar was scared of most people and animals when he was first rescued. "Then he slowly started growing more curious of the world and the other people around us (and of his [Chihuahua] sister, Fyssa)," Lindsey said.
Kaizar fell in love with his new furry sister after Lindsey and Daria slowly introduced them. "We always joke about how he probably mistook her for a cat since he absolutely hates dogs," Lindsey said.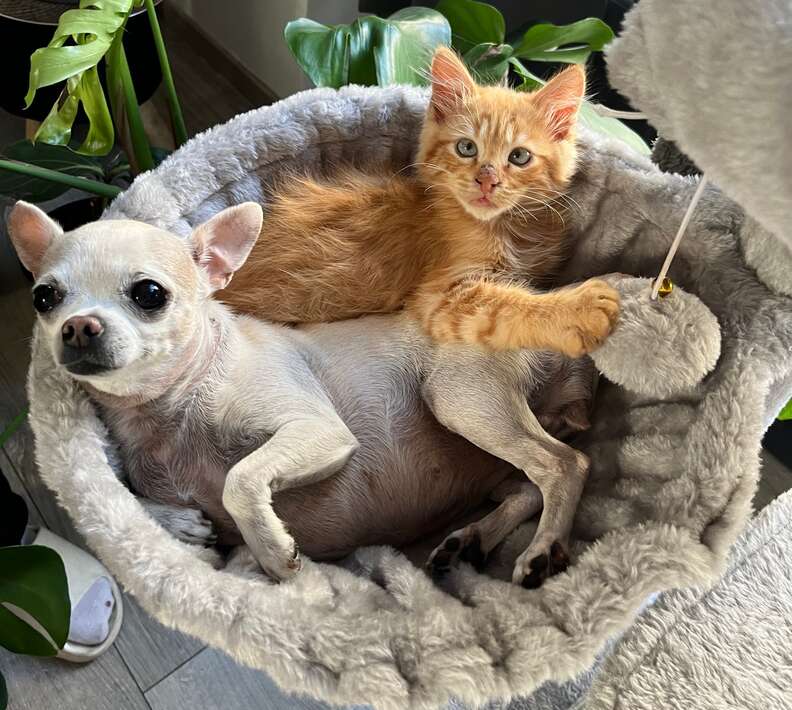 "All he wanted was to be as close as possible to her, to cuddle her and for her to cuddle him," she added. "Fyssa was playing a little hard to get and was wary of his presence."
But, during a family road trip, Fyssa finally allowed Kaizar to snuggle with her and then she began playing with him. "It was a little awkward at first as they both had no idea how to interact with one another," Lindsey said. "But they made it work."
Fyssa was a big influence on Kaizar as he grew from a kitten to a cat. She taught him everything she knows about being a dog — and Kaizar was an excellent student! He now even pants just like his big sister does.
At first, the couple was worried: "We thought cats only pant when they're either sick or thirsty," Lindsey said. "But after three unnecessary visits to the vet, it turns out he just likes copying his big sis."
Fyssa also taught Kaizar how to walk on a leash, play fetch and even how to growl and bark.
Now, Kaizar and Fyssa do everything together. "As soon as Fyssa gets up to do anything, he comes running from wherever he is to do whatever it is she's about to do," Lindsey said. "Kind of like what she does to me! He's like a dog for my dog."
"From the day we found Kaizar, we literally haven't had a dull moment since," Lindsey added. "He's always entertaining us by doing funny or cute things. He has all eyes on him all the time, and he definitely knows it!"
These Are The Best Treats For Picky Cats
We may earn a commission if you purchase from our links.