Rescue Cat Helps Save Owner And Neighbors From Fire
"I rescued Kitty. She rescued me. Then I rescued her back."
Danielle Schafer was asleep in her apartment one night last month when her cat, Kitty, suddenly pounced on her.

"She jumped on top of me and I woke up," Schafer told The Dodo.

Schafer and Kitty had just recently moved into the apartment in Lansing, New York, while Schafer attended her last year of veterinary school at Cornell University.

The pair have been inseparable since Schafer rescued Kitty five years ago, scooping her up as a feral kitten who was living on the side of the road.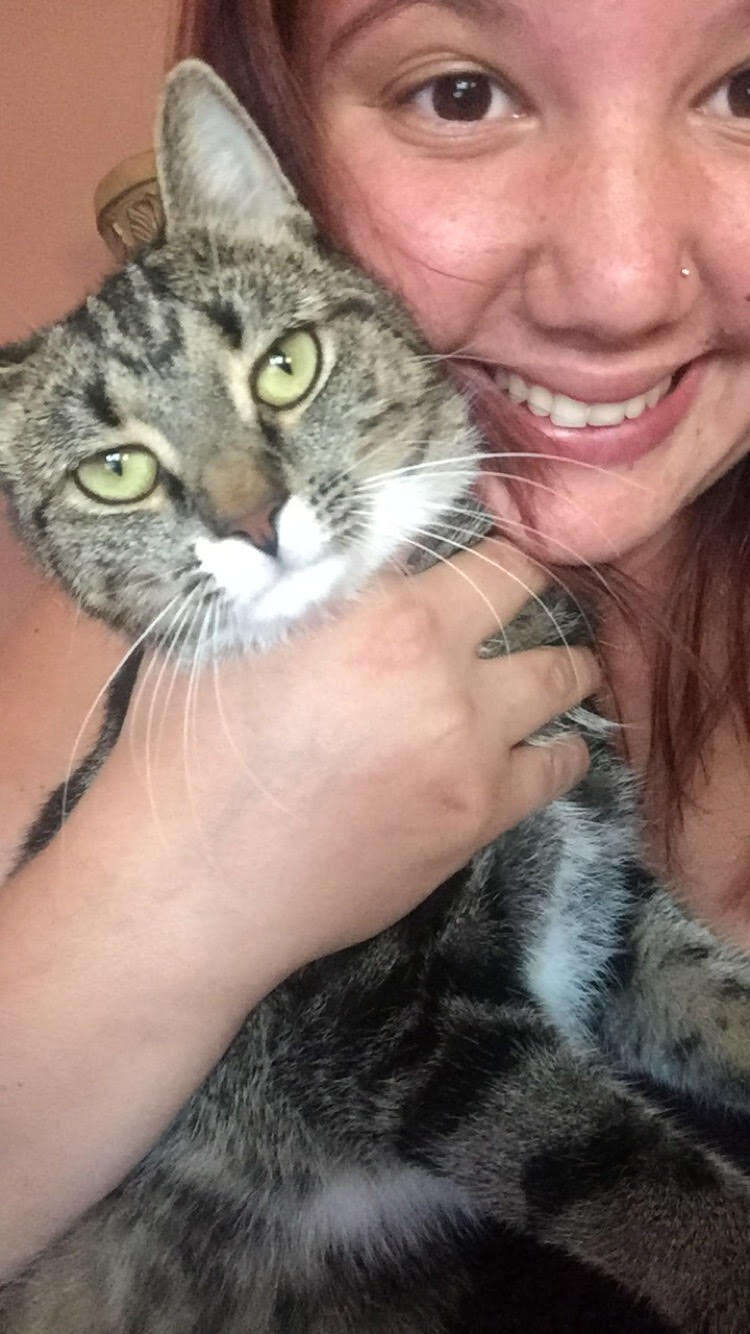 "I wasn't going to keep her," Schafer said. "I was going to try to find a good home for her."

But the kitten's sweet eyes and kind expression won her heart.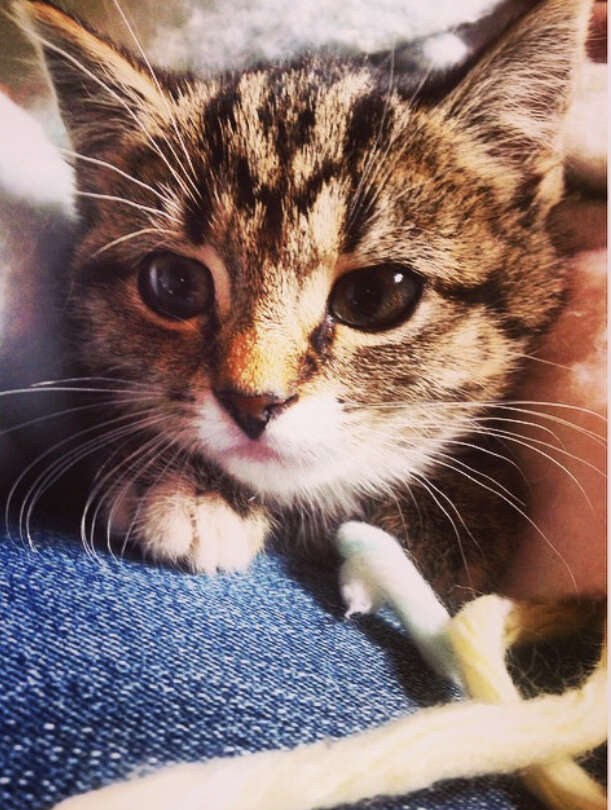 And while Kitty sometimes sleeps next to Schafer, she doesn't usually try to wake her up.

So that night, groggy and blurry-eyed, Schafer was trying to figure out what was up with Kitty. Then Schafer heard a huge explosion outside her apartment.
The loud blast frightened Kitty. The cat immediately jumped up and sprinted off the bed.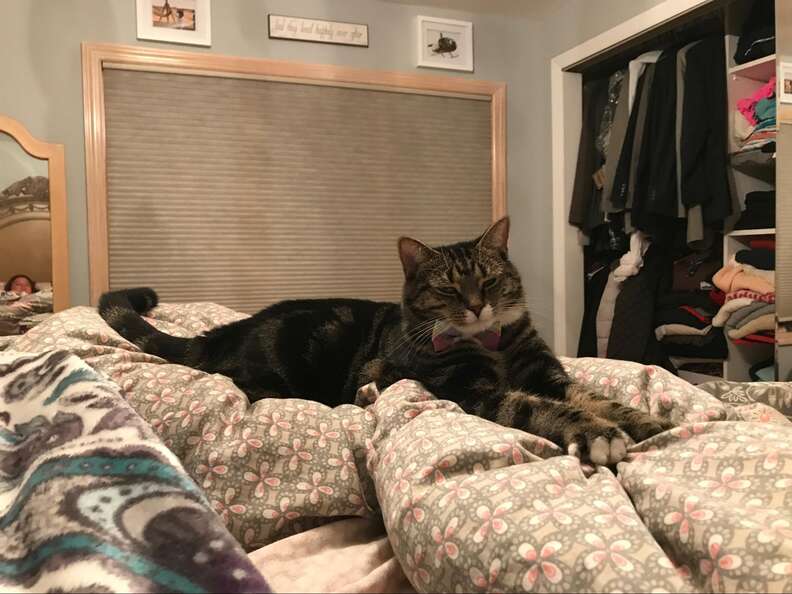 Schafer rushed to her front door.

"I saw red flames, smoke and fire," she said. "I just started running back to my bedroom."

When she got back to her room, she couldn't find Kitty. Schafer knew they had to get out of the apartment immediately.

"I was screaming, 'Kitty! Kitty! Kitty!' It was blood-curdling screams that probably made her more scared," Schafer said.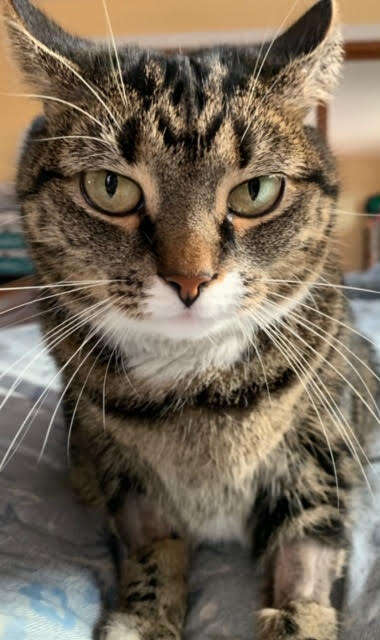 With the intense, searing fire blocking the front door, Schafer tried finding another escape route.

"I was trying to unlock my bedroom windows. They would not open," Schafer said. "The smoke was coming in. I started crying because I could not find my cat."

Schafer closed her bedroom door and, wearing only her pajamas, she ran out the last exit she had — a patio door, also surrounded by flames.

"I ran through the fire and smoke," she said. "I was screaming, 'Help! Help! Help! Help!'"
Schafer said a man walking past the apartment building heard her yelling and ran over to her.
"I said, 'My cat is in here! My cat is in here!'" Schafer said, pointing to her bedroom window.

The man put his foot through the window and broke the glass.

"I went to go back in," she said. "He grabbed me. He said, 'You can't go back in there! It's black!'"

Schafer was so focused on saving Kitty that she didn't realize how quickly the fire had spread. She looked up and saw her entire building was now engulfed in flames.

As she stood there stunned, the parents of two young children who lived on the second floor opened their window pleading for help. They couldn't get out of their front door because of the fire.

"There was a whole family trapped in their apartment," Schafer said. "They dropped one baby to me, and the other to the man."

She ran with the child in her arms to a nearby parking lot for safety. Soon the parents escaped and were reunited with their children.

Schafer believes her screams for help finding Kitty may have been what woke some residents because, she said, she didn't recall hearing fire alarms.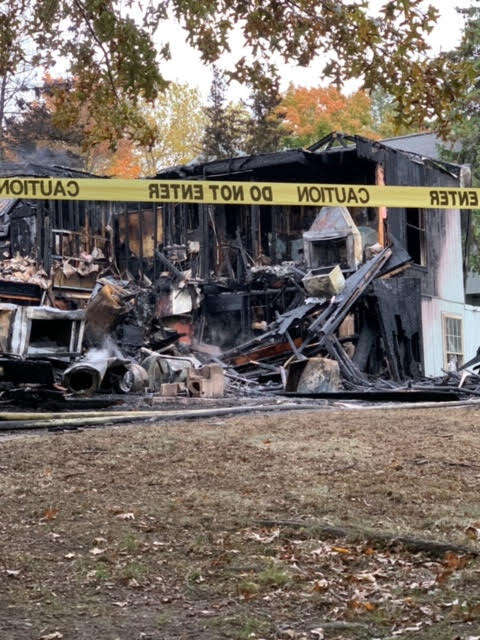 When firefighters arrived, Schafer begged and pleaded with them to save Kitty.

"I told them she must be hiding and scared," Schafer said.
Rescue crews promised they would try to find her cat.

Officials convinced Schafer and the other residents, who all got out safely, to go to a nearby hotel while firefighters battled the blaze.
Schafer went to the hotel and a friend brought her clothes. But as soon as the sun came up, Schafer went back to her apartment.

Her heart sank when she saw the building. It was reduced to smoldering rubble.
The fire consumed nearly everything Schafer had in the apartment, but she clung to hope that Kitty somehow survived.

Then she heard a commotion.

"I heard a firefighter saying, 'Where's that girl? Where's that girl?'" Schafer said.

He was holding Kitty!
"It was like a movie. It was amazing! She was in his arms," she said. "Kitty looked at me like she was mad because she was in this random guy's arms."
"I went into what was left of her apartment," Brad George, Lansing Fire Department deputy chief and Kitty's rescuer, told The Dodo. "I opened her bedroom door and saw her bed and pillows against the wall. I started pulling the pillows back really slowly and I saw black fur. She was breathing. I was like, 'She's alive!'"
George put Kitty in his coat and carried her out to Schafer. And that's when Schafer learned of the incredible series of events that helped save her cat.

When Schafer closed her bedroom door it slowed the fire, which is still under investigation, from engulfing her room.
When the man broke Schafer's window, it created a vent of fresh air.

And when Kitty buried herself in Schafer's pillows, it may have helped filter the air the cat breathed.
Schafer rushed Kitty to the veterinary emergency room at Cornell University, where she spent several days recovering.
"The doctors said it's a miracle she's alive," Schafer said. "She is a miracle."

Now Schafer wants to find and thank the mystery man who responded to her desperate pleas and broke her window trying to find Kitty.

"I have no idea who he is," she said. "I'm so grateful to him. I remember him being there. Then he was gone."
And most of all, Schafer credits Kitty for saving many lives that night.
"If she didn't wake me up, I don't know if I'd be here right now," Schafer said. "Her waking me up is what helped me save others. I think God was watching. He put these people and these animals in my life for a reason. I rescued Kitty. She rescued me. Then I rescued her back."