Bus Driver Spots A Fluffy Pile On Road — Then Realizes It's Moving
"It was the most heartbreaking thing to walk up on" 💔
A school bus driver in St. Louis, Missouri, was waiting for her next shift when she spotted a black, fluffy mound a few feet ahead of her. She fixed her eyes on the pile, assuming it was an inanimate object, and was shocked when she saw a tiny ripple of movement coming from its center.
Curious, the driver stepped off her bus and walked toward the pile to investigate. As she got closer, she started to hear a chorus of high-pitched whimpers. That's when she called Stray Rescue of St. Louis (SRSL) for help.
"She said there were six puppies in a field, and that four of them were closer to the road," Donna Lochmann, chief life saving officer with SRSL, told The Dodo. "But when we got to the intersection she gave us, we didn't see them anywhere."
It was raining, so Lochmann knew that time was of the essence. She canvassed the road where the bus driver had seen the puppies and, finally, found exactly who she was looking for.
"We spotted the first four," Lochmann said. "It had been raining so hard that morning, so they were soaked, and they were cold. They were just shivering and whimpering. It was the most heartbreaking thing to walk up on."
Lochmann and her teammate gathered up the four crying pups and placed them in her Jeep. Then, she started to search for the remaining two puppies.
"Next to where the first four puppies were, there was an area of brush or weeds and some trash," Lochmann said. "I started looking around in there, then, all of a sudden, I noticed a little black-and-white puppy pop his head up."
Curled up alongside the black-and-white puppy was the sixth and final sibling. When he heard Lochmann's voice, the tiny black pup lifted his head up to look at her.
Lochmann quickly rounded up the remaining two puppies and reunited them with their siblings in the warm Jeep. Finally, the little family was away from the road and out of the rain.
With the tiny family of six secured in the back of her Jeep, Lochmann made her way back to the shelter. As soon as she got there, she gave the puppies a much-needed rinse.
"I gave them all warm baths to try to warm them up a little bit," Lochmann said. "Then, we gave them wet food, and they were so hungry. Their bellies were so bloated when they were done eating."
The six puppies curled up together for a group nap when their bellies were full and their coats finally dried. As they slept, their friends at SRSL figured out foster care arrangements.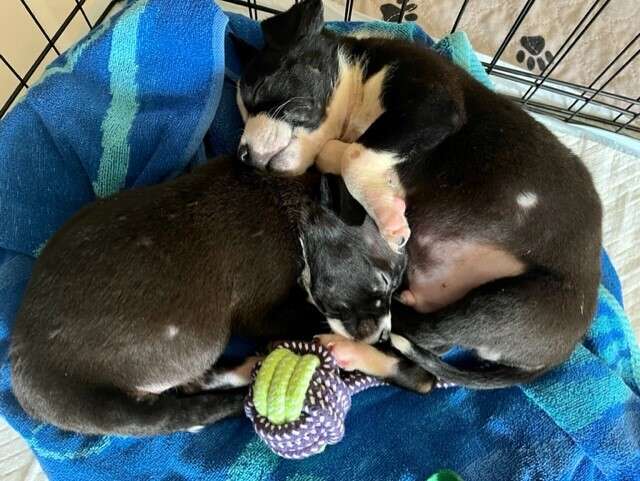 Luckily, all the puppies found foster homes right away. Because they were estimated to be around 6 or 7 weeks old, they were still too young to go into foster care alone. So, their friends at SRSL made sure the puppies went to their new homes in groups of two.
You can read an update on how all the puppies are doing here:
Today, all of the puppies are thriving in their foster homes and, soon they'll be ready for adoption. Lochmann's looking forward to seeing how they grow in the future, but, for now, she's just grateful that they were found in time.
"We're really, really thankful that the bus driver called us, because there's no way they would've made it through the rest of the day out there," Lochmann said. "Now they're doing so well, and we're all so happy for them."
To inquire about adopting a puppy, you can reach out to Stray Rescue of St. Louis via email, phone or social media
here
.
To help pups like these get the care they need, you can make a donation to
Stray Rescue of St. Louis
.
Keep Your Dog Happy On Rainy Days
We may earn a commission if you purchase from our links.