Brave Pigs Team Up To Take On A Bear Who Climbed Into Their Pen
"I am so grateful and so proud of them."
A little over a year ago, Rebecca Shaw's life became all the richer. It was then that she adopted two adorable pet pigs named Hamlet and Mary, who now live with her at home in Connecticut.
"I've been in love with them ever since," Shaw told The Dodo. "They are amazing."
But a recent incident proved just how amazing Hamlet and Mary really are.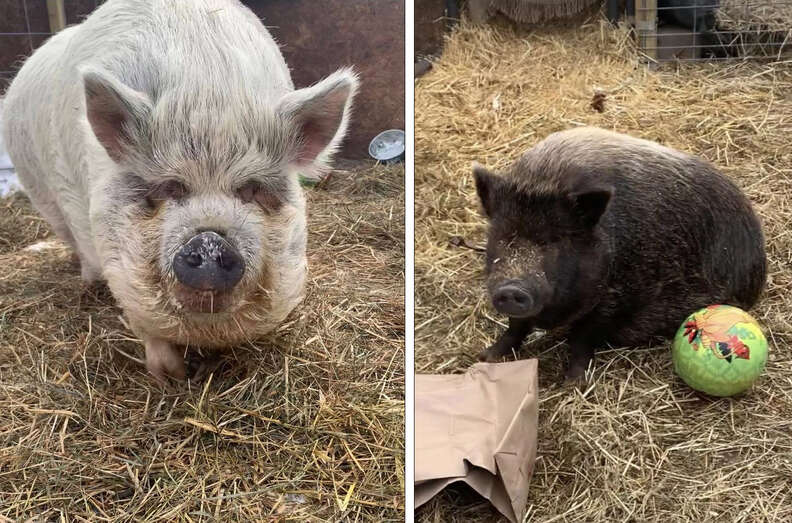 The other day, Hamlet and Mary were hanging out in their enclosure when an unexpected visitor dropped by. The visitor was a bear — and he was none too shy about letting his presence be known.
Seeing the pigpen, and its pudgy-faced occupants, the bear then climbed up and in, assuming, perhaps, that these pigs were pushovers. He was wrong.
At first sight of the sudden intruder, Hamlet and Mary teamed up to send the bear packing.
Here's that moment on video:
The bear clearly wasn't expecting things to turn out like that. After getting pounced on, Mary put up a valiant fight. And then Hamlet stepped in to drive the bear away for good. Amazingly, neither were hurt in the scuffle.
Shaw has always thought the world of her pigs — but seeing video of their heroism in action, she can't help but love them even more.
"Thank goodness they were unharmed because it could've turned out much worse," Shaw said. "Mary is usually the protector, and Hamlet is usually afraid of his own shadow, but I'm so proud of him because he showed how brave he can be. I am so grateful and so proud of them."
7 Earth-Friendly Dog Poop Bags That Actually Work
Keep those smells inside 💩