Boaters Do A Double Take When They Notice Unlikely Bird Trapped Far Out At Sea
Could it be?
In the aftermath of hurricane Idalia, many animals in Florida have found themselves displaced from their usual homes.
A team of boaters working to photograph storm-related beach erosion recently realized this firsthand when they looked out to sea and saw an unlikely pink neck paddling through the waves.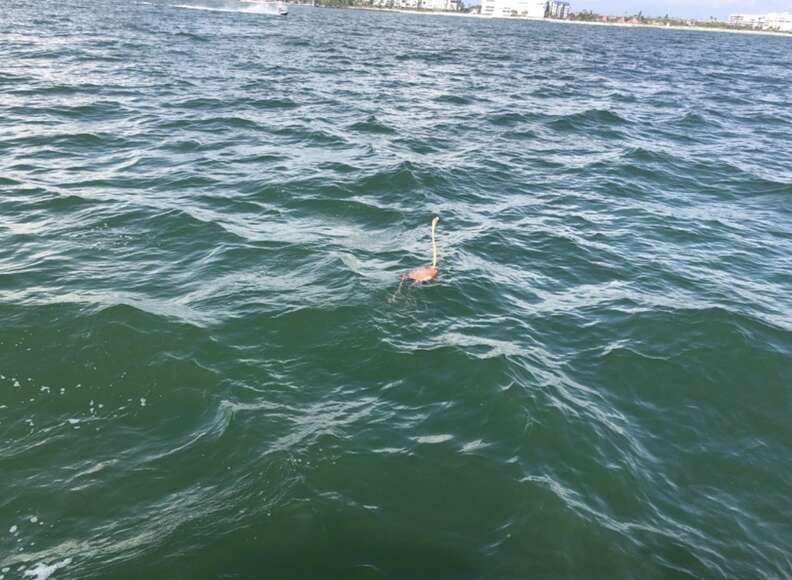 "They proceeded to get a closer look and realized it was a flamingo," Kristen Davis, marketing and communications manager at SPCA Tampa Bay, told The Dodo. "As they got closer, the flamingo tried to raise its wings from the water to fly away and could not pull them out of the water. That is when they knew that the flamingo was in trouble."
Hurriedly, the boaters, captain Jeff Brooks and Madeira Beach commissioner Anne-Marie Brooks, decided they had to help.
"They were worried that since the flamingo was struggling and seemed confused, it was not likely to survive if it was left alone in the water," Davis said.
Using a net and a lightweight towel, the pair gently pulled the tired bird out of the waves. Finally safe onboard, the grateful flamingo collapsed. The rescuers named him Peaches.
Soon, SPCA Tampa Bay's wildlife team was on the scene, ready to assist with temporary bird housing. Eventually, Peaches was transferred into the care of Seaside Seabird Sanctuary, where a dedicated hospital team has been helping aid his recovery.
Thanks to the quick thinking and care of so many animal lovers, Peaches will soon be back in the wilderness where he belongs.
"The hospital team at Seaside Seabird Sanctuary is working on getting the flamingo back to its full strength and a healthy weight for release back into the wild as soon as possible," Davis said. "They are hopeful that the flamingo will be able to be reunited with one of the flocks in our area!"
Dog Crates That Will Actually Match Your Furniture
We may earn a commission if you purchase from our links.