Couple Pulls Off The Perfect Baby Announcement Featuring All Their Cats
"A surprising amount of people have asked how we did it" 🕵️‍♀️
Valerie and Wendy Mattingly have six cats: Woofie, Elliot, Gracie Mae, Gerald, Tweedy and Roger. They love their little family so much, and they've been longing to give their beloved cats a human sibling for some time now. It was a long two-year journey with several failed IVF attempts, and their cats were by their side every step of the way.
"The cats would climb on my back while my wife gave me my IVF shots," Valerie Mattingly told The Dodo. "Sometimes they would sniff the alcohol wipes and make a funny face. They really helped lift our spirits during this process."
When the couple finally learned they had a baby on the way, they knew they had to include their cats in their pregnancy announcement. Their fur babies had been so involved in the process up until that point. Why stop now?
When the couple unveiled their pregnancy announcement, everyone was shocked and delighted — not just because of the baby, but also because of the cats! The announcement features all six cats holding a paw on their mom's pregnant belly, and the photo left everyone scratching their heads as to how the couple managed to pull the shot off.
"A surprising amount of people have asked how we did it," Mattingly said. "They've asked for zoomed-out pictures because they thought we had six people holding cats on the side."
So, how did they actually do it? A little creativity and a whole lot of patience.
"We set our camera on a tripod and took a timed photo of just my belly and our hands," Mattingly said. "Then I took the dress I was wearing and put it on a pillow and held each cat's paw out against the pillow while my wife took the pictures. Then my wife Photoshopped the images together. Let's just say there are about 100 pictures of cat paws on my camera now."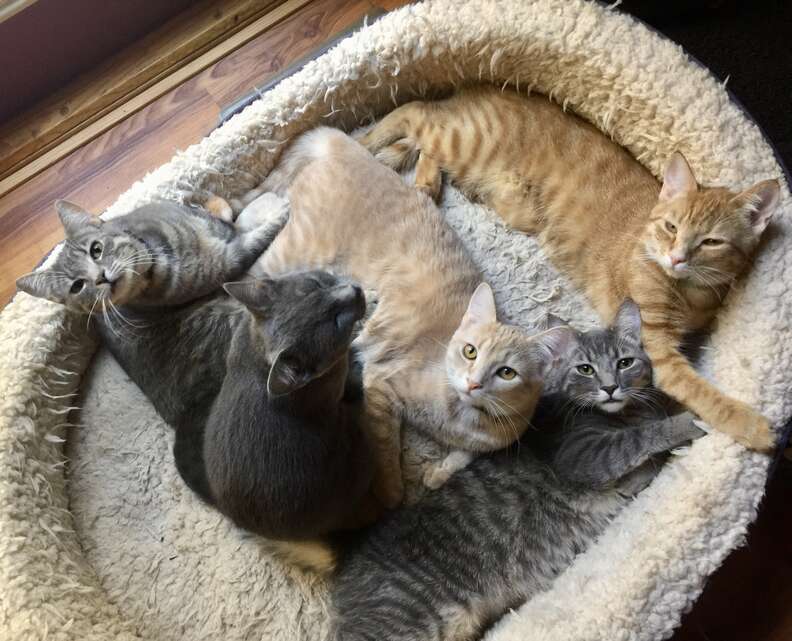 Even though the photo wasn't the result of one big, chaotic photo shoot, the cats were still very much involved in every single step of the process.
"When we were taking photos of my belly, all six of them were right beside us," Mattingly said. "They were climbing on the window sill and trying to knock the camera over. They're very clingy! When it was their turn, they were a little less enthusiastic but still willing. The girls were the most natural in front of the camera. Two of our orange boys just seemed confused, and the third orange boy was not thrilled. You can see his angry thumb paw gripping the fabric if you look closely."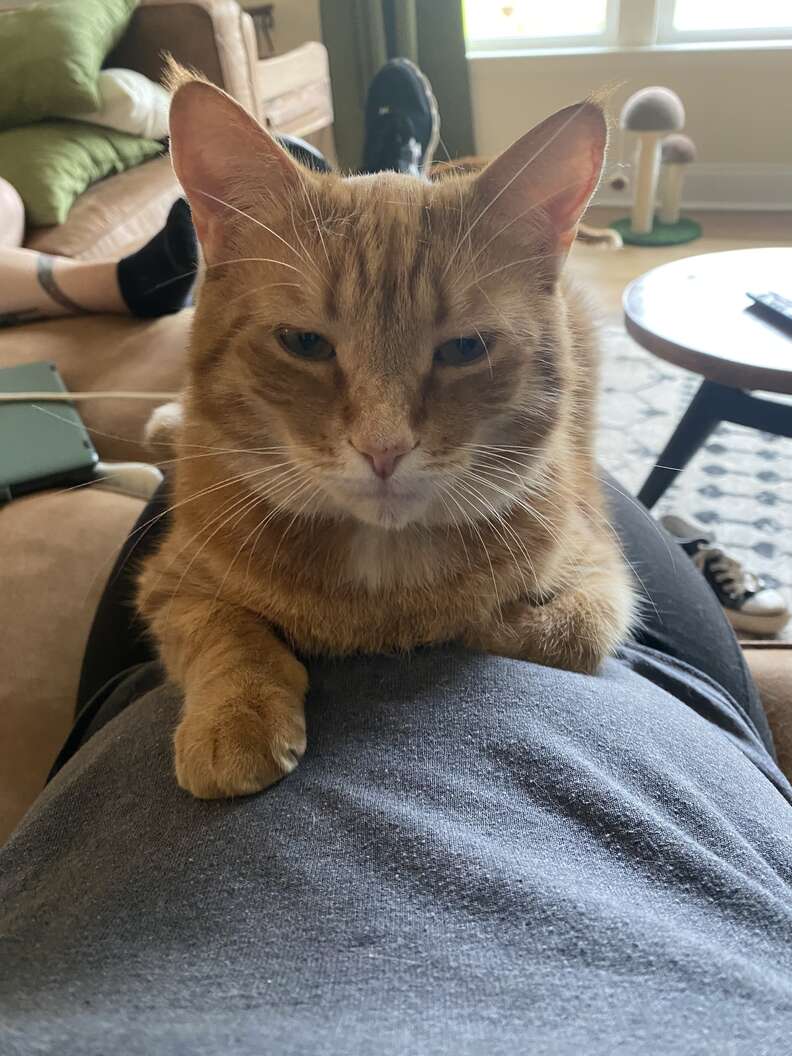 Wendy Mattingly is a graphic designer, so pulling the final product together wasn't too difficult. Even the experts agree, however, that she did a particularly fantastic job. The Photoshop element of it all definitely had everyone fooled.
The couple is absolutely thrilled that their dream of having a baby is finally coming true, and they can't wait to introduce their human child to all six of their fur children.
The Best Covered Cat Litter Boxes For Minimal Mess
We may earn a commission if you purchase from our links.