People Find Terrified Little Wild Animal Wandering City Streets
He had no idea where he was 😭
He was lost in a big city — and no one knows how he got there.
Earlier this month in Bangkok, Thailand, a Good Samaritan wandered across a tiny, nocturnal animal who usually never sees the light of day: a Bengal slow loris.
These rare animals, known for their strikingly large eyes, are commonly kept illegally as pets in Thailand — but somehow, this slow loris escaped to the streets. The person who found him knew just what to do and brought him to Wildlife Friends Foundation Thailand (WFFT).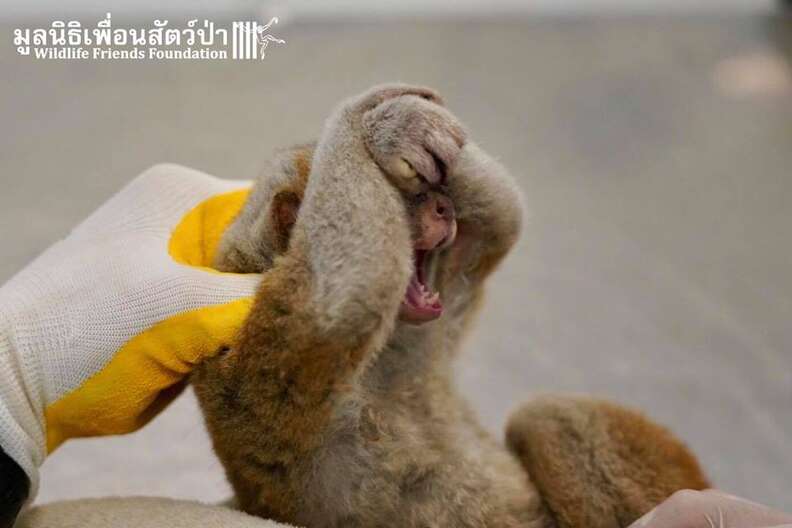 The sanctuary takes in slow lorises with clipped teeth quite often, which is done as a precaution so the loris can't bite their human owners.
Even though they're adorable, slow lorises can be deadly. They can inflict a painful, venomous bite with their sharp teeth — so many sold as pets have had their teeth clipped.
Surprisingly, this little loris only had one of his teeth clipped.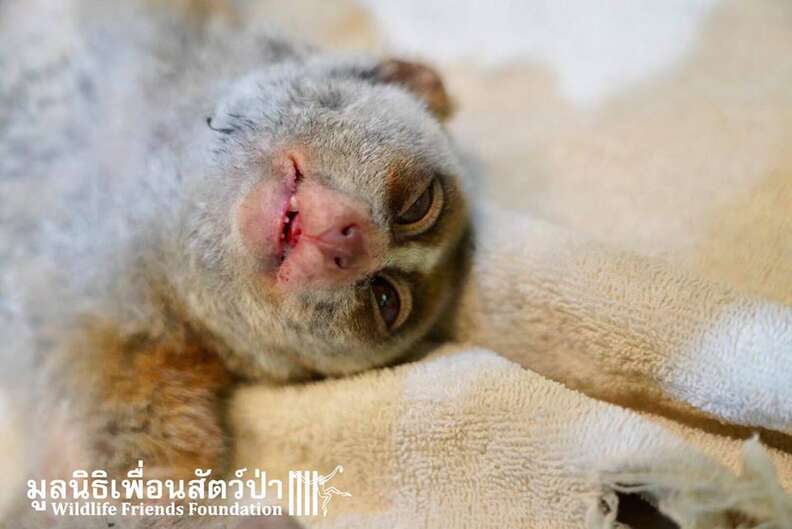 "We have no idea why only one tooth was clipped in this case and how he came to be free in the city but he has had surgery to remove the infected root fragment and is responding well to treatment," the WFFT team said in an update.
Since recovering from surgery, the loris was named Donald and is living a much more natural life at the sanctuary. Because slow lorises are naturally nocturnal, their large, lamp-like eyes are very sensitive to the sun, which is just one of the many reasons why the WFFT team highly discourages keeping them as pets.
"They may look cute in photos with their massive eyes, but those eyes are designed to see in the dark and are damaged when exposed to bright sunshine," Donald's caretakers said.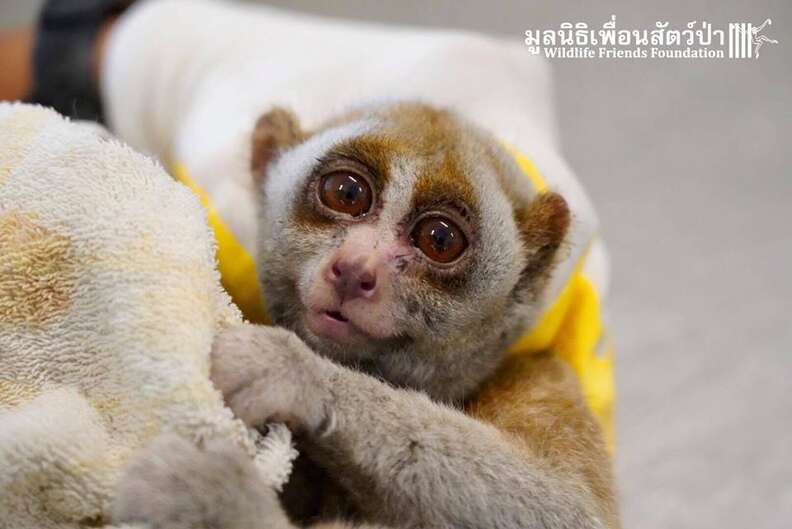 Donald is getting stronger each day — and because of the expert care he's received at the sanctuary, his chances of being released in the wild are looking great.
"We may never find out what has happened with [this] particular loris to be found in such an alien environment but we can guarantee his future will be a bit kinder to him," his caretakers said. "We hope that he can be released back to the wild where his species is in serious decline."