3 Things You Should Pack Before Taking Your Dog On A Hike
Make sure you have these essentials before hitting the trails 🐶
If your dog loves going on outdoor adventures as much as you do, then you're probably in the process of turning him into your favorite hiking buddy. To ensure you're always prepared to hit the trails, there are three essentials you should always have on hand in your hiking backpack (or in your dog's hiking pack — yes, those exist!).
Besides your dog's gear (aka his well-fitting harness and leash), you should always make sure you have food and water, poop bags and a first aid kit on hand. Here's why:
"A dog's water requirement per day is 48–96 milliliters per kilogram of body weight, so for a four-hour hike, a liter bottle should be more than enough," Dr. Corinne Wigfall, a veterinarian with SpiritDog Training, told The Dodo.
You can either pack a regular water bottle and use a collapsible bowl to allow your pup to take a drink every now and again or pick up a water bottle that's specifically designed for dogs to drink from. These types of bottles have a bowl-like attachment that the water flows directly into so you can give your pup a drink with one hand.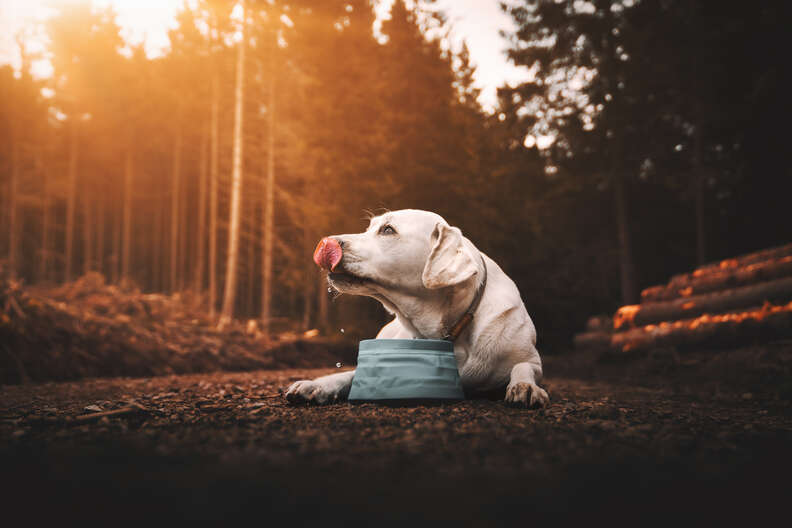 "If you are driving [to your hiking spot], keep a spare liter bottle in the car," Dr. Wigfall added. "Stop every two to three hours and offer your dog the opportunity to have a drink."
And if you're planning on staying out on the trail for more than four hours, Dr. Wigfall recommends packing kibbles or treats with you to keep your dog's energy up. However, never feed your dog full meals in the midst of a hike "as this increases the risk of gastric dilatation and volvulus, sometimes known as bloat or twisted stomach," Dr. Wigfall said. "This is a life-threatening emergency and can result in death, even with urgent treatment."
Hey, it's going to happen! It might be tempting to leave your dog's poop where it is because you're in the middle of the woods. But if you're on a high-traffic trail or a nature preserve, it's only right to pick up your dog's poop and take it with you. Yes, it's all-natural. But it's also simply respectful to clean up your mess so others can enjoy the trail without having to watch where they step.
There are a bunch of different poop bags and dispensers you can take with you on your hike, including some that are made with compostable materials so you can stay as earth-friendly as possible.
Then, ditch your used bags in a trash can located along the trail, or carry them with you by tying them to the loop on your dog's leash. Some dispensers even come with clips that carry used bags so you can stay hands-free.
Hopefully, you'll never have to use it, but if your dog gets injured while on the hiking trail, you're going to be so glad you have a first aid kit in your pack.
"Have a first aid kit in case of an injury (an extra pair of socks and tape can be used as a quick bootie for an injured paw)," Dr. George Melillo, a chief veterinary officer of Heart + Paw, told The Dodo.
Some must-haves for your first aid kit include sterile gauze pads and medical tape, pointed-tip tweezers (great for splinter or tick removal), dog nail clippers and/or scissors, latex gloves and a bandana or piece of cotton fabric that can be used as a makeshift muzzle if needed.
Having a list of local emergency veterinary hospital contacts as well as the ASPCA Poison Control helpline tucked in your first aid kit may also help you in certain scenarios.
With these three hiking essentials, you and your dog are ready to take the road less traveled and enjoy everything nature has to offer. Have fun and happy trails!
How To Keep Your Pet From Getting Lost
We may earn a commission if you purchase from our links.