Puppy Was Left Tied To Railing With Pizza Slices And A Note
"Please take me home ... We can no longer keep her in our home."
The weather was unusually warm in Philadelphia one day in October 2017 when Justin Hanley walked out his front door to a surprising scene: Someone had tied a 16-week-old puppy to the railing of his front steps. A clear plastic bag containing half-eaten slices of pizza laid next to the pup, just out of her reach. A note found tucked under the doormat told Hanley the puppy had been abandoned.
The note simply read, "Please take me home. I'm a girl named Diamond. We can no longer keep her in our home."
Hanley, a father to two small children with a dog of his own, knew he wouldn't have the time necessary to devote to a puppy, so he took her to his backyard and immediately posted on a neighborhood Facebook page called East Falls Rants asking for advice.
Within a few hours, Don't Bully Us Rescue (DBU) of southern New Jersey took Diamond, later named Serenity, into its care — and found her an amazing foster family within a day.
"I felt that it was terrible that a person can just abandon a sweet dog, or any animal to be exact," Chris King, Serenity's foster dad, told The Dodo. "I saw [a Facebook post] that she needed a foster and I just knew I wanted to foster and give her the love she deserved so I messaged DBU about the post and got her that day to foster."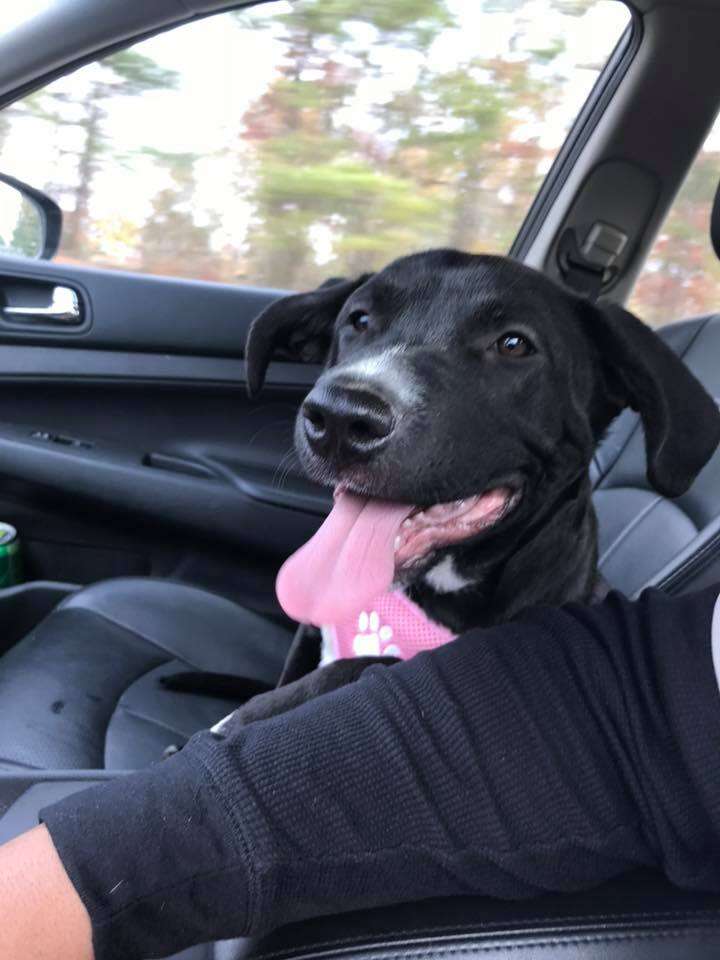 King, a retired Army special forces officer with a small farm in Estell Manor, New Jersey, started volunteering for DBU when he adopted a deaf pit bull puppy named Pandora from them earlier in 2017. Serenity's new foster home with King included nine dogs, seven pygmy goats, King's girlfriend and four human brothers and sisters.
King's dogs were all named after Greek and Roman gods — such as Jupiter, Chaos and Hades — and he wanted "Diamond" to have a new name to match her new life.
"Serenity is the goddess of the moon and it means 'untroubled,'" King said. "Once she was with DBU, I knew she would remain untroubled for the rest of her life."
Serenity was quickly accepted into King's canine pack and bonded with a few of the dogs in particular, some of whom came from their own bleak backgrounds prior to living with King.
Jupiter, an 8-month-old pit bull mix, was still in utero when his mom was thrown from a car in Philadelphia. He will begin training as a service dog for King once he turns 1 year old.
Chaos is a 1-year-old special needs pit bull. Sadly, he was abused as a puppy, which led to neurological and motor function issues as a result of a spinal injury.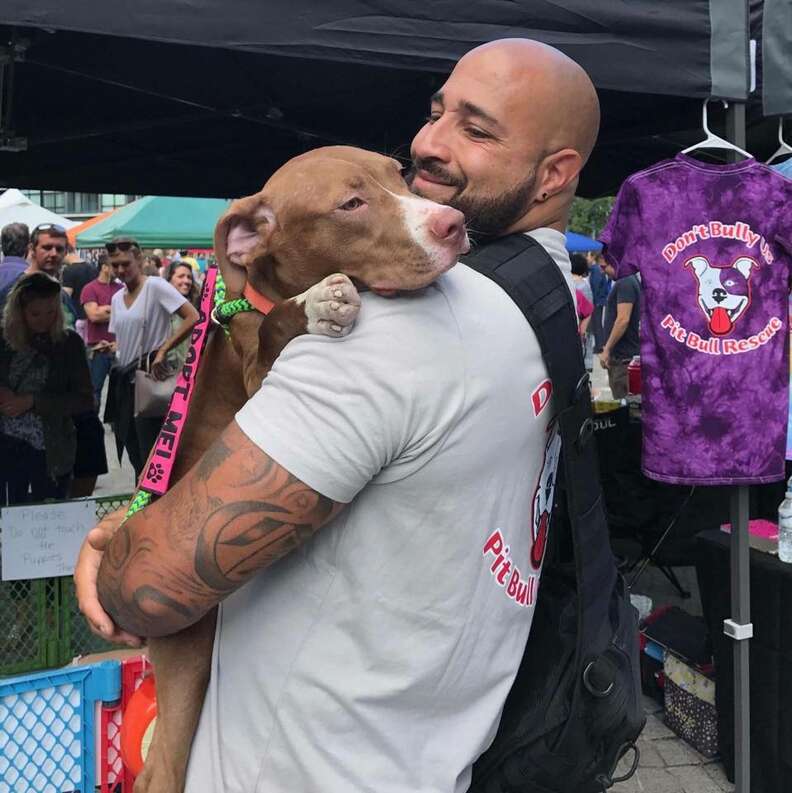 Pandora, a 1-year-old deaf pit bull, was rescued from a kill shelter in Arkansas.
Bear, a 2-year-old chocolate Lab, loves to play with his sister Serenity.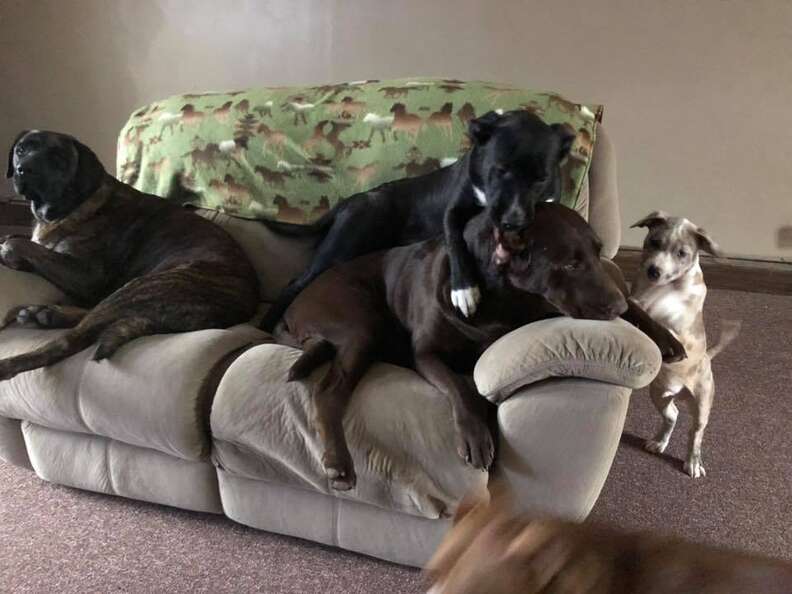 And Hades is a 2-year-old pit mix who looks like he could be Serenity's big brother.
Serenity hasn't met a person or an animal she doesn't like. "Serenity is such a sweetheart and such a loving dog," King said. "She has a great temperament towards other animals and with people."
King described Serenity's personality as loving and playful. "The way she reacts when she sees people or wants attention by wiggling her butt and tail so fast it actually moves her body around is so cute," King said. "She loves to climb on you and tuck her head into your armpit area as if she is showing how secure she is being with that person."
Serenity also has some very interesting sleeping patterns. "She sleeps in many awkward positions where it seems as if she is bent in half or tucks her face in the couch while sitting up and sleeps," King said. "She just has a very goofy, fun-loving personality."
In addition to loving life in a big family and sleeping in weird positions, Serenity adores the outdoors.
"[Serenity] is very playful and loves to be outside getting dirty," King said. "She loves the water — especially when mud is involved."
Not to mention, she is a world-class snuggler.
After seven months living with King, a family interested in adopting Serenity put in an application. They took her home for an overnight stay in May 2018 to see how things went and ended up adopting her a few days later. However, it wasn't long before the family noticed some changes in her usually sweet disposition.
"[Serenity] was adopted by a nice family, but unfortunately it didn't work out for them," King said. "She started to get a little snappy or growling at people and dogs. There were no other dogs in that home and I knew she was just acting out since she wasn't with my pack anymore. She spent seven months with nine dogs so she developed a bond."
King welcomed Serenity back into his home and just as he had suspected, all returned to normal. "I could see that she was meant to stay with my family and me," King said. "Once I took her back, she was excited and happy and it has been great ever since."
King and his family decided to make Serenity a permanent member of the family and officially adopted her upon her return. "We love her so much and were secretly happy that her adoption failed because we knew she was part of our family," King said. "We love having her."
Serenity's cold pizza days are long behind her now.
As for her former owners who abandoned her, King would like them to know that they missed out on having an amazing dog. "They abandoned a great, sweet, loving dog that brings smiles to many people's faces now," King said.