No One Wanted This Senior Dog — Then 100-Year-Old Woman Applied To Adopt Him
"I was a bit surprised ..."
When Alice Ensor, an adoption counselor at Muttville Senior Dog Rescue, first received an adoption application from a woman named Johanna, she thought it was pretty standard — until she noticed the woman's age. Johanna was applying to adopt a dog at the incredible age of 100.
"When I first received Johanna's adoption questionnaire, I was a bit surprised," Ensor told The Dodo. "100 years old is definitely a milestone in and of itself. We don't often have a centenarian looking to bring home a new mutt. I knew that Johanna had to be a very special dog lover to be looking for her new furry friend ahead of her 101st birthday."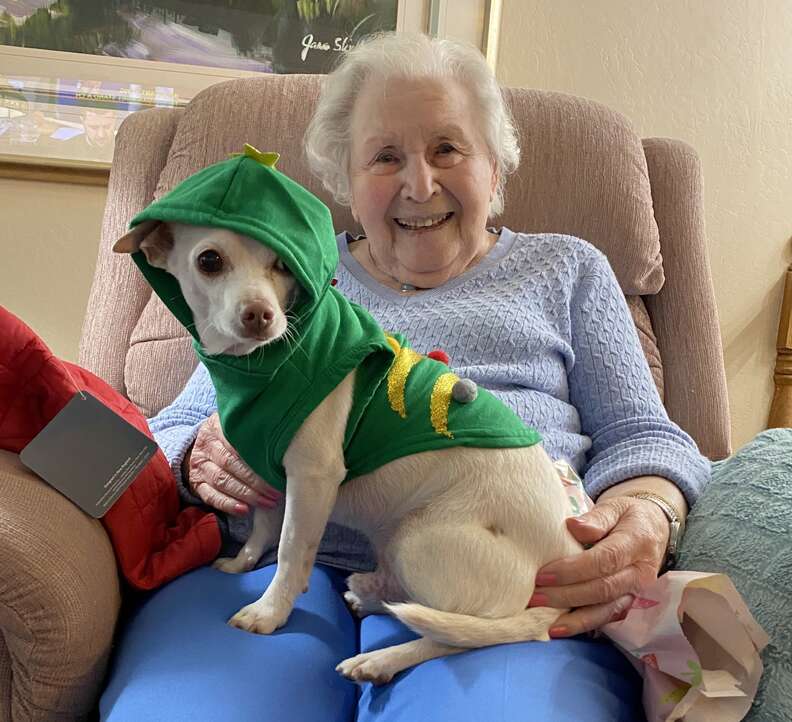 While some people might be concerned about someone of Johanna's age adopting a new dog, Ensor wasn't. The application went into great detail about Johanna's situation, and she had a strong support system, including a caretaker and her daughter, Debbie, to help her look after her new friend. She was a great candidate to adopt one of Muttville's own senior residents — the question was, which dog should it be?
"Muttville's adoptions manager, Kristin Hoff, was actually the person who realized that Gnocchi might be a great fit, and it was all pretty easy from there," Ensor said.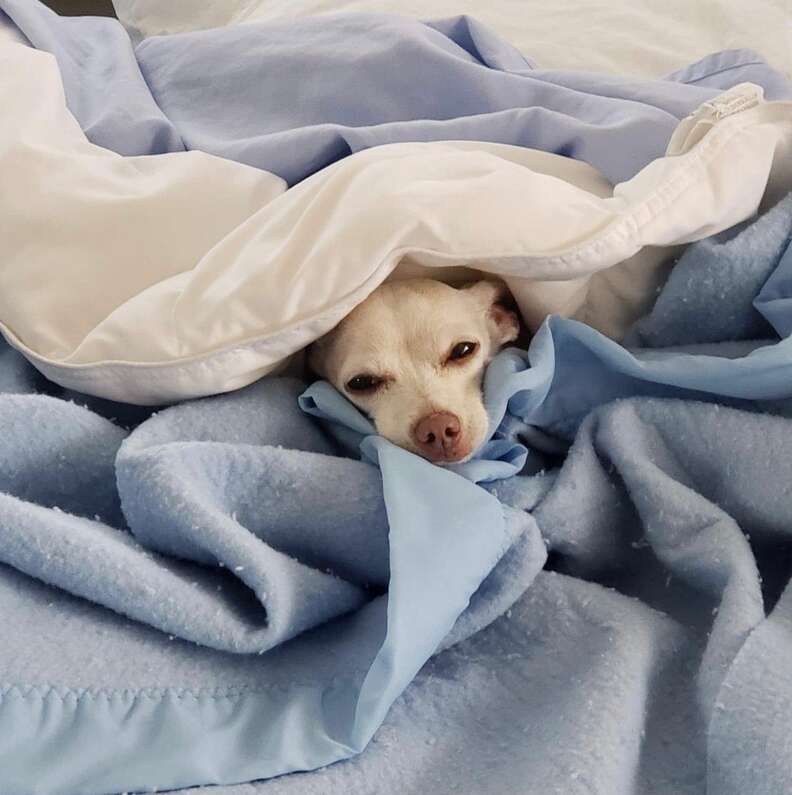 Gnocchi had been at the rescue for quite a while and wasn't having an easy time finding a home. He'd been rescued from a home with 22 dogs and needed to be the only pup in his new home. No one had stepped up to adopt him, and he was losing hope. All he really wanted was a lap to curl up on during his golden years, and Johanna turned out to be the perfect person to give him that.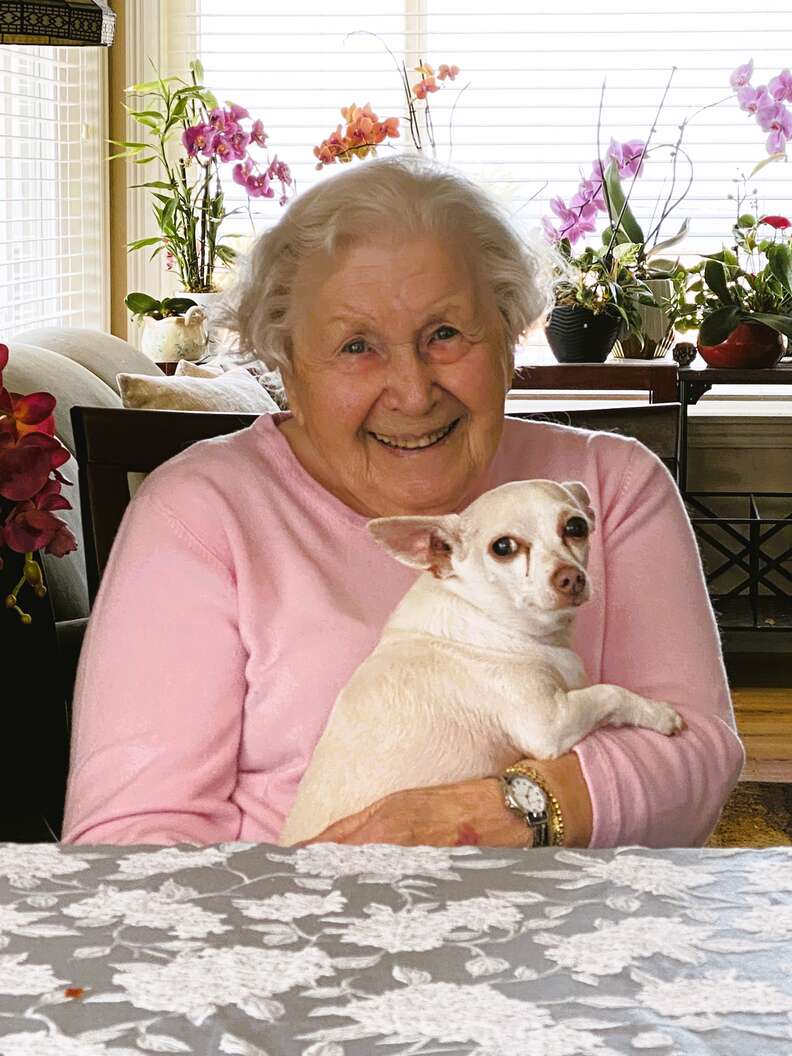 "We set up a virtual call where Johanna could see Gnocchi in a home setting, and it was love at first sight," Ensor said. "We processed the adoption the next day, and Debbie helped pick up and bring Gnocchi to his new mom. Debbie let us know that Gnocchi walked into the house and jumped right into Johanna's lap."
It's been a year since Gnocchi, now called Gucci, arrived in his new home, and things couldn't be going better. Johanna is about to turn 102 and is still going strong, in large part thanks to her new best friend.
"It's been an amazing year with Gucci," Johanna told Muttville. "He brings me so much joy! I love it when he sits on my lap and keeps me company. Having Gucci in my life has given me someone to love and care for, and that makes a big difference at my age."
Gucci and his mom have their daily routine down to a T. Every morning, the pair migrate from the bedroom to the living room and settle into their favorite recliner together. They watch the news and enjoy cuddling together until the afternoon, and Johanna's caretaker handles Gucci's daily walks.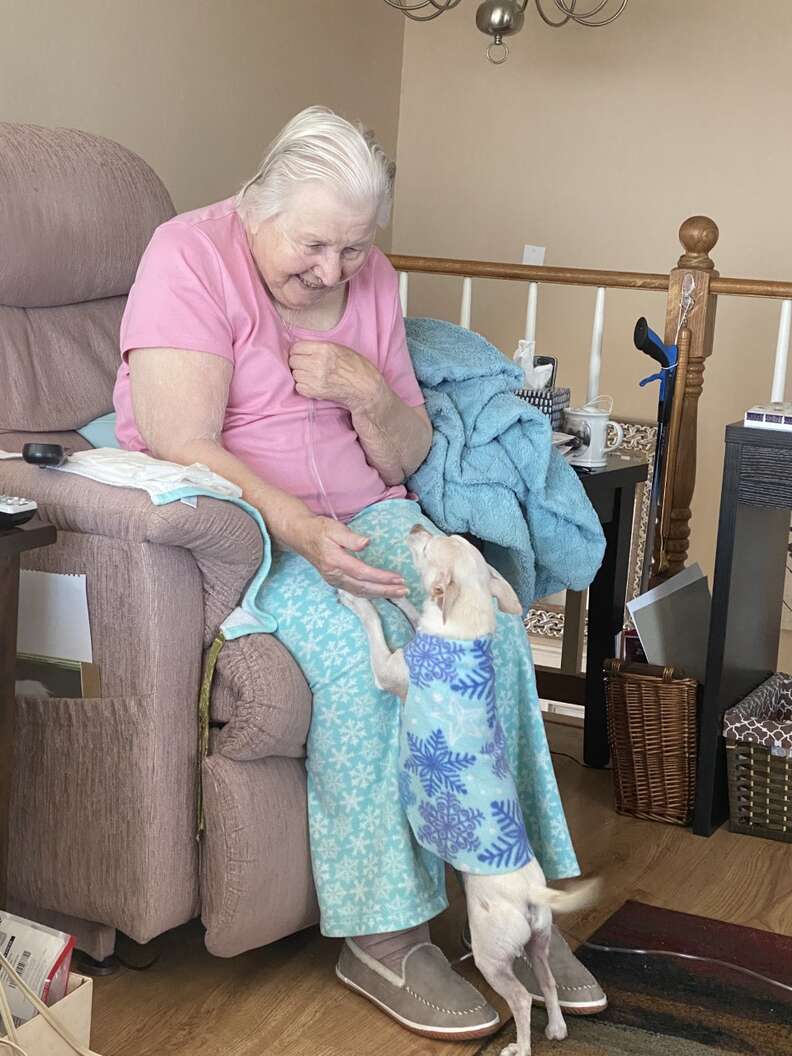 "They are thick as thieves," Johanna's daughter, Debbie, told Muttville. "He is spoiled rotten! He's a couch potato who was a perfect match for my mom!"
No one else seemed to be interested in Gucci, but that was OK. He was just waiting for his soulmate to find him, and that person turned out to be Johanna.
Help Your Senior Pup Get His Groove Back
We may earn a commission if you purchase from our links.