Curious Cat Filled With Regret After She Gets Stuck In Grate
This kitty got more than she bargained for while out exploring in a storm drain near her home this week. Turns out, as she soon discovered, there's nothing good about those grates (for curious cats, anyway).
Winchendon Fire Department
Rescuers from the Winchendon Fire Department, in Massachusetts, were called to the scene to help extract the pet after she was discovered with just her wee head poking through. It's believed that she had been trying to climb out of the drain when she became stuck - but it was no laughing matter.
"When we arrived the cat was barely breathing and moving as she was hanging from the grate," the fire department wrote online. So, they set about removing the cover to save her.
Winchendon Fire Department
From the looks of it, the corked kitty had a few regrets.
Winchendon Fire Department
The cat had become so tightly wedged that getting her out would take more than a gentle tug. Fortunately, her owner was on hand to provide the firefighters with just the thing they needed to make the job go more smoothly - dish soap, which they dabbed around the kitty's head and neck.
Winchendon Fire Department
And sure enough, after a few minutes of wiggling and pulling ... POP!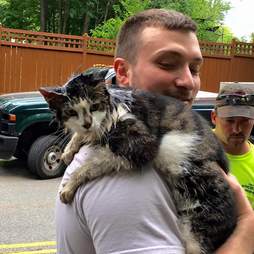 Winchendon Fire Department
We're happy to report that the misadventurous feline is now back at home with her owner, who told The Dodo: "She's doing really good."
A job well done to all involved - except for the kitty of course. Hopefully, she's learned her lesson.