Cubs Win: Four Little Lions Take The Leap Across A Stream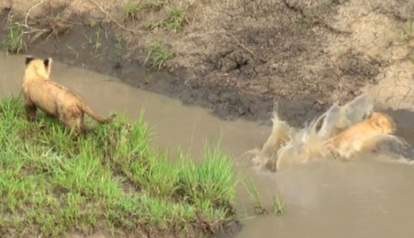 In order to become a majestic full-grown lion, every big-cat-to-be must first pass through those cutely clumsy cubhood years - a stage in which even the slightest of streams can seem insurmountable. But when faced with that very challenge, these four little lion cubs, caught on film in Masai Mara National Reserve in Kenya, rose to the occasion to keep up with mom.
Lionesses are among the best mothers in the Animal Kingdom, doting upon their litters with great patience and care. Though there are some hurdles in life lion moms know they must handle on their own.
Still, she'll show the way.(YouTube/Kicheche Camps)
She might make it look a little too easy.