Bossy Bird Would Like Dog To Join Him In Game Of Fetch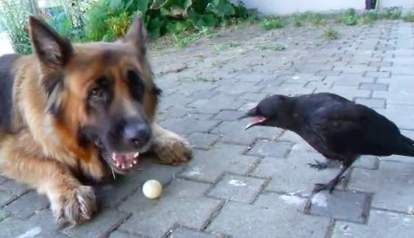 <p><a href="https://www.youtube.com/watch?v=QqLU-o7N7Kw">YouTube/MASSEUR1956</a><span></span></p>
And people think dogs are high-maintenance pets.
A YouTube video from a few years ago shows a crow who really wants to play ball with his human friend - and he couldn't be more demanding.
While his human companion rolls the ball at him, the crow can't stop squawking - whether out of excitement, happiness or just plain "hurry up already" feelings.
As the crow is bouncing around playing his own version of fetch, his dog friend is lying there sleepily and looking on. The crow seems to want to get the dog involved too.
Though he doesn't seem too happy when the dog takes a while to roll it back to him.
At times he needs his human to get more involved as well.
According to the video description, the crow hasn't been trained. He was found as a baby and taken in by his human. The person raised him, taught him to fly and then sent him off to live as a wild crow. But the bird would still come back to visit, asking to play and get some food.
"Sometimes it brought stolen things from the neighbors and i had to bring it back," the YouTuber added.
Many people think domestic animals are smarter than wild animals simply because they know how to interact with us - but as this video shows, that couldn't be further from the case.
For more smart crows, click here, here and here.
Watch the full video below.