Feral Cat Wouldn't Let Anyone Touch Her — Until She Met THE ONE
"Now when I go to feed her, she will let me kiss her on her nose."
A cross-eyed feral cat was a complete mess when she arrived at Tabby's Place, a sanctuary and rescue for cats in New Jersey.
Not only was this particular feral cat starving and kind of odd looking, because her pupils were too close to her nose - she was also kind of nasty.
"She hid in the corner and when you tried to touch her she would scratch you," Leigh Covello, a volunteer with Tabby's Place and an experienced veterinary technician, told The Dodo.
Indeed, it seemed unlikely that anyone would ever be able to truly love this misfit cat.
But the cat - who is roughly 3 years old and who came to be called Bubbles - had good reason to be defensive. In her colony of feral cats, she was the underdog. The other cats picked on her and hardly let her eat when good Samaritans dropped off food for the colony.
It's possible Bubbles was also disoriented because of irregularities in her vision, so she would lash out.
Bubbles slowly grew accustomed to life at the sanctuary, but she still wouldn't let people get near her.
She befriended a cat named Reggie. But then Reggie got adopted, and once again Bubbles was alone.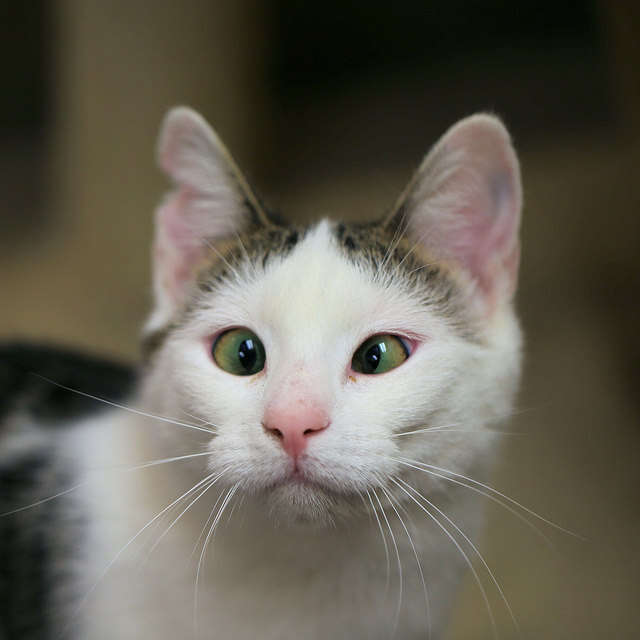 She was obviously depressed, according to Covello. So, Covello, who saw something special in the cross-eyed cat, decided that perhaps Bubbles would benefit from a change of scene.
Even though Covello had never managed to even touch Bubbles, she decided to temporarily take her home.
"I thought she had potential to be an adoptable cat," Covello explained. "So we got approved to foster her."
Covello brought Bubbles home and kept her in a separate room, apart from the other cats of the house, while she adjusted.
"I was afraid we'd never see her," Covello remembered. But the Covello family all pitched in to help Bubbles feel comfortable. "We spent a lot of time sitting in the room with her and talking to her."
And Bubbles started talking back.
Mere days into the 2-month fostering, Bubbles started to feel more relaxed. She even let Covello touch her.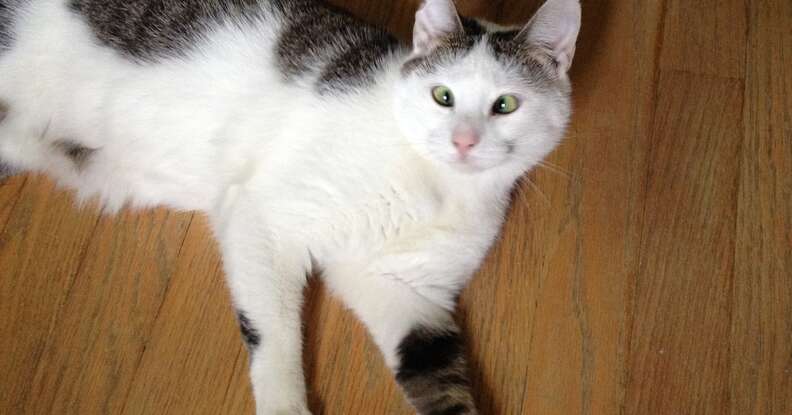 And she bonded with Ellie, another one of Covello's cats. "Ellie is her best friend in the world," Covello said.
The pair hangs out on the cat tree with a view of the window together.
And they even play together like kittens.
And Bubbles seems pretty fond of Covello, as well. "Now when I go to feed her, she will let me kiss her on her nose," Covello said.
And unlike how Bubbles was at the feral colony, she has grown confident. "She'll push my cats out the bowl no problem," Covello laughed.
Soon it became clear that Bubbles wasn't about to go anywhere. And the Covello family officially and happily adopted her.
"Once she got here she never left," Covello laughed. "It's been such a pleasure to see her come out of her shell."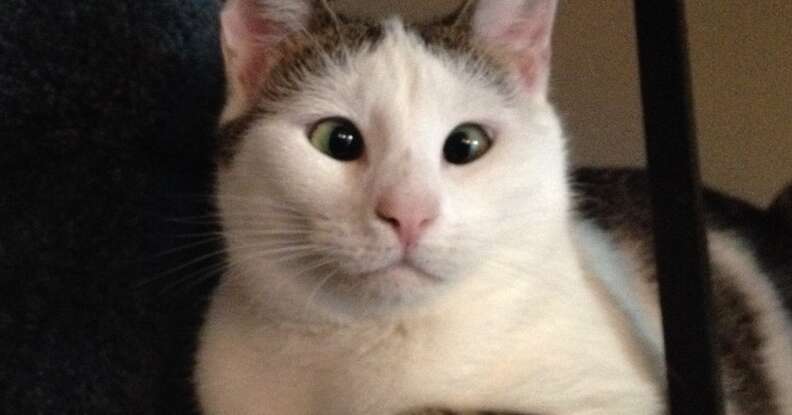 To help Tabby's Place rescue more cats like Bubbles, you can make a donation.