Crookedz was born and bred to be sold as a "laying" hen - a chicken who produces eggs for mass consumption. But fate didn't have such a life in store for Crookedz.
For one, she was born with defects that only became more evident as she grew older.
She had a crooked beak and a body that twists in different directions (hence her name). She was unable to grow a full set of feathers, and mostly breathes through her mouth as a result of her deformed nostrils.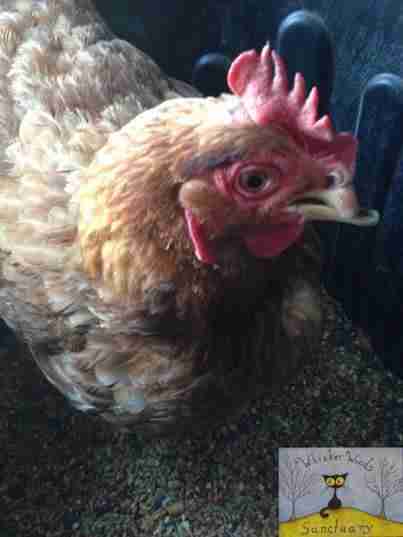 "Her breeder deemed her useless, as she wasn't laying any eggs," Shannon Mortlock, founder of Australia's Whisker Woods Sanctuary, told The Dodo. "She was then taken to a produce shop to be given to a regular customer as free 'meat.'"
However, Mortlock happened to be in the store that day, took one look at Crookedz and fell in love with her unique looks. Mortlock then decided to take her home, giving her a brand new start at a brand new life - and saving her from certain death.
Crookedz's deformities don't get in the way of her being an overall happy and healthy hen, Mortlock told The Dodo. The only downside is that sometimes Crookedz's breathing is labored and she needs to stop and catch her breath more frequently than the other chickens when pecking around.
Still, Crookedz is undoubtedly the most confident and popular hen at the sanctuary.
"She behaved like a total rockstar when first arriving - it was like she owned the place and strutted around clucking at the other chickens," Mortlock said.
Naturally, it wasn't hard for her to make friends.
When she's not lounging on top of Pebbles the sheep, overseeing her kingdom ...
... she hangs out with Lucky the dog and Orange Juice the cat, leading the way to their next adventure.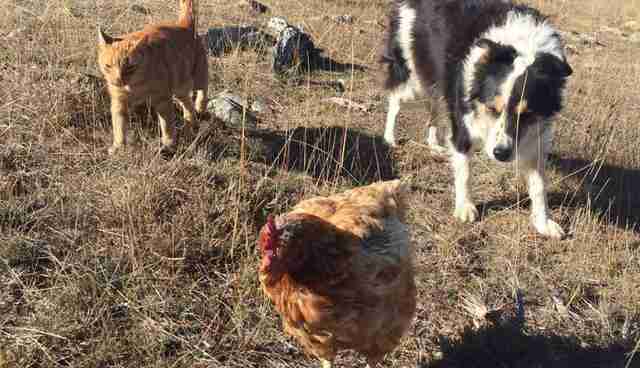 When Crookedz makes time in her schedule, she even provides a bit of company to the rescued baby kangaroos.
Mortlock said that, since being rescued six years ago, not much has changed about Crookedz. She still loves her watermelon and fresh corncobs. She still loves to stand in the middle of her fresh food plate and kick all of the fruits and vegetables on the ground before walking off (leaving her chicken feed perfectly untouched in her bowl).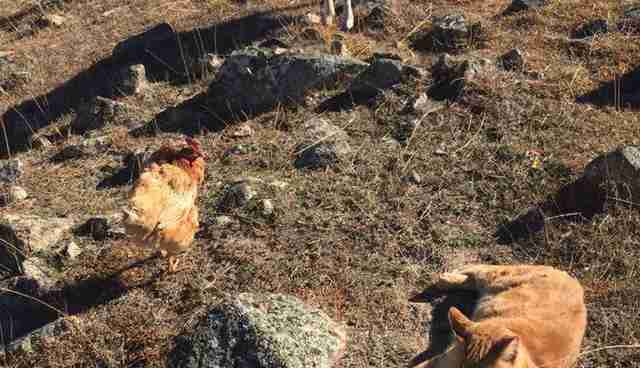 All it took was one kind person to see Crookedz for more than just a funny-looking chicken, and to understand that she was never useless to begin with.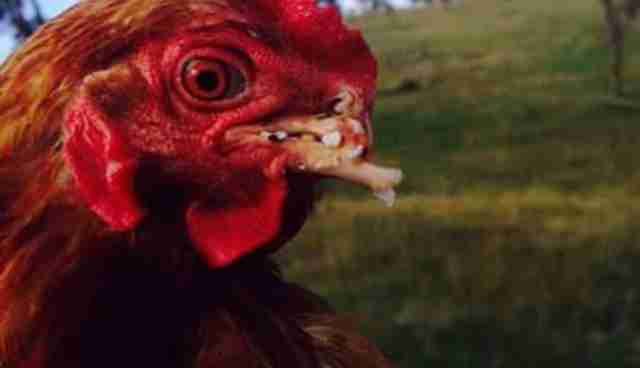 Check out this story about Bebe, a horse at Whisker Woods who could only sleep while holding hands with her "mom."
Watch this video about a mama duck who got a little help saving her babies: