Man Gets Maximum Sentence After Adopting Dog Off Craigslist, Burning Her Alive
She was never given a fair shot at life, but this week, a pit bull named Lucky may have finally gotten justice.
On Wednesday, the Virginia man who adopted Lucky off Craigslist, bound her limbs and burned her to death, was sentenced to five years in prison for animal cruelty, the maximum penalty allowable by law.
Virginia Beach Animal Control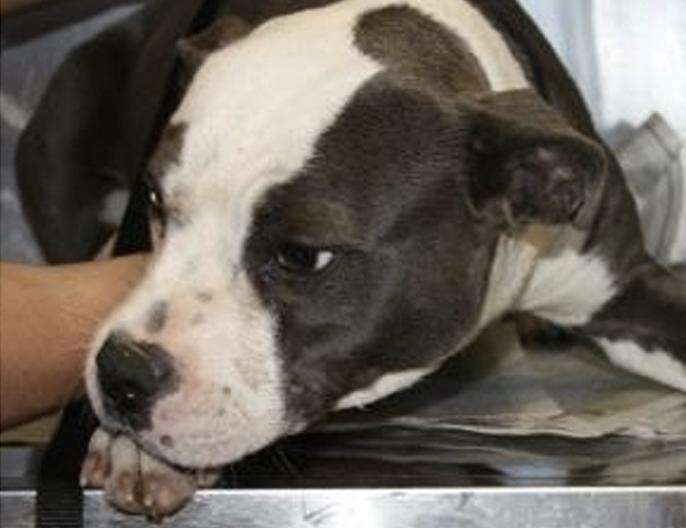 "I can't let emotions have any effect on my ruling, but I have to consider the degree of viciousness," said Judge Steven Frucci at the sentencing of 27-year-old Arthur M. Vieira. "The degree of anger he had to get to to do something like this – I can't wrap my head around it."
In May, Lucky's charred remains were found alongside nylon rope, a can of lighter fluid and a muzzle by firefighters responding to a brush fire. Using a microchip recovered from her body, investigators were then led to Vieira, who admitted to adopting the dog off Craigslist, but insisted he had given her away.
After changing his story at least once more, claiming she ran away, Vieira told police he punched Lucky after she bit him and, believing her to be dead, bound and muzzled Lucky before dousing the dog with lighter fluid and setting her on fire.
A veterinarian, however, later testified there was no evidence Lucky had been struck beforehand and she was alive and standing when Vieira began burning her.
Virginia Beach Police
"I can't even begin to comprehend why somebody would do something like this. I don't think any of us can," animal control officer Meghan Conti told WVEC in August. "If a person's capable of taking a living, breathing animal and torturing it in this manner, what else are they capable of doing?"
At his sentencing hearing on Wednesday, Vieira, who pled guilty to the slaying in November, was similarly unable to rationalize his actions.
"I just want to say I'm sorry," Vieira told the court. "I can't explain what I did. I'm so ashamed of what I did."
To learn how you can help pass tougher animal protection laws, click here.