Cow With An Itch Likely To Blame For North Dakota Gas Spill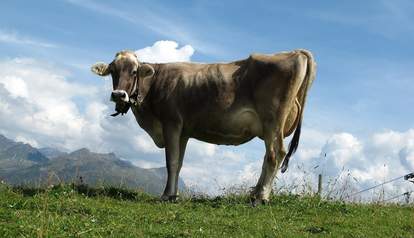 State environmental officials say that an unsuspecting cow with the simple desire to scratch itself is the most likely culprit behind a recent gas spill in North Dakota.
The Associated Press reports that the spill, which loosed around 20 barrels of liquid natural gas from a holding tank late last month, probably resulted from the inadvertently adverse actions of one itchy bovine.
"They just get rubbing along those valves and they open up," says Environmental Health Chief Dave Glatt. "Sometimes they need to scratch their backs and they open those valves."
While the cleanup was still underway, Glatt advised Energy companies in the area to secure against the problem by securing these valves with locks so that cows don't them open by mistake. He notes that this actually isn't the first time cattle have posed a problem on the oil fields from trying to scratch an itch.
But cows aren't alone in their accidental disruption of the fossil fuel industry. Last February, production at a BP oil facility was forced to put operations on hold after a blue marlin pierced a hose with its pointed snout, costing the company around $100 million.
[rebelmouse-frontpage https://www.rebelmouse.com/TheDodoHashtag/]