Terrified Cow Sheds Tears ... Until She Realizes Where She's Going
She is so loved now.
A mere glimpse into Emma's past is enough to break anyone's heart.
Footage shows her in chains on her way somewhere in a trailer. She's been raised for meat, and has never had a chance to live with a herd of her own.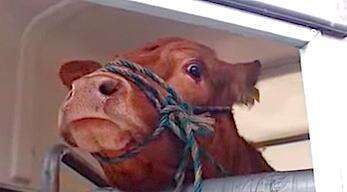 By an incredible stroke of luck, Emma was adopted by a sanctuary for beings like her.
When a family dairy farm faced bankruptcy, they decided to close. The last 25 cows of the herd faced a fate worse than poverty: slaughter.
But animal lovers were determined to save these lives. "We founded an association together with the farmer, whom we won over with the idea for our project," the Kuhrettung Rhein-Berg sanctuary explains. "The association's goal is to create a sanctuary, so they may continue living in their familiar surroundings, under best animal welfare conditions, hopefully until the natural end of their lives."
Thanks to the sanctuary, Emma has been given one of the greatest gifts: belonging.
For the most marginalized beings on earth, the most powerful act of kindness is often the simplest: Live and let live.