On the surface, things might appear charmingly routine on quaint Hazelbank farm in the Scottish county of Dumfriesshire, but the recent birth of rare set of twins suggests that things can get down right saucy when no one's watching.
Dairy farmer Mary Purdie, who runs the place with her husband Hugh, says that one of their animals, a cow named Christy, has made a highly unusual sort of delivery: two female calves, each conceived from a different father on the same day. Not only are the chances of twins highly unlikely, occurring in about 1 in 100 births, having the pair only be half-related is virtually unheard of.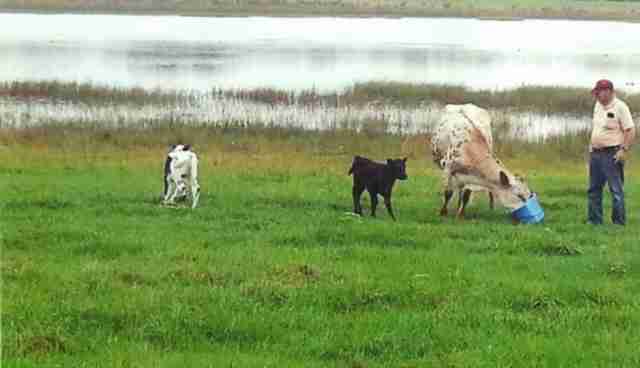 Mary says she had no idea that her picturesque farm was home to such barnyard debauchery.
"I've heard of this happening on a dairy farm, where they use artificial insemination. They put two samples in and hope one will catch, and sometimes they both do," she told the Daily Record. "But I have never heard of this happening naturally."This dual-father fertilization, known heteropaternal superfecundation, is usually only seen in stray dogs and cats, but is quite rarely seen outside that.
The humans on Hazelbank farm don't seem to mind their cow's apparent promiscuity that led to the adorable, yet slightly-confusing new branches on her family tree -- in fact, they went ahead and added to the befuddling births, naming Christy's calves Christy and Kristy.
[rebelmouse-frontpage https://www.rebelmouse.com/TheDodoHashtag/%5D