Brave Baby Cow Fights For Her Life On 3 Legs
<p> Facebook/<u><a href="https://www.facebook.com/farmsanctuary/photos/a.70273068823.97681.19575923823/10153304942313824/?type=1&theater">Farm Sanctuary</a></u> </p>
This darling baby cow was hit by a car and left for dead. Now she's making a miraculous recovery.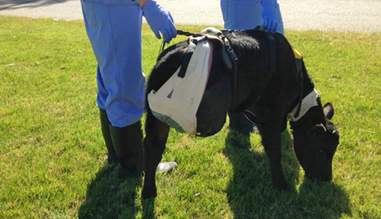 Farm Sanctuary
Rescued by Farm Sanctuary earlier this month, Emma was found on the side of the road by Rachel Nyborg just outside the Utah ranch where the sweet baby cow was being raised for meat. Nyborg alerted Farm Sanctuary.
Farm Sanctuary
Farm Sanctuary drove Emma to California to get her help. After surgery to amputate the damaged leg, she is still fighting pain and infection as she works with a physical therapist to learn the near-impossible - walking on three legs.
Farm Sanctuary
Emma will have to learn how to walk on three legs not just once but three times, Farm Sanctuary says, as she grows into an adult. She will be fitted with three different prosthetic legs to adjust for her growth.
We know she can do it. Learn how you can help Emma here.