Kathy and her husband Pete purchased thirty acres of raw land with the dream of having a farm one day.
She never expected an escapee from a slaughter truck would choose this land, owned by vegans, as her own.
It started when the contractor putting in the driveway contacted Kathy about a big red cow that was spotted on her property. Animal Control said no one reported a missing cow but Kathy was determined to find it. Having no experience with cows, she contacted her local feed store and was given advice how to attract her with sweet feed so Kathy and her husband could trap the cow. It only made Kathy more determined to help her after several attempts failed including one that resulted in the cow jumping over the family SUV and leaving a huge dent as a souvenir of her presence.
Kathy contacted an alleged "cow expert" who declared the slaughterhouse refugee "the meanest damn cow" he had ever seen after several failed attempts at catching her. Every time they approached this proud yet terrified cow she would paw at the ground, drop her head and charge.
Even those who offered help gave up and told Kathy the humane thing to do would be to shoot and kill this feral cow as she could never be handled.
Kathy did not accept that just because people failed this cow, the cow should suffer at the hands of people by being shot. Kathy had looked the cow in the eyes and felt a connection. So she set up temporary corrals and built a large paddock and shelter proactively:
"I would go to the land every night for four months and watch her pattern and adjust the feeding stations. She would come out of the corner of our land at sunset and start her trek across our pasture and on to neighboring farms."
This cow had a past and Kathy found out by chance just how horrible that past was. In May 2014 there was a herd of cattle that had been neglected and then sold to an out-of-state slaughter house. Two of them escaped while being loaded on the truck. The owner tried to catch them but the bull ran on the highway and was killed. Kathy recalled seeing the dead bull on the road eight months prior to her feral visitor showing up. What they put this cow through in an effort to catch her for slaughter was brutal. They tried to rope her via modern rodeo style by riding ATVs but she flipped the ATVs and took off. After roaming for many months on her own, the reasons why she became the proclaimed "meanest damn cow" became evident. Kathy was advised by several locals in her feed store to stop trying to catch this cow before she ended up in the hospital because this cow was going to hurt her.
Kathy was overcome with emotion. She decided if the last thing this cow ever knew was compassion, she had to be the one to provide it. Finally, a year after that fateful day she fell off the slaughterhouse truck, avoided capture and fended for herself, she entered the paddock. Hiding in the woods were Kathy and her husband with a 150 foot rope attached to the paddock door. Seconds later, this cow, who now had a name - "Vegan" - was confined. Although they expected her to break down the paddock, Vegan didn't. In fact, she quickly calmed down. Vegan was home.
It took three weeks before Kathy could cautiously touch Vegan through the fence while she was eating. Eventually, Kathy sat inside the fence, getting closer to that sweet feed each time.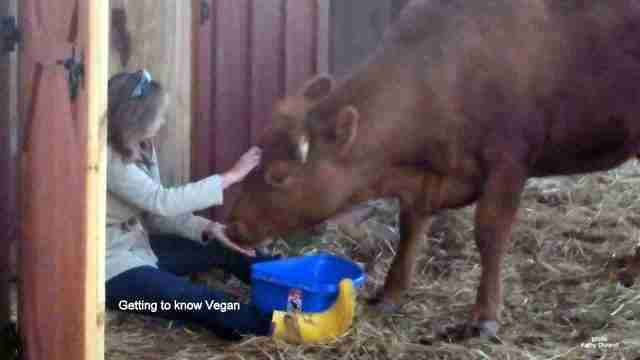 Three months after being rescued, Vegan knows her name, loves to be brushed, and lets Kathy lay next to her.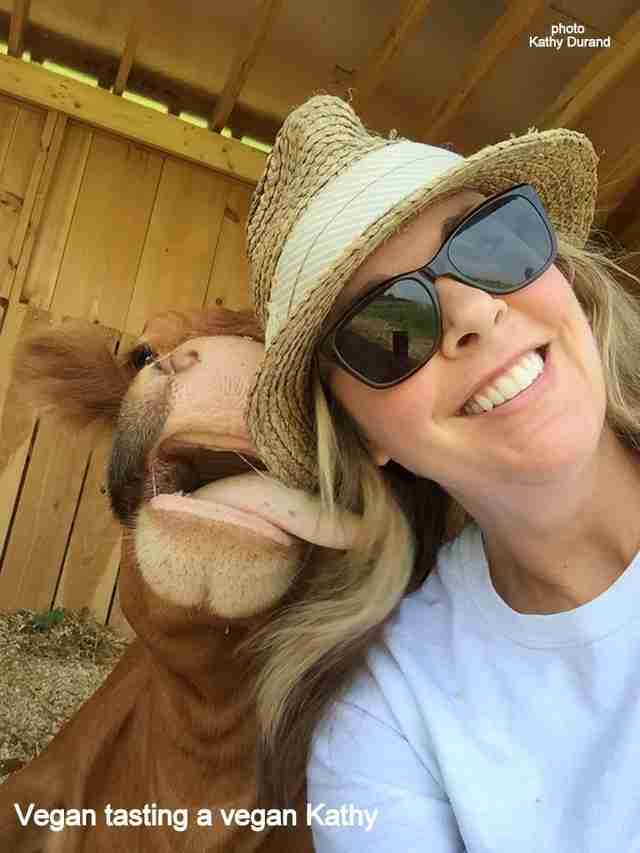 Vegan's story doesn't end here. After learning cows are herding animals, Kathy decided Vegan would benefit from a friend. Knowing Vegan's past made the search very painstaking. Kathy heard about a man who had tried to sell his mini-cow online for food. After failing to do that, he decided to sell the mini-cow to a traveling petting zoo. Not knowing exactly how Vegan would take to a mini-cow, Kathy decided that she could not allow it to live its life that way and made arrangements to get it. Kathy texted me that she was going to drive down and pick up the mini-cow in her SUV. Luckily, someone who knew something about mini-cows loaned Kathy a horse trailer to get her instead.
Kathy built a second fence so they could get to know each other. She introduced the newly named Tofu through the fence and then in the same fence. Vegan and Tofu began mooing at each other and Vegan initially nudged Tofu around. Vegan had, after all, kept some of her edge; at least for five minutes.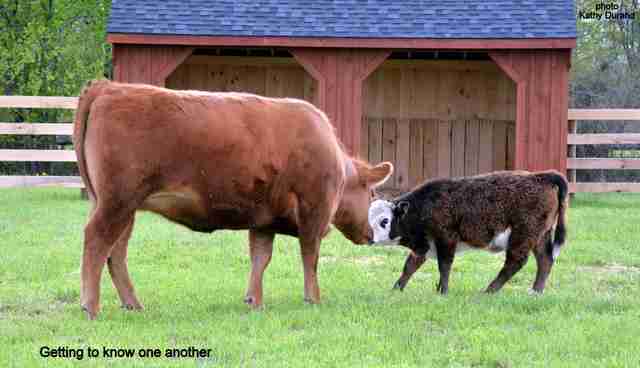 Now they are never more than a few feet apart. Tofu and Vegan regularly show each other affection and both love their humans.
One would never believe that a cow brought up for slaughter, escaped slaughter, escaped attempts to catch her and lived on her own for eight months would enjoy wearing accessories. One would never believe a mini-cow, destined for a traveling petting zoo, would enjoy wearing accessories. Yet, Vegan loves her yellow bow and only her yellow bow. Kathy tried putting the pink bow on her and she flipped it off. After all, Vegan is known in their parts as the "meanest damn cow" ever.
"We eat dinner with her a couple times a week; she loves to check out everything on the picnic table."