After their beloved dog Reckless escaped through a storm-damaged fence during Hurricane Sandy, his owners Chuck and Elicia James of New Jersey weren't quick to give up hope of finding him. For more than a year they searched for the friendly pit bull mix, but to no avail.
Earlier this week, the heartbroken couple decided that it was finally time to move on and open their home to another pet. They made an appointment with the Monmouth County SPCA to be meet with dogs in need of adoption.
That's when something amazing happened. The very first animal that the shelter presented them with was the very dog that they spent so long looking for -- one they believed they'd never lay eyes on again.
"I didn't recognize him at first," Chuck told News 12. "I was, 'Hey, that dog looks like Reckless,' and my wife is like, 'That dog is Reckless.'"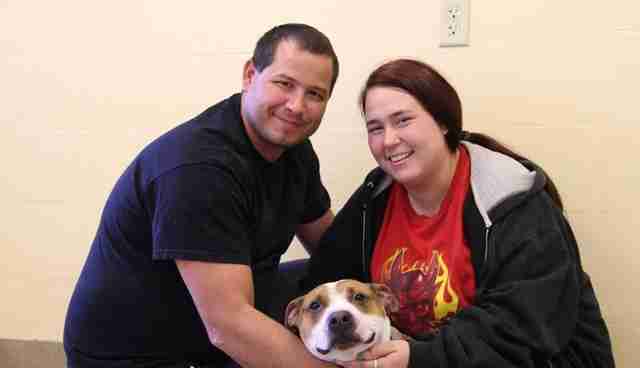 According to the SPCA, Reckless had been found wandering the streets as a stray and brought to the shelter six months earlier. Since then, he's been waiting patiently to find a home, though perhaps not just any home.
"Volunteers have even said he seemed like he was looking for someone," writes the SPCA. "Now we know [he] was searching for his family!"