When Champ's parents moved to a high-rise penthouse in New York City, they unfortunately were unable to take Champ with them. The dog had lived with them his whole life and had never known anything else, and desperately needed someone to take him in.
Luckily, Champ's family found Sarah Pope, who worked at a boarding facility where Champ used to stay sometimes. They told Pope and her boyfriend about their situation, and the couple decided they had to help.
The couple had been contemplating getting another dog anyway, to keep their dog Wally company, and so they agreed to take Champ in.
"We were a bit worried about his health, because he was 10 years old at the time, but he seemed like such a great fit that we figured we would deal with any health problems when they arrived," Pope told The Dodo.
Shortly after Champ moved in with his new family, however, he developed a really bad limp on his back left leg, and eventually could barely walk on it at all. They took him to the vet and found out he had previously torn his ACL, and also suffered from hip dysplasia and arthritis.
"We figured he only had a year or two left, and wanted to give him a warm home," Pope said.
But somehow, five years later, Champ is still alive and doing better than ever.
Champ is turning 15 in a few days, but he still has the spirit of a young puppy. He loves playing in the snow, hanging out with his dog brothers and going to work with his mom, at another dog boarding facility.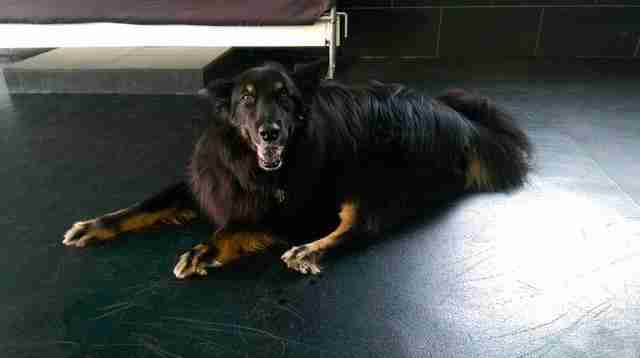 "He loves other dogs and even though he can't play as much anymore, he enjoys laying and 'supervising,'" Pope said.
Champ is a huge, black dog, and because of that some people are intimidated by him at first, but as soon as they meet him they realize he's actually the sweetest thing in the world.
"He does have a habit of being in the way since he's so big - we call him the blocker - but it's only because he always wants to be around us," Pope said.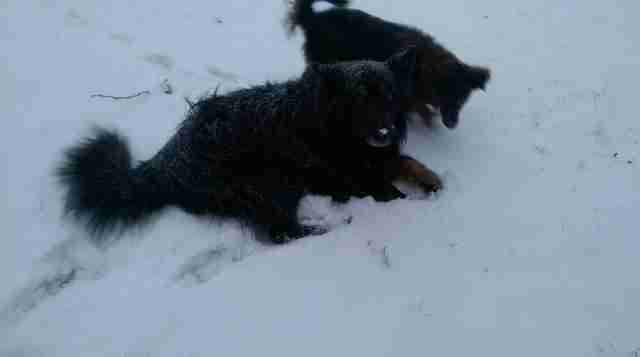 Champ may be a bit older, but he's proved over the years that senior dogs have just as much energy and love as any other dog, and he's enjoying every single day that he has left.