Cosmetic Animal Testing May Be Eliminated From Another Country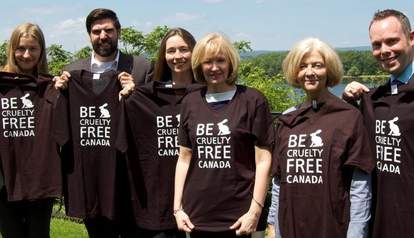 Every now and again, after months or years of campaigning for change, our hard work pays off and there comes a day when we get to announce something really exciting, really game-changing for animals. Today is one of those days for our #BeCrueltyFree Canada team, because today I'm excited to bring the news that The Cruelty-Free Cosmetics Act has been launched to ban cosmetics animal testing in Canada!
The Senate Bill launched by Senator Carolyn Stewart Olsen seeks to ban both cosmetics animal testing and trade in Canada and, if successful, will bring Canada in line with more than 30 other countries where cosmetics cruelty has already been outlawed.
Our team has worked really hard to achieve this milestone, with more than two years of vibrant public campaigning and intense political lobbying, including working closely with the government to make this legislation a reality.
Our #BeCrueltyFree Canada campaign is an authentically Canadian-led drive to eradicate animal testing from the beauty industry. Together, Humane Society International/Canada based in Montreal and Animal Alliance of Canada in Toronto, have put the issue of cosmetics animal testing firmly on the political and consumer agenda. Along the way we've hooked up with awesome cruelty-free Canadian beauty brands such as Lippy Girl and Just The Goods, local campaigners such as the ever-energetic Elephant In The Room in Vancouver, and some amazing Canadian celebrity champions such as Phoebe Dykstra, Laura Vandervoort and Tricia Helfer to spread as much awareness as possible. And we're backed by consumers too - eight out of 10 Canadians wish to see an end to cosmetics cruelty. The Conservative's commitment to ban cosmetics animal testing brings us one step closer to fulfilling that wish.
Let's not forget why banning animal testing for cosmetics is important, not just in Canada, but globally. In these tests, animals such as rabbits, guinea pigs and mice endure distress and suffering just for the sake of putting a new lip stick or shampoo on the market. They can have cosmetic chemicals dripped in their eyes, spread on their delicate skin or force fed to them in lethal doses. These are nasty tests that cause real harm to animals, and they could stop immediately without any detriment to consumers whatsoever. In fact, because many of these tests are outdated, banning them and replacing them with exclusively cruelty-free manufacturing processes would be better for people and animals.
Canadian law doesn't require cosmetics to be animal tested, but it doesn't yet prohibit it either and so companies are free to choose. Compassionate and ethically-savvy brands - more than 600 of them in North America - eschew cruel animal testing and instead develop new cosmetics by relying on thousands of existing ingredients already established as safe, combined with available state-of-the-art non-animal test methods. No bunnies, no animal suffering, just fabulous cruelty-free beauty products.
Although we're celebrating this milestone in Canada, in many ways our work has only just begun - next we need to see this passed into law. But when combined with our past test and sale ban victories in the European Union, India, and most recently New Zealand which voted through a national ban on cosmetics animal testing, not to mention the legislative bills we've helped launch in Australia, Brazil and Taiwan, it's clear to see that Canada is now part of an important global movement of change for animals.
You can add your voice to the more than 75,000 people who have already said "no" to cruel cosmetics in Canada by signing sign our #BeCrueltyFree Canada petition at BeCrueltyFree.ca