Dog Returned 3 Times For Being 'Out Of Control' Is A Therapy Animal Now
"We still don't know why she would have been returned ever, let alone three times."
Toffee the corgi is only 2 years old - and has already had four different families.
Toffee was was born and raised by a breeder and, when she was old enough, she went to live with her new family. They ended up returning her for being too "crazy, stubborn and out of control," according to her current parents. After that, Toffee had two more families, who both returned her for the same reasons.
The Stumpy Brigade
Somehow, the Cardigan Welsh corgi was returned three times by three different families, and everyone who knows her now has no idea why anyone would return such a sweet dog.
Toffee ended up with Corgis & Critters Rescue in Kilgore, Texas, and that's how her fourth (and last) family finally found her.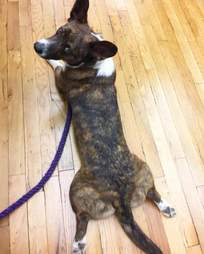 The Stumpy Brigade
Xin and her husband live on the East Coast and flew all the way out to Texas to adopt Toffee and take her home. They already had two dogs when they adopted Toffee, and were shocked that anyone could ever think Toffee was "out of control."
"We still don't know why she would have been returned ever, let alone three times," Xin told The Dodo. "She is by far the best behaved of all of our dogs."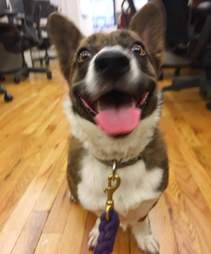 The Stumpy Brigade
Toffee immediately began to thrive in her new home, and her new parents couldn't have been more pleased with how calm and sweet she was. She plays the role of the beta among her rescue siblings, but secretly she's full of sass, and could totally lead the pack if she really wanted to.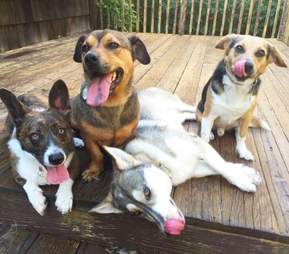 The Stumpy Brigade
"We call her the Shadow Queen because we are pretty sure she would boss everyone around if she could," Xin said. "While our other dogs are scared of NYC because of the noise/smell, Toffee has no problem going to the city and is that dog that poops in the middle of the street while the traffic light is about to turn green. She's done it three times. It can't be all coincidence."
The Stumpy Brigade
Toffee has three dog siblings - Mocha, Chai and Peppermint - and two cat siblings - Chi and Miso. She gets along with everyone, but she's especially close with Peppermint, a husky/corgi mix who was adopted just two weeks after Toffee.
"Toffee and Peppermint are pretty much glued together," Xin said. "We think it's because we adopted Toffee and Peppermint around the same time so there is a special bond between them."
The Stumpy Brigade
It still amazes everyone that Toffee was returned three times for being too much, because despite her confidence, she's still incredibly chill, and would much rather cuddle and relax than anything else.
"Her favorite place in the house is on the couch surrounded with blankets and her head resting on the couch arm," Xin said.
The Stumpy Brigade
Due to her confident yet calm demeanor, Toffee's parents decided to have her trained as a therapy animal. Toffee now visits libraries, airports and nursing homes to comfort those who need support.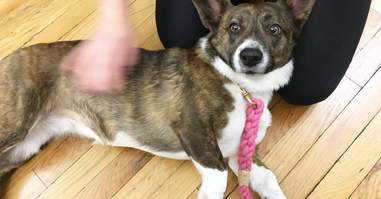 The Stumpy Brigade
She seems to adore her work as a therapy dog ...
The Stumpy Brigade
... and is calm and sweet as people come up to pet and hug her.
The Stumpy Brigade
No one who meets Toffee while she's out and about performing her duties as a therapy dog would ever think that she was once considered too wild. She's the sweetest, calmest dog around, and her parents are so grateful that she found her way into their lives.
The Stumpy Brigade