Corgi Couldn't Be Prouder Of The Garden She Planted With Her Poop
You might say she has a green bum.
You might say this little corgi, named Meya, has something of a green thumb bum. In fact, from that round and furry rear end of hers, an actual garden has grown.
And Meya couldn't be more delighted.
Alexandra Gleber
It all began last October, when the 2-year-old corgi decided to help herself to some seasonal decorations her mom, Alexandra Gleber, had set out at home.
"We had pumpkin for Halloween, and she devoured almost the entire thing," Gleber told The Dodo. "I didn't think she'd actually eat it. I was very nervous at first, but then I found out it was OK for dogs to eat them."
But she wan't expecting what happened next.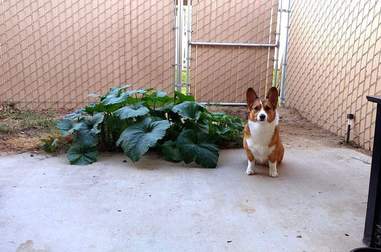 Alexandra Gleber
Not long after the pumpkin incident, Gleber was in the backyard cleaning up after Meya when she noticed the dog had recently done some digging in the dirt - tempting her owner to make the task a little easier.
"As I was picking up her poop, I decided to bury some," said Gleber "There was a hole there already, so why pick it up, right?
Meya couldn't have planned it more perfectly. The seeds that passed through her were now in place, and it was just up to nature to take its course.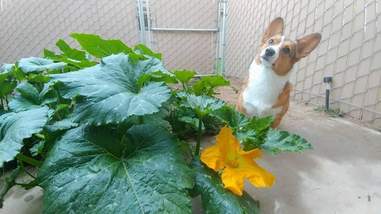 Alexandra Gleber
"I live in Southern California, and we'd been in a drought. But in January and February, it rained a ton, and then this pumpkin plant suddenly sprouted like crazy!" said Gleber. "I can't grow anything, but of course when Meya plants something, it grows like crazy. She gave it some good fertilizer, I guess!"
Meya, clearly, is pleased with her work.
"She's so short and stubby, it's a like a jungle to her. It is nice to have some green back there," Gleber said. "It's even flowering now, so we'll probably be having pumpkin pie in a couple months."
In other words, Meya's long scheme to get a second helping appears to be paying off.