Dazzling Garden Of Never-Before-Seen Coral Found In Deep Sea Canyon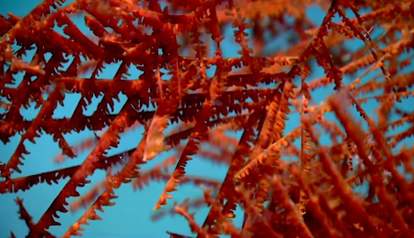 <p><a class="checked-link" href="https://www.youtube.com/watch?v=mQScNhWz8gM">NOAA/NRDC</a></p>
Some 80 miles off the east coast of the U.S., there are massive underwater gorges that are deeper than the Grand Canyon and more than 100 miles long. For the past year, scientists have been studying these mostly unexplored canyons, and are coming back with some stunning findings.
The Okeanos explorer, a National Oceanic and Atmospheric Administration (NOAA) ship that operates an ROV, "Deep Discoverer," revealed untold coral forests hiding over a mile below the surface. A report compiled by the Natural Resources Defence Council (NRDC) catalogued the more than 40 different types of coral glimpsed by the explorer - at least three of which are believed to be brand new species.
Corals, which are the result of a symbiosis between a plant and an animal, are often referred to as "sessile animals," meaning that they take root and stay in one place.
Besides a stunning array of coral, the ROV came across fish, octopuses, jellyfish and countless other kinds of animals.
"These amazing discoveries are just the beginning of all we have yet to learn about the deep-sea world," Ali Chase, an ocean policy analyst at NRDC, told The Dodo. "We need to protect these remarkable places now, before it's too late."
See the entire highlight reel of life in an underwater canyon below: