Shelter Dog Won't Move Until Someone Brings Back Her Babies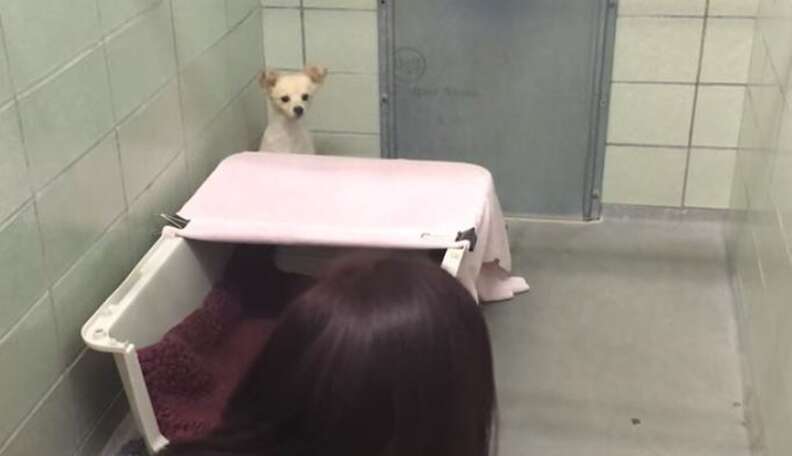 <p><a href="http://www.marinhumanesociety.org/site/c.aiIOI3NLKgKYF/b.7628477/k.6D56/Marin_Humane_Society.htm" target="_blank">Marin Humane Society</a></p>
It didn't take long for shelter staff to figure out something was very wrong with their latest arrival.
While being dumped at a shelter turns any dog's life upside down - and brings a lot of confusion and fear - the little Chihuahua mix named Cora seemed especially withdrawn after she was left at the Marin Humane Society (MHS) on Saturday.
"When she was surrendered to us, she was really scared and acting aggressive. We could barely examine her," Lisa Bloch, director of marketing and communications at the MHS, tells The Dodo.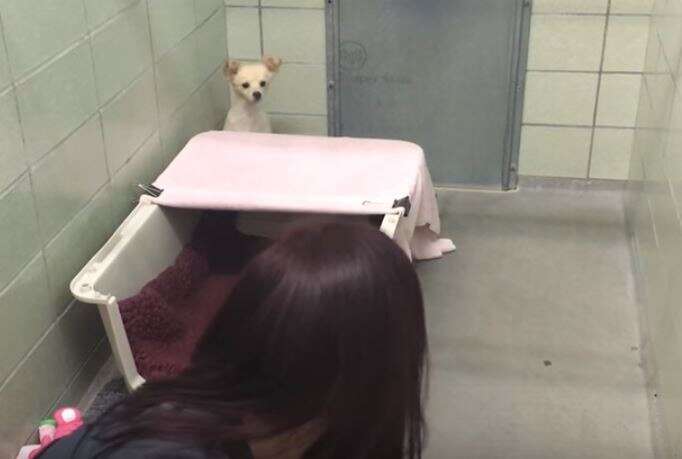 She wasn't missing her old family. It was her new family. Her real family.
The owner had apparently decided to surrender only the mother.
"We got back in touch with the people and convinced them," Bloch says. "It did take some convincing, which is unfortunate. But we were able to convince them to surrender the rest of the puppies."
When they returned to the shelter, the puppies were taken straight to the mother's kennel.
She's seen in a video posted to the group's Facebook page, moping behind a box.
When the puppies arrive, she lifts her head. Then she steps forward.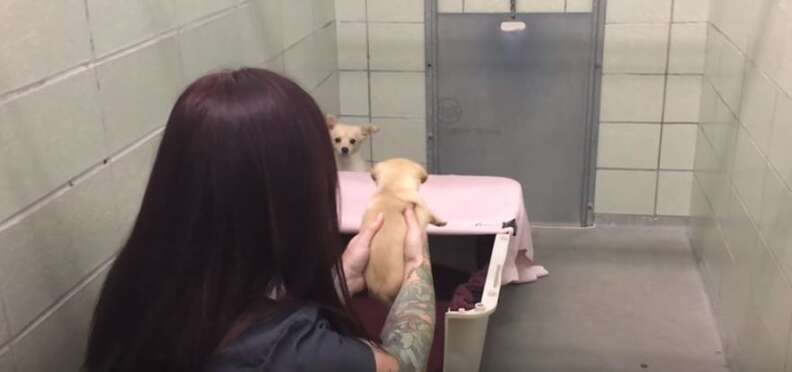 And then, her tail stirs up the perfect storm. One by one, her babies are brought out of their box. Cora greets each one with feverish licks and an ever-wagging tail.
"As soon as she heard them make a little squeal, she ran over," Bloch says. "Her personality just blossomed."
At around 4 weeks old, the puppies were far too young to be separated from their mother.
The family may soon be placed in a foster home because it's a quieter environment than the shelter.
"We're waiting until they're big and strong and then they'll all be available for adoption," Bloch says.
And there may be an even happier ending in store for Cora. Often people looking to adopt ignore the mother and go straight for the puppies.
But Bloch says there have already been inquiries about adopting Cora.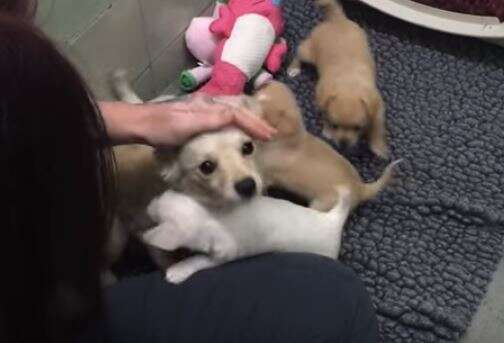 "That's lovely because the mom's already gone through a lot," Bloch says. "So for her to have a happy ending is especially sweet."
Want to help the Marin Humane Society? Visit the website to find out how you can support the MHS's mission to help countless animals like Cora.