Judging from the look of things, it's fair to say this weary little bunny was having a pretty crummy evening.
Lucky for him, though, things soon got better.
Officers from Germany's Stadthagen Police Department discovered the rabbit in the middle of a roadway while on patrol in the early hours of Wednesday morning. Though it was unclear at the time how he ended up there all alone in the dark and cold, the bunny appeared none too pleased about his present circumstances.
Rather than drive on by, the cops decided to stop and help — and that's when they had the nicest idea.
While coordinating with an animal shelter to take the bunny for safekeeping, the thoughtful officers placed his chilly body on the hood of their patrol car so the heat from the engine would warm him back up. (How sweet is that?)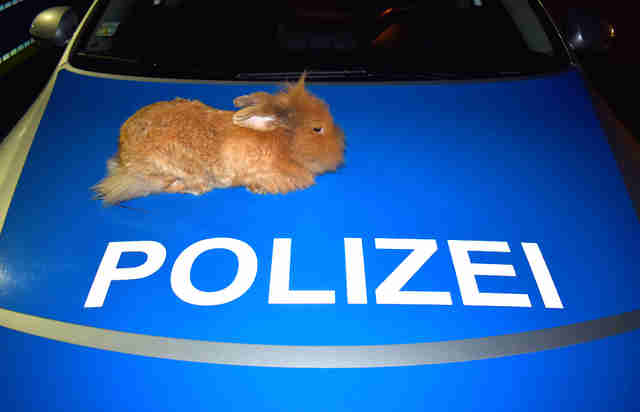 The photo the officers snapped of the scene spread quickly on social media, and by Thursday morning, the bunny's worried owner came in to claim him. Turns out, his name is Fee, and he'd dug a tunnel to make his escape. That's how his whole misadventure began.
Thanks to the cops who found him (and kept him warm), the bunny is now back home safe — exemplary service that earned them this fitting token of appreciation.