Total devastation in a desert region where it is common to receive less than an inch of rain all year ... torrential rainfall causing all waterways to flood and mud to flow through entire communities.
The resiliency of the Chilean people never ceases to amaze me. They are grateful to have survived when so many lost their lives.
Houses are destroyed and the local economy is destroyed. When the national government officially invited IFAW and our local partners the Global Alliance for Animals and People (GAAP) to deploy and help manage the animals affected by this disaster we did not hesitate and immediately mobilized our Disaster Response team.
Several feet of mud in the streets and in houses prompted the evacuation of thousands of residents.
As the heavy rain fell, animals fled to the higher grounds ... only to return to neighborhoods they did not recognize, their owners were gone.
They were scared, hungry, and now they were lost.
IFAW-GAAP organized national and local animal rescue organizations to quickly respond with emergency medical care and food. We visit the evacuation centers to ask about pets left behind and each day we are mobilizing feeding teams that include vets who can assess health conditions of the animals and manage emergency care.
We are also grateful for the help of COLMEVET (the Veterinary College) and CONAA (the National coordinating agency of animal and activist groups) who are providing veterinary and logistical support via the capital Santiago.
Fresh water continues to be in high demand for people and animals.
Again, we are grateful to local organizations able to provide gallon after gallon of water for us to distribute. One of our local volunteers designed a brilliant feeding and watering system to make monitoring possible all across the cities.
The strain on vehicles and local resources is also a challenge with the impossible amount of mud still on the roads. Heavy machinery is at work all day and night to free the streets and grant access to relief services. Houses are filled with it - one of our local volunteer's mom has lost everything.
Four feet of mud stands in her house, can you imagine?!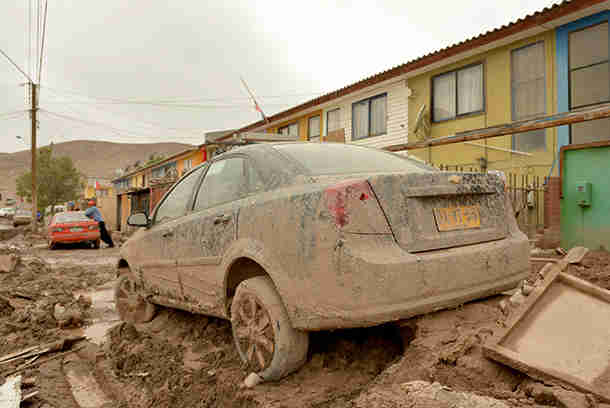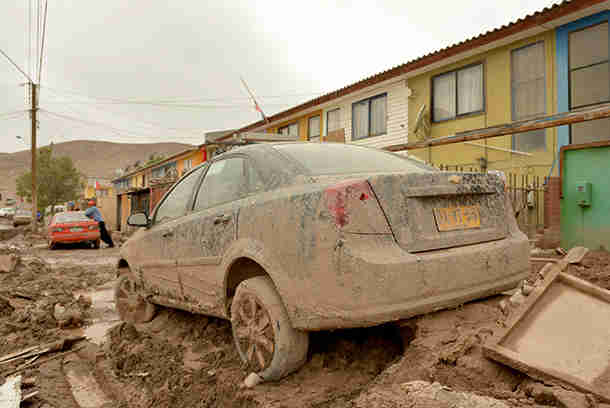 They wait patiently for the municipality to clear the road so they have a place to put the mud from her house. When we met her she only spoke of gratitude for her life being spared.
Not one complaint ... only gratitude.
Today we held another clinic for animals affected by the disaster, providing vaccinations and examinations. The Copiapó Municipal Veterinary Clinic facilitates the events and we help dozens of dogs in each local community.
Food is also distributed to owners that have no other access.
Through the support of our local partners we have over five tons of food but more is needed.
Working with local veterinarians, we estimate that emergency medical care will be needed for at least one more month.
That means supplies and vet personnel are in high demand.
Fortunately, we are confident that our network can support these needs - because of your support and belief in our work.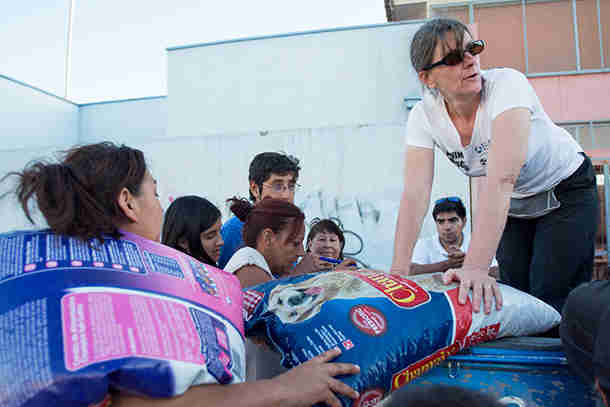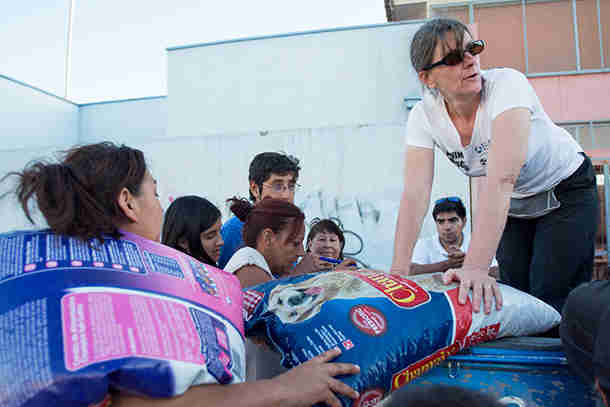 Hundreds of small animals and thousands of large animals lost their lives in the storm and subsequent mud flood. IFAW-GAAP is honored to work in the Chile Army Base Camp in the heart of Copiapó surrounded by the military, national government agencies, and humanitarian agencies all helping those in need.
The first day we arrived we met eight dogs who had been rescued by the Air Force. As they flew over a settlement that was completely destroyed by the mud flood, they spotted the dogs wandering aimlessly and quickly landed to pick them up.
We are surrounded by these countless stories of compassion.
The first thing I see each morning when I walk in is the sign that a humanitarian group posted that reads "Coping in Copiapó."
I am again reminded of the Chilean resiliency and strength.
They are doing more than coping; they are survivors who will rise beyond this disaster and the next one to come.