Zoo Kills Again: First Marius The Giraffe — Now A Lion Family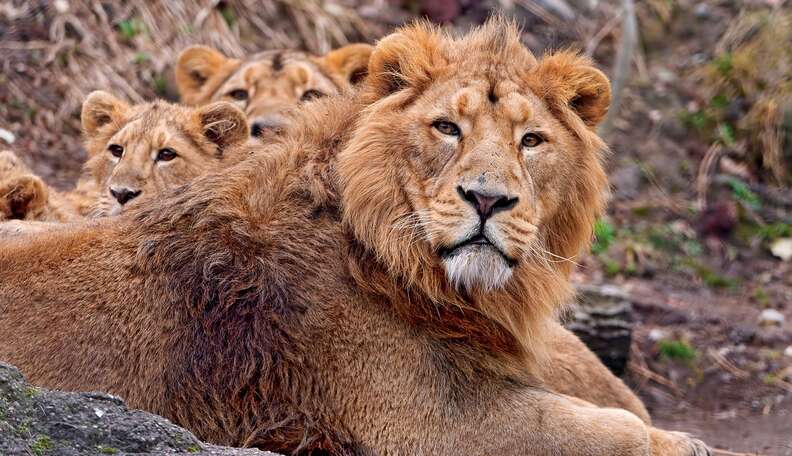 A little over a month since the Copenhagen Zoo came under fire for killing a healthy, young giraffe named Marius, the facility is at it yet again. Yesterday, keepers at the zoo euthanized a family of four lions, including two cubs, to make way for new breeding male.
"Because of the pride of lions' natural structure and behavior, the zoo has had to euthanize the two old lions and two young lions who were not old enough to fend for themselves," said the Copenhagen Zoo in a statement, adding that no other zoos were willing to take them.
The decision to put down the lions comes amid troubling revelations about how breeding programs operate in zoos across Europe. European Association of Zoos and Aquaria director Lesley Dickie says that every year between 3,000 and 5,000 healthy animals are euthanized to maintain genetic diversity among populations held in captivity.
The Copenhagen Zoo defends the of killing healthy animals, stating that the "zoo uses killing as a tool in the management of animal populations that must be performed in order to maintain a healthy herd." Critics, however, say the practice is less about doing what's best for the animals under their care, and more about attracting paying crowds.
"The doe-eyed newborn has lots of star potential and earning capacity," writes Andrew Tyler, director of Animal Aid. "But once they get to a certain age and are deemed to be surplus to requirements then economics often dictate they be disposed of -- as was the case with Marius.
The zoo says that the new male lion will be introduced to two remaining females within the coming days, describing the lion on their website as "handsome" and an "impressive ambassador" for his species.
Unlike with Marius, the zoo says it currently has no plans to perform a dissection on the four dead lions' bodies in front of zoo guests, though the public's reaction about this killing is already beginning to spark the same level of outrage.
ACTION ALERT: Zoos and Aquariums
Hundreds of millions of people visit zoos every year, despite increasing public anxiety about animals in captivity. If you want to make sure you're at least visiting a zoo that makes efforts to be humane, make sure it is on the list of U.S. facilities accredited by the Association of Zoos and Aquariums; internationally accredited facilities are listed here by the World Association of Zoos and Aquariums. If you want to see whether a facility has any recent USDA violations, you can search this database. You can report a zoo or aquarium to the USDA here. And if you want to become active against having animals in captivity, Peta and Born Free USA offer places to start.
[rebelmouse-frontpage https://www.rebelmouse.com/dodoembedzoo/]