Cop Hailed As Hero For Not Drawing His Gun On 'Vicious' Dogs
Officer David Gomez was responding to the same complaint he'd heard countless times before: A couple of "vicious" dogs were loose in a residential neighborhood.
"I've done that a hundred times," Gomez tells The Dodo. "Someone calls and says, 'They're vicious. They're vicious.'"
He expected the usual outcome that night: "They're just going to come up and be friendly." But the two dogs he met on a dark, residential street in Meridian, Idaho, were not those dogs.
"Their initial attack was a little bit scary," the 44-year-old recalls.
One of them circled the officer, snarling and foaming at the mouth. The other bit into his baton.
"I have no doubt, if I didn't have a baton, he would have taken bites," he recalls.
But his gun never left the holster.
"As soon as I fended off that, then I was good. I was like, 'OK, my tricks worked. I have a couple other tools ready to go.'"
Gomez waved his baton to keep the agitated dogs distracted.
As neighbors emerged from their homes, the officer calmly told them to go back inside.
"Had they gotten ahold of a bystander, my actions would have had to change," he explains.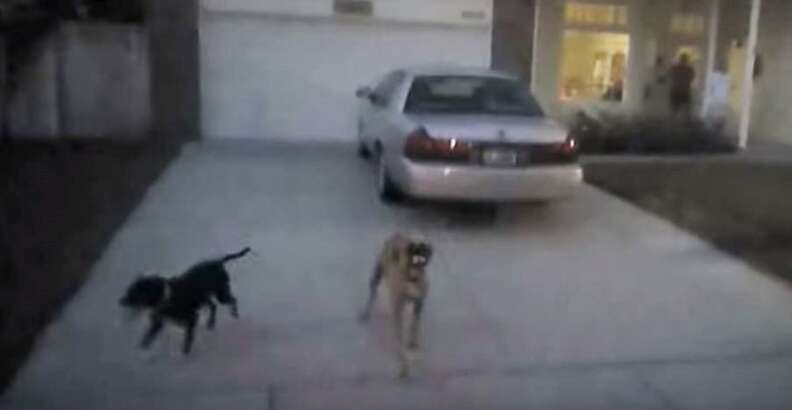 And then Gomez, whose encounter was captured on his body camera, went into a mode most animal lovers will recognize: dog daddy. After all, Gomez has plenty of experience at home with his tiny Havanese dog, Banjo - or "ankle biter," as he calls him.
"Shhhh ... shhhh ... settle down. Sit. Siiiiiit," he urges the dogs in the video. "That's not very nice, is it?"
He opens the door of the police cruiser.
"You want to go for a ride? Come on, let's go for a ride!"
Moments later, not one but both dogs leap into the backseat.
They would ultimately be returned to their owners, along with a citation for "vicious dogs at large," for which Idaho requires a court date.
Although it's been nearly a year since Gomez met those dogs, he's only recently begun to talk about them. Since footage of the encounter was made public this month, it has gone viral. He's been celebrated in headlines across the country.
"Officer Gomez isn't a dog whisperer, he's a dog commander," the New York Post proclaimed.
For Edith Williams, from the advocacy group Idaho for Non Lethal Canine Encounter Training, the seeds of that happy ending were planted a year earlier.
In 2014, she attended a canine encounter class in Boise, Idaho, offered by Jim Osorio of Canine Encounters Law Enforcement Training. A lieutenant from the Meridian Police Department was also in that class.
"He took what he learned there, and taught all their officers, and a year later, this incident that is now going viral happened," she tells the Dodo. "This is a story that has come full circle."
The incident provides a refreshing contrast to a spate of police and dog encounters ending fatally for the dogs.
Instead of resulting in a police officer villainized on social media - and a police department facing a potential lawsuit - this incident is being hailed as a model for police and dog relations.
"It's almost like there is a sense of hope in this environment of anti-law enforcement that is on a national platform right now," says Williams, who unearthed the video through a public information request. "This video reaches a lot further than animal advocacy - it reaches the public."
And no dogs were harmed in the making of it.
"I don't think I was anywhere close to drawing my weapon," Gomez says.
Indeed, he says, he still had so many ways at his disposal to control those dogs: "I still have a boot. I have a taser. I still have lots of brainpower to go along with it."
If you would like to help Idaho for Non Lethal Canine Encounter Training in its mission to teach safe dog encounter training for law enforcement officers and agencies across the state, consider making a donation here.
Watch the full video below.