A little black bear cub was crossing a Virginia road with his family in early May when the very worst happened: His mom and sibling were hit by a car and killed, and he was left alone.
Not knowing what to do, he crawled into the forest and wept.
Police officers heard what they thought sounded like screaming, so they descended into the forest to search for an animal in distress, the Augusta County Sheriff's Office wrote in a Facebook post.
"Unfortunately, the momma bear and another cub were struck and killed by a motorist," the post said.
The police officers found the little black bear, who was very scared.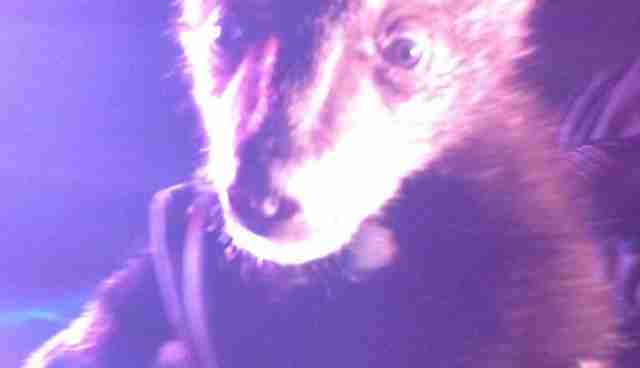 "The cub was very scared when he was first admitted," Amanda Nicholson, director of outreach, told The Dodo.
But he let Dr. Dave McRuer examine him - and despite all the emotional trauma he'd been through, he was given a clean bill of health.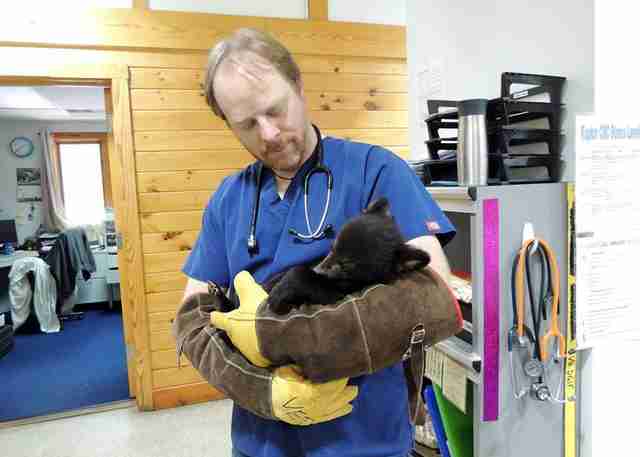 Without his family, though, he was much too fragile to return to the wild right away - although he will next year.
"He's still wary of humans, which is a good thing," Nicholson says. That's because his trepidation around them means he won't be too reliant on people once he returns to the wild.
But he does seem to be more relaxed in his new, temporary home, Nicholson adds.
Best of all, he's not alone.
"He has two new siblings - a brother and a sister," Nicholson says.
None of them have human-like names, as the center tends not to name animals who will eventually be wild once again. But since his companions both have tags in their ears, and he does not, he now goes by the funny nickname of "No Tag."
"We were caring for two other cubs when No Tag arrived, so the three cubs are now being raised together and find comfort in one another," Nicholson says. "The three of them play, wrestle, sleep and eat together."
They recently got to explore their new enclosure for the very first time.
No Tag is delighted with his new surroundings, especially his new tree ...
... but he's also a bit cautious. Here he is making sure it's safe to put his paw down.
The three bear cubs will stay at the Wildlife Center until next spring, when they'll be released back into the wild together.
In the meantime, if you'd like to donate to the bears' care, go here.
You can watch the full video of them checking out their enclosure for the first time: