Genius New Hoodie Keeps Your Cat Cool As You Carry Him Around
Usually, stepping outdoors to enjoy a fine summer day means bidding adieu to your favorite feline friend - but not anymore. Thanks to this clever new warm-weather hoodie, now you can carry your cat pretty much everywhere.
And best of all, you can keep him cool while you're at it.
Uninhabitat
The folks at Japanese pet supply company Unihabitat, who brought us the original cat-carrying winter hoodie last year, have unveiled yet another product perfect for people who hate to part with their furry pals: the Summer Mewgaroo Hoodie.
This latest design features a cozy front pouch perfect for toting little pets - but there's one unseen innovation that's sure to make it their favorite place to hang out.
Uninhabitat
It addition to being sleeveless for the wearer's comfort on a hot day, the hoodie's pouch is made to fit a cooling gel insert which will help your animal passenger beat the heat as well. There's a removable lining in there too, to make cleaning a breeze.
How sweet is that?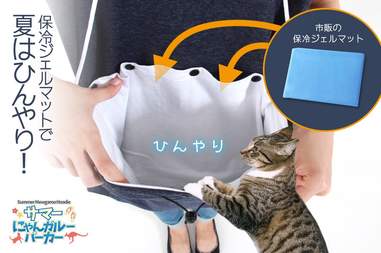 Uninhabitat
The feline-friendly design doesn't end there.
For those moment when your cat is in the mood to be entertained, the hoodie's drawstrings double as a toy for him to paw at.
Uninhabitat
The Summer Mewgaroo Hoodie's product page is catered to Japanese-speaking consumers at the moment, so ordering one could be a challenge for everyone else. Hopefully it'll be available for wider release soon, 'cause we're pretty sure our cats will love it as much as we do.
Uninhabitat
Uninhabitat