In another encouraging chapter to one of conservation's great success stories, a rarely seen and endangered California condor has been spotted in a region of the state where it had not been seen in over a century.
Last week, camera traps captured images of a lone female, dubbed Lupine, in San Mateo County, just south of San Francisco. According to wildlife experts, this is the first time the species has been seen in the region since one chance sighting back in 1904.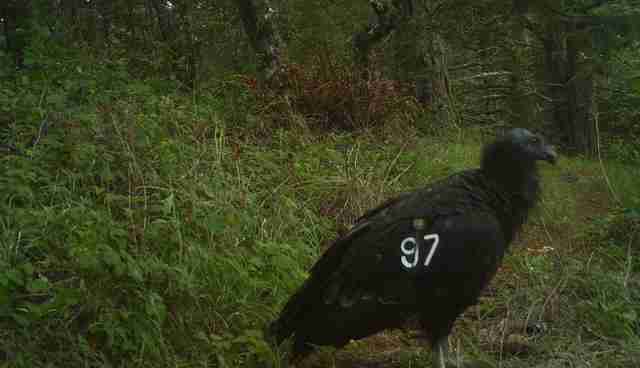 "Not only is this the first sighting of a condor in San Mateo County in 110 years, but it is an exciting new range expansion into an area that could support condors in the wild," says Kelly Sorenson, executive director of the Ventana Wildlife Society.
Decades of poaching, accidental poisoning from lead bullets, and habitat loss had driven the population of condors to near-extinction in California, where they had once been plentiful throughout the state's coastal region. By 1987, only 22 condors remained in existence in the wild, prompting wildlife officials to place those few survivors into captivity.
Since then, after a breeding program was put in place, more than 230 condors have been released back into the wild where they have begun to slowly resettle their natural range. Lupine, who was released along the Big Sur coast in 2013, has traveled farther north than any other released condor to date -- returning a balance to the local ecosystem.
"The coast is really important for condors today because of the abundance of marine mammal carcasses for them to eat, and it will be interesting to see if additional visits by condors to San Mateo or Santa Cruz County occur in the future." says Karen Bepler-Dorn, superintendent of Pinnacles National Park, where Lupin had been caught on film.
"It is exciting to find that the condor is expanding its' range, and equally rewarding that it was our local community helping to make the discovery."