Concerned Locals Rescue Bear With Bucket Stuck On His Head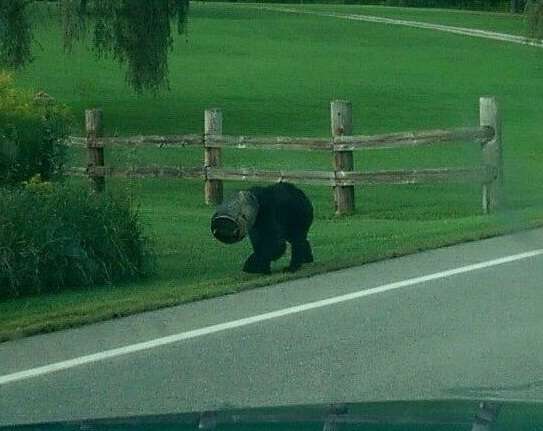 <p>Facebook: Save The Bucket Bear</p>
<p>Facebook: Save The Bucket Bear</p>
Over the past month, locals of Perry Township, Pennsylvania began to notice a strange occurrence around town: a small black bear wandering around with what appeared to be a bucket on his head.
The bear rapidly became famous around town as the "Bucket Bear." Locals even went so far as to make a Facebook page to alert authorities to the poor bear's plight. The bear's supporters claim that the Game Commission was contacted, but was unable to help the animal, as he was not hurting anyone.
That's when citizens decided to take matters into their own hands. According to CBS Pittsburgh, a group of Perry Township residents set about searching the woods for over two hours in an attempt to find and free the "Bucket Bear."
Once the bear was spotted wandering along the side of the road, the group sprang into action and held the bear down so others could saw the plastic bucket off of the bear's head. Apparently the bucket was actually the airbag off of a tractor trailer.
Once the bear was freed from his plastic headgear, he scampered off into the woods. Samantha Eigenbrod, who filmed the whole rescue, told the CBS affiliate that "We all started hooting and hollering and were so excited that he was finally free! Mission accomplished. ... I can't say thank you enough to all that helped free this cub."
You can watch a full video of the rescue below:
While there seems to be some dispute on the Facebook page as to whether or not the bear was able to eat or drink with the bucket on his head, it is clear that the bear will be able to live a much fuller life now that he is rid of the bucket.
Sadly, it is not uncommon for wildlife to get their heads stuck in various buckets and jars from the garbage. Though some are fortunate enough to get some help, like this little baby fox, or this bear cub, it is important to take proper precautions with your garbage to avoid accidentally ensnaring a wild animal.
Also remember to always contact authorities first, as opposed to attempting to approach a wild animal yourself!