Compassionate Police Officer Shuts Down Traffic To Save Injured Dog
<p> <a href="https://www.youtube.com/watch?v=2RN4-4MHrFI">YouTube/BreakHD</a>/KCPetProject<span></span> </p>
Two dogs are alive today thanks to the dedicated efforts of complete strangers who teamed up to save their lives - and this story is yet more proof that it's always a smart idea to keep extra dog treats in your pocket.
Deborah Dominick spotted Bear, a black mixed breed, trying to cross three lanes of traffic on a busy Kansas City, Missouri, highway earlier this month. Standing close by was another dog, Bear's sister Honey, watching nervously, FOX4KC reports.
Dominick pulled over to try and get Bear to safety, but as she was trying to help him, a car slammed into the scared dog ... hitting him so hard that the bumper came off.
Now Dominick was struggling to rescue a scared, injured dog. The man who ran into Bear didn't even stop. That's when Officer Tom Butkovich saw what was happening and stopped to help.
"I couldn't have continued knowing there was a hurt dog," he told Fox4KC.
Officer Butkovich closed down a lane of traffic so that Dominick could safely get to Bear, and he kept Bear's worried companion Honey calm with the emergency dog treats he always keeps in his pocket.
Butkovich and Dominick were able to safely retrieve the dogs and take them to a local veterinarian, where they split the bill between them.
It turned out that Bear and Honey had an owner who didn't want them anymore, so the two were brought to the KC Pet Project, a local shelter. When they arrived, shelter staff realized that both dogs had been there before ... a few times.
Bear, the black dog, was already known at KC Pet Project as "Tuscaloosa" and Honey, a golden-colored chow mix, went by "Keiko." "They've come in a couple of times as strays," Tori Fugate at the KC Pet Project told The Dodo. Now they're both looking for homes again, together or separately.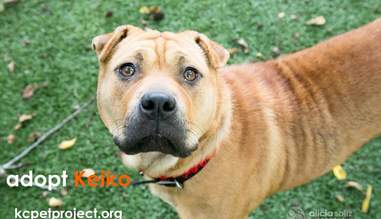 KCPetProject
We're sure that Deborah Dominick and Officer Butkovich are looking forward to getting the call that the dogs they saved have finally found a home.