The booze was plentiful but common decency was in short supply at party in upstate New York over the weekend. Amid the drunken, liver-punishing festivities this past Saturday, two college student thought it would be a good idea to add a little animal cruelty into the mix -- forcing a dog to drink beer, upside down in a "keg stand" position.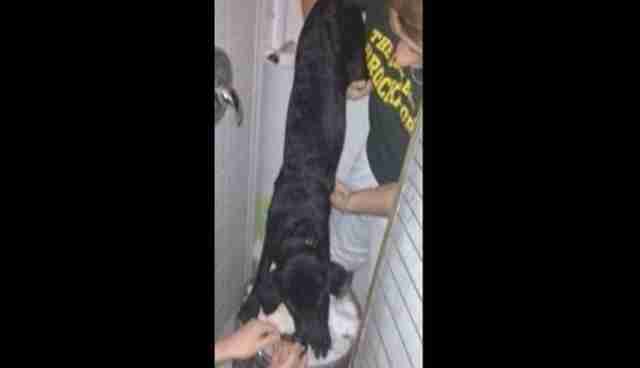 Police caught wind of the incident after a photo was posted on Twitter, leading to the arrest of 20-year-olds Robert Yates and Shane Oliver, students at State University of New York's College at Brockport.
"Through a joint investigation between the SUNY Brockport Police, the Brockport Police Department and the Sweden Dog Warden, it was learned that a dog was held upside down, and apparently forced to consume beer from a keg during a party that occurred on Saturday March 8, 2014 at a house located on Monroe Avenue in the village of Brockport," says police.
The pair have been charged with torturing and injuring an animal -- though the cruelty case could have an impact on their academic futures as well.
"We were alarmed to learn of this disturbing photo," the student's school released in a statement. "The College will investigate this matter and take appropriate action once the details surrounding the photo are learned."
Miya, the four-month-old Black Labrador belonging to a housemate of Yates, was taken into protective custody where she is reportedly in good condition.