NRA Fights Pet-Eating Ban, Stephen Colbert Is Baffled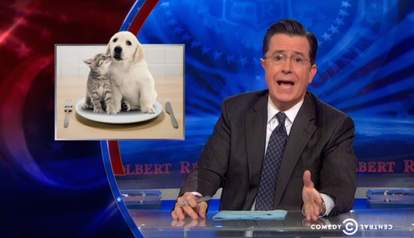 Stephen Colbert used his rapier wit on Tuesday night to skewer The National Rifle Association's involvement in a pet-eating ban.
The NRA which is under fire for campaigning against a bill that would have outlawed the sale of dog and cat meat for consumption in Pennsylvania.
According to Mother Jones, this bill would have been "a piece of landmark legislation" as only a few states in the U.S. have outlawed the slaughter of pets for consumption.
The NRA, however, objected to one of the bill's provisions which would have banned live pigeon shoots. Apparently, the NRA believes that banning pigeon shoots would be a "slippery slope" toward regulated shooting grounds. The NRA's website claims that "opposition to pigeon shooting does not come from within the Commonwealth, but from the outside national 'animal rights' extremist groups."
House lawmakers ended up not bringing the bill to the floor for a vote.
Heidi Prescott, outreach director for the Humane Society of the United States, stated that "After 28 years of working on this bill, we were robbed on getting a vote ... We will never give up."
Colbert concluded his report on the matter by acknowledging the absurdity of the whole situation. "In order to protect their right to kill birds, the NRA defeated the anti-pet-eating bill. It's a hard but noble sacrifice. The dogs and cats have to die, in order that the pigeons may also die."
You can watch The Colbert Report segment by clicking here.
.