She Was Too Scared To Leave Her House — Until She Met This Baby Raccoon
Kasey Valentine has gained a whole new lease on life and it's thanks to her best friend and unusual pet, Cody Rocket.
Cody, a North American raccoon, lives in Stevenage, England, with Valentine. The 24-year-old has a number of illnesses, but the most debilitating are her myalgic encephalomyelitis and Ehlers-Danlos syndrome. Both leave Valentine in constant pain, with joints that dislocate easily, among other difficulties. She had to stop working as a result.
"[These] illnesses have left me quite isolated and anxious about going outside and meeting new people," Valentine told The Dodo.
"I don't have many close friends these days because of this as not many people understand how it feels. Cody has changed that around though."
While owning a raccoon as a pet in England isn't illegal, it isn't recommended they be kept as pets.
Valentine rescued Cody from a previous owner who decided to give him away after realizing that Cody needed a lot of attention.
"I had researched raccoons for a long time, as I have always had a huge love for them and I had training in exotic animals before I got ill," Valentine said.
It's no wonder why the moment Valentine saw an online ad for Cody, she was quick to take a chance on him and give him a forever home with her. They've been inseparable ever since.
"I never really left the house before and now I make sure I do every single day," Valentine said. "My boyfriend and I take Cody out together for a walk every day, and if I am feeling well enough, we go to visit our favorite shops together, which is always fun as people can never believe that they are seeing a raccoon out shopping!"
Some of Cody's favorite hobbies include going on walks, peeling off wallpaper, eating puppy biscuits and napping alongside Valentine.
He also loves to play with the Valentine family's two German shepherds. "Cody runs around with them, on his new extending [leash], as he thinks he is a dog too when they play together," Valentine said.
Best of all, Cody loves to cuddle up to Valentine's neck and purr like a cat to show his affection.
"When I am at home, Cody is usually hanging out with me," Valentine said. "He likes to share my snacks and sometimes he even sits in the shower with me."
While a raccoon may start sounding like a dream pet at this point, they're not the easiest to care for. Valentine said that they require a lot of time and attention. Cody needs to have his playtime frequently and can't be left alone the way you would leave a cat or dog. If left alone, he's guaranteed to get into mischief. Not to mention the very expensive vet bills that follow should a raccoon fall ill.
"He is [still] a wild animal at heart," Valentine explained.
However, she relishes the fact that Cody always keeps her on her toes and said that contrary to popular belief, raccoons are really loving animals.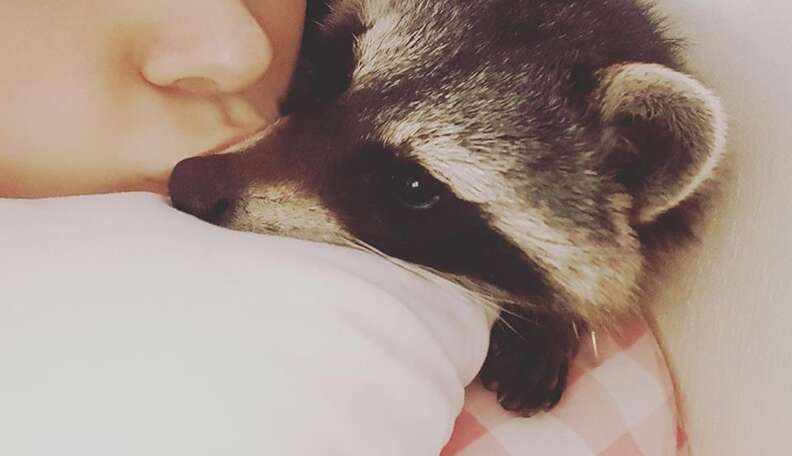 "He is a lot more outgoing than me, which is great because it helps me learn to be more confident about life and meeting new people," Valentine said.
"He has really changed my life around and I now have a reason to keep pushing forward every day ... he is my life now and I love him to pieces."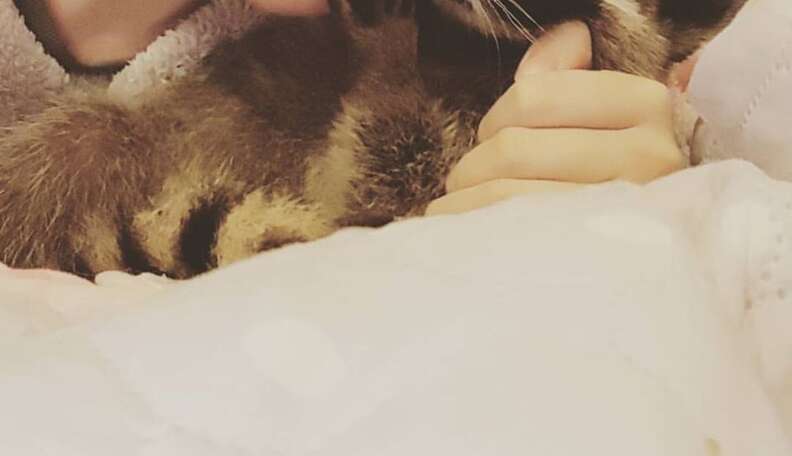 You can keep up with Cody's adventures, taking walks on trees and all ...