Rescued Bird Won't Leave Side Of Friend Going Through Cancer Treatment
They've already been through so much together.
Even after all she's been through, a resilient little bird named Coco still loves to dance.
And the little cockatoo has been through quite a lot in her roughly 20 years on Earth.

Coco was surrendered to the World Parrot Refuge in Vancouver, Canada, after being passed around probably several homes. "The refuge was kind of like Canada's dumping ground for unwanted parrots," Danita Morrison, who runs the online shop Things for Wings and the parrot owner help forum Avian Avenue, told The Dodo.
Soon the refuge got overcrowded and started losing money. Then the owner got sick and passed away. So many birds, who were already down on their luck, were in desperate need of help once again — all 584 of them.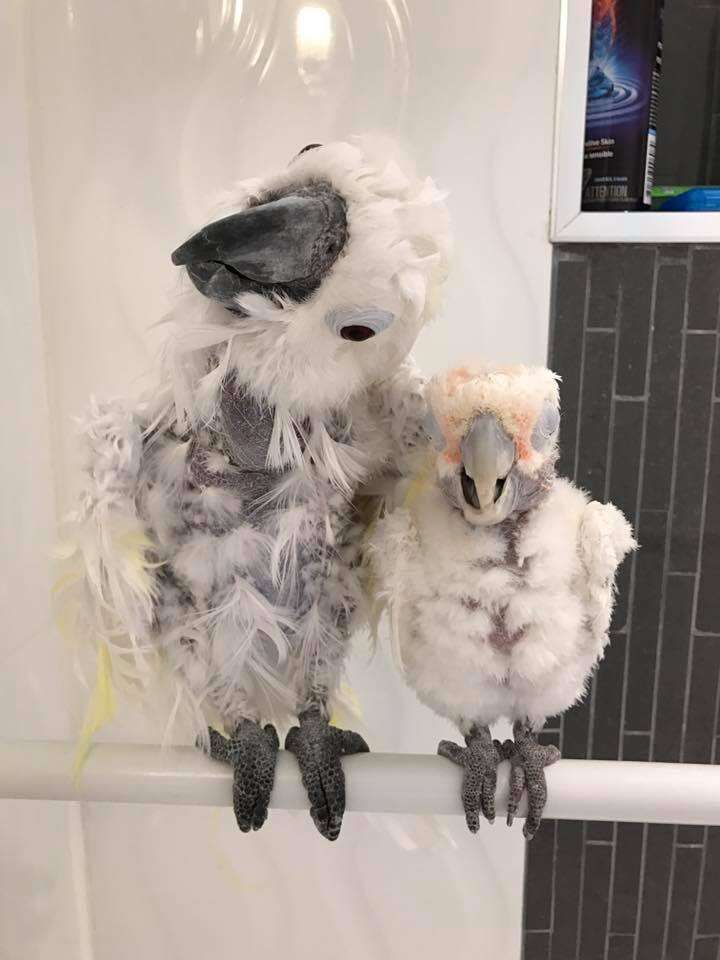 Exotic birds are loud, messy and expensive, Morrison said. A lot of people just don't know what they're getting into when they decide to have a bird as a pet. "A parrot will go through an average of seven homes in their lifetime," Morrison said. "They can live 80 years. They are wild animals. It's like having a monkey."
Also because birds are so smart and social, people have to be ready to entertain them.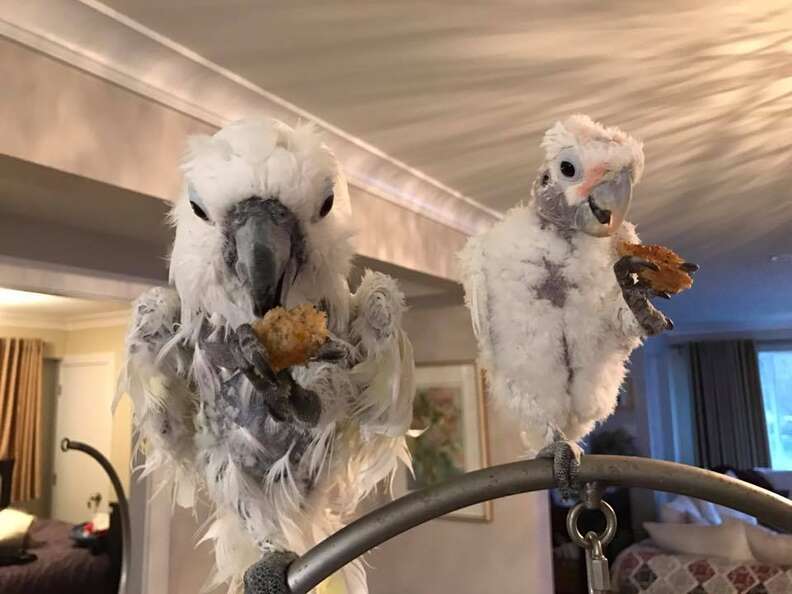 "The best part of having animals together is to see their relationships," Morrison said. Coco is an incredibly social individual — she still bears the scars of birds who didn't want to be her friends. "She wanted to be friends so badly with other parrots and they'd bite her."
But luckily Coco found Lucky Lou, who loves being Coco's friend, and who has her own tumultuous past.
Lucky Lou was about 20 years old when she ended up at the refuge before it closed down. Lucky Lou had been kept by her owner in a basement all alone. She started acting out because she got bored. And her owner got really frustrated.
"Lucky started pulling out her feathers and she came to the refuge literally cussing because her former owner had started cussing at her," Morrison said. Lucky Lou fell in love with an elderly boyfriend at the refuge who was blind. "She was his eyes and ears," Morrison said.
When Lucky Lou met Coco, she wanted to take care of her too.
Morrison saw Coco and Lucky huddled together in their cage at the refuge, and she knew she had to give the two loving friends a home.
So they all went home together. Lucky Lou is struggling with lung cancer, but Morrison is giving her the best life possible during the time she has left. And Coco is right by Lucky Lou's side the whole time — even as she's getting her treatment in a nebulizer.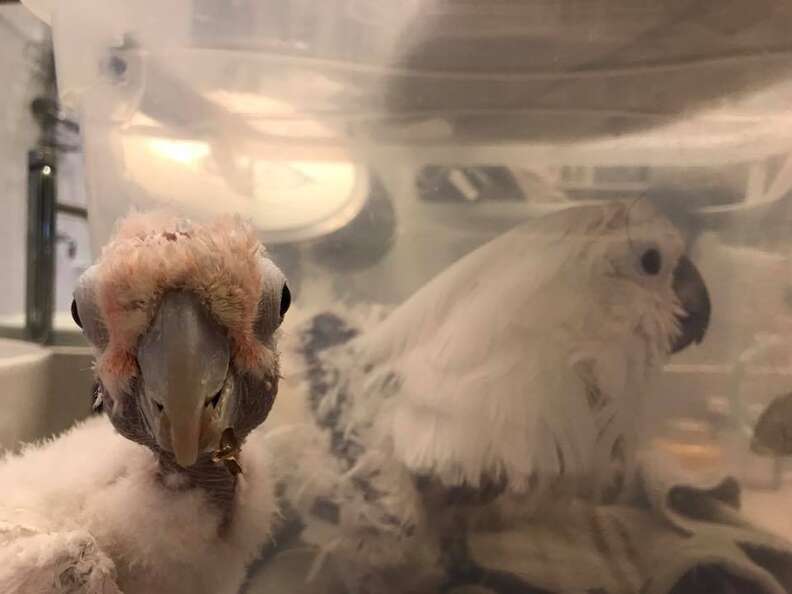 Coco and Lucky Lou also met Newman, Morrison's African grey — whom Coco was, of course, determined to add to her and Lucky's flock. So she started showing off for him.
"Newman is the independent bird," Morrison said. "Coco is in love with Newman; she'll do anything she can to get his attention — including dancing."
There's no shortage of entertainment for these smart birds in Morrison's house. And their happiness shows.
"She'll sneak up and peek around to see Newman — and he looks the other way, because he doesn't want to be her boyfriend," Morrison laughed.
Despite Newman playing hard to get, Coco and Lucky Lou are thriving in their new home because they have proper food and shelter — and a lot of love.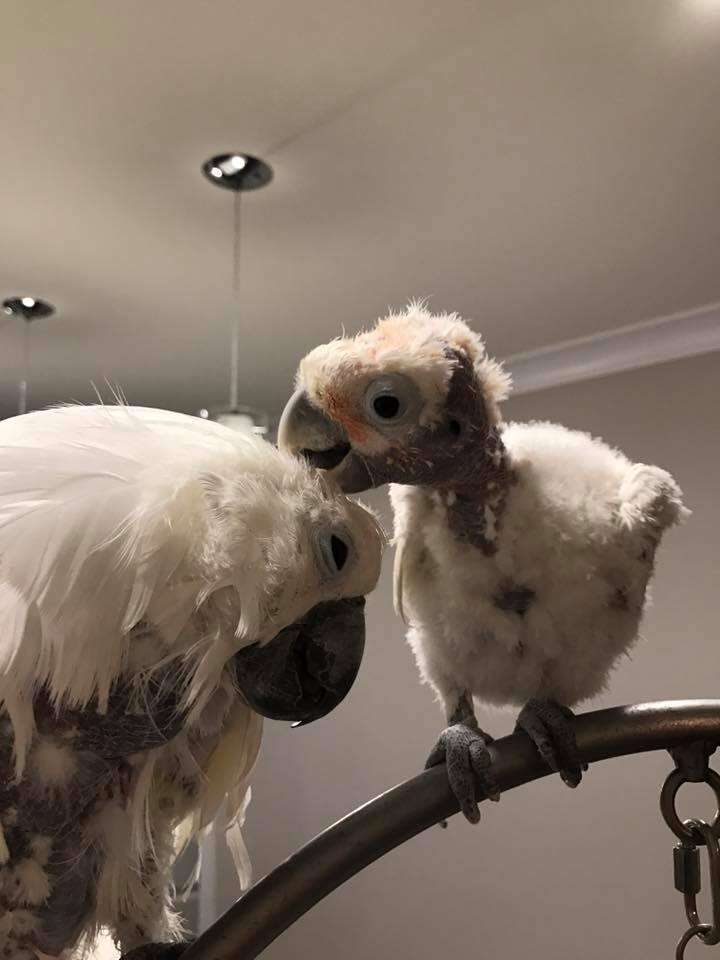 "People take a bird and put it in a cage and think that they're going to be able to live a solitary life. But in the wild, birds are in flocks," Morrison said. "The ones that are isolated are the ones who don't survive."